Bowflex C7 Bike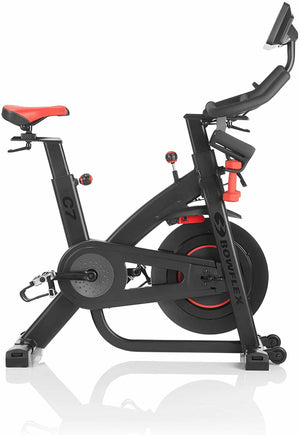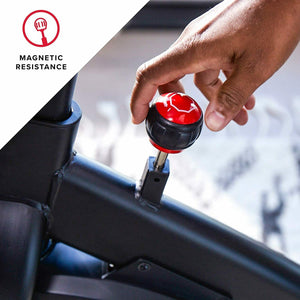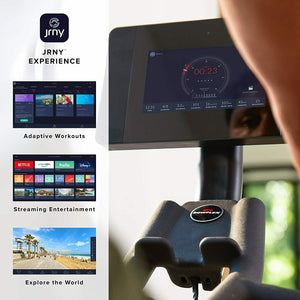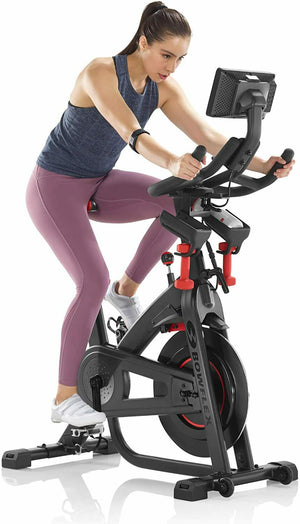 Bowflex C7 Bike
Elevate Your Fitness Game with the BowFlex C7 Bike!
Don't settle for just one digital exercise experience; the BowFlex C7 Bike offers more! Step into a world of boundless cycling possibilities, streaming entertainment, and the immersive JRNY experience. The C7 Bike is not just another stationary bike; it's your gateway to unparalleled fitness innovation. 
The C7 Features:
Smooth Magnetic Resistance:
Experience the thrill of smooth and silent cycling. The C7's magnetic resistance, ensures a seamless and quiet ride, perfect for any time of day.
Seamless App Integration: 
Easily connect your C7 Bike to top fitness apps like Peloton and Zwift. Expand your training options and experience a world of virtual cycling adventures. 
Dual Link Toe Cages: 
Pedal with confidence and stability with dual-link toe cages that keep your feet secure. No more slipping no matter how intense your workout gets. 
Immersive Entertainment: 
The 7" HD touchscreen lets you watch your favorite shows and movies from streaming services like Amazon Prime (subscriptions required). With your choice of entertainment, your workout sessions fly by with ease. 
Stay Hydrated: 
With dual water bottle holders, you can easily quench your thirst without missing a beat. Stay hydrated as you push yourself to new fitness heights. 
Upper Body Workout: 
The C7 Bike goes beyond just a leg workout. The C7 can work your upper body too. The bike includes a set of 3 lb dumbbells with easy-to-reach cradles. 
Integrated Media Rack:
Keep your phone or tablet within reach! With the C7 you can stream your favorite content and stay connected while crushing your fitness goals.  
Access Off Bike Workouts: 
With JRYN you will receive access to non-cycling workouts like yoga, pilates and strength training routines. 
JRNY Membership:
Trainer-Led Videos: 
The JRNY trainers ensure you stay motivated and make every session count. 
Virtual Coaching: 
Receive personalized virtual coaching that adapts to your performance, helping you achieve peak results during every workout.  
Personalized Adaptive Workouts: 
Say goodbye to one-size-fits-all workouts. The C7 Bike offers personalized workouts tailored to your fitness level and goals. JRNY checks how fit you are and whips up workouts that change daily to match your progress as you get better. JRNY also provides coaching and feedback that guides you through your workouts  
Explore 200+ Destinations: 
Virtually travel the world with a choice of over 200 destinations. Creating a dynamic and engaging cycling experience every time you ride. 
Product Features:
Bluetooth® Connectivity: Seamlessly connect your phone, tablet, or smart TV to enhance your training experience.

 
Wide Resistance Range: Enjoy the challenge of 100 resistance levels, catering to both beginners and seasoned cyclists.

 

Dual-Sided Pedals: Choose between SPD® clips or toe cages for a customized pedaling experience that suits your preferences.

 

Included Dumbbells: With a pair of 3 lb. dumbbells and easy-to-reach cradles, you can maximize your workout by engaging both upper and lower body muscles.

 

Integrated Media Rack: Stay entertained, connected, and on track with your fitness goals.

 

Bluetooth® Enabled: Sync your C7 Bike with your favorite smart devices and heart rate monitors for a comprehensive fitness tracking experience.

 
Adjustable Comfort: Adjust the seat and handlebars to find your perfect riding position, ensuring a comfortable and efficient workout every time.

 
The BowFlex C7 Bike is not just a piece of fitness equipment; it's your portal to a world of fitness possibilities. Elevate your workouts, stay motivated, and reach your peak performance with the C7 Bike. Experience the future of fitness today! 
Available online or try it before you buy it at one of our 19 Flaman Fitness Locations across Canada.
No specifications for this product.
Abbotsford
Burlington
Edmonton North
Kamloops
Kelowna
BC Distribution Centre
Langley
Lethbridge
Saskatoon
Victoria