Bowflex Max Trainer Total 9" touch screen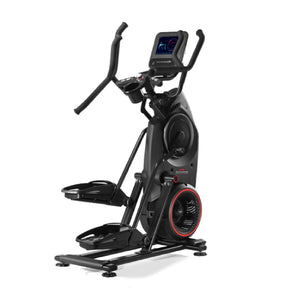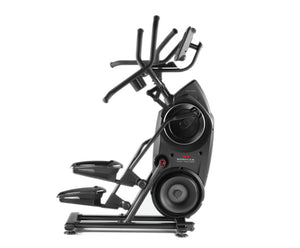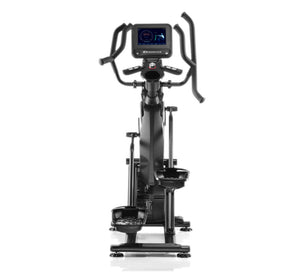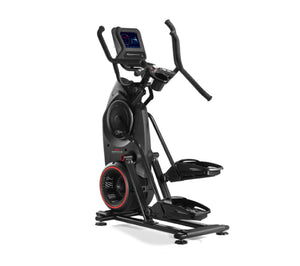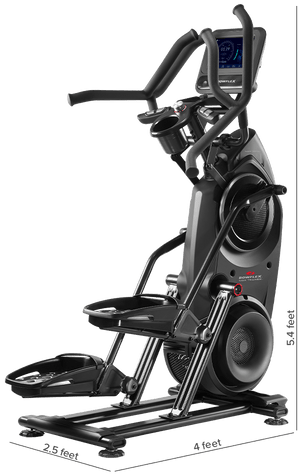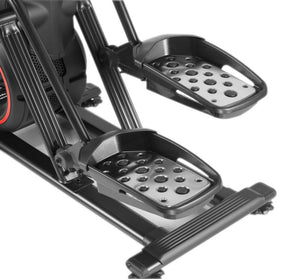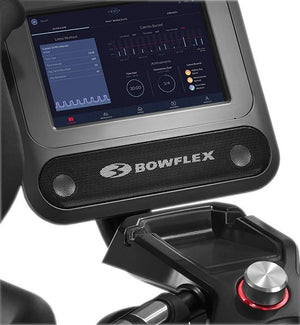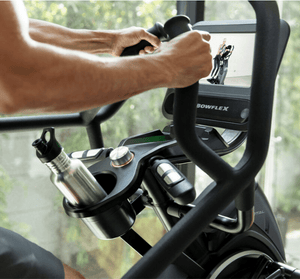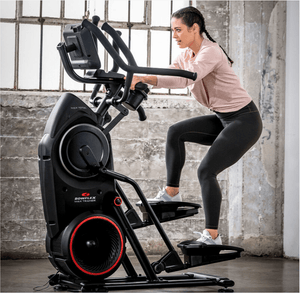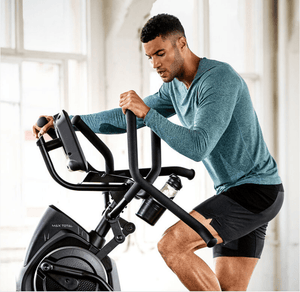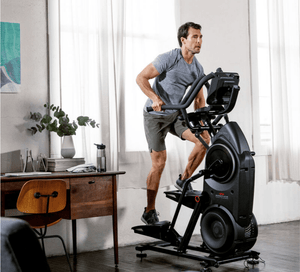 Bowflex Max Trainer Total 9" touch screen
BowFlex Max Trainer Total 9 Elliptical: Elevate Your Cardio Experience
Unlock the ultimate body power training experience with the BowFlex Max Trainer Total 9. This innovative machine combines the fluid motion of an elliptical with the quick total body workouts of a max trainer. By blending upper body power training with the effectiveness of a stepper, it empowers you to achieve your fitness goals while providing long-term fitness as an attainable and sustainable objective. 
The Power of a Stepper Meets the Calorie Burning Power of an Elliptical:
The Max Total 9 is not just an elliptical; it's a revolutionary fitness solution. Designed to deliver adaptive workouts tailored to your current fitness level, this machine lets you build strength and burn fat efficiently. You can complete powerful full-body workouts in as little as 14 minutes, making it perfect for even the busiest schedules. 
Max Total 9 and the JRNY Membership:
To maximize your training experience, the BowFlex Max Total 9 Elliptical offers seamless integration with the JRNY app, providing you with a comprehensive library of guided workouts. Whether you're looking for calorie-burning routines or body power training sessions, JRNY has you covered. With a JRNY membership, you gain access to personalized workouts that adapt over time, making your fitness journey more effective and motivating. 
The Immersive Built-In LCD Touch Screen:
At the heart of the Max Total 9 is the immersive built-in LCD touch screen. This 9-inch display not only tracks your essential workout metrics but also motivates you to push harder during your training sessions. You can stream your favorite movies, TV shows, and more from popular platforms like Netflix, Hulu, and Prime Video. With its sleek design and engaging content, the LCD touch screen keeps you entertained and focused on your fitness goals. 
Total Body Workout, Total Fitness Transformation:
The BowFlex Max Total 9 Elliptical offers total body workouts that engage your upper body and lower body simultaneously. The unique design combines the power of a stepper with the calorie-burning capabilities of an elliptical. You'll be amazed at how efficiently you can build strength and torch calories, helping you reach your fitness goals faster than ever. 
Max Guides You to Success:
Max Total 9 not just a machine; it's your personal fitness guide. With its intuitive design and adaptive workouts, it ensures you get the most out of every session. Whether you're a fitness enthusiast or a beginner, the Max Total 9 helps you achieve total fitness transformation with ease. 
Elevate your fitness journey, embrace the power of full-body workouts, and experience the future of cardio with the BowFlex Max Total 9 Elliptical. Make your fitness goals a reality today. 
Key Features:
Interactive 9-inch Touchscreen Display: The centerpiece of the Max Total 9 is its impressive 0-inch touchscreen display. This touchscreen not only allows you to track essential workout metrics such as time, distance, resistance level, heart rate, calories burned, and speed, but it also provides access to a world of entertainment and fitness programming. Stream your favorite movies and TV shows from Netflix, Hulu, Prime Video, Disney+, and HBO Max during your workouts.

 

JRNY App Integration: For a personalized fitness experience, the Max Total 9 integrates seamlessly with BowFlex's JRNY app. This app offers live and on-demand workouts, progressive training programs, and virtual form critiques. You can adapt your workouts to your fitness level over time, making your fitness journey more effective and enjoyable. Plus, with your purchase, you'll receive a two-month free trial to JRNY.

 

Smooth and Quiet Magnetic Resistance: The elliptical features 20 levels of magnetic resistance that offer a smooth and virtually silent workout experience. Whether you're a beginner or an advanced athlete, you'll find the right level of resistance to challenge yourself and meet your fitness goals.

 

Built-In Pulse Sensors: Easily track your heart rate variability (HRV) with the built-in pulse sensors on the handlebars. For even more accurate monitoring, the Max Total 9 includes a heart rate armband with your purchase.

 

Bluetooth Connectivity: Stay motivated with your favorite music during your workouts by connecting your phone to the elliptical's built-in speakers via Bluetooth. You can also connect Bluetooth earbuds for a more personalized audio experience.

 
Upright Design for Efficient Space Usage: The Max Total 9's upright design not only takes up less floor space in your home gym but also provides a workout experience similar to a stepper, helping strengthen your posterior chain effectively.

 
Available at Flaman Fitness online or try before you buy at one of our 19 locations across Canada. 
Specifications
SKU: EXMBOWMAXT
Levels of Resistance: 20
# of Programs: 8 workout programs – 7 Minute Interval, 14 Minute Interval, 21 Minute Interval, Upper Body Interval, Calorie Burn, Fat Burn, Stairs, Manual
Mobile App Available: iOS & Android
Connection Type: Bluetooth & USB
AUX Input: Yes
Fan: No
Display Type: 9.6" Touchscreen
Heart Rate Monitor: Yes
Other: Triple-Positioned Handlebars, Contact Heart Rate Grips
Max User Weight (LBS): 300
Footprint - Length: 49.2
Footprint - Width (Inches): 30.5
Footprint - Height (Inches): 65.1
Machine Weight (LBS): 148
Plug-in Requirements: Included AC adapter
Warranty: Frame & Parts: 3 years, Labor: 90 days

Brantford
Burlington
Edmonton North
Kamloops
BC Distribution Centre
Langley
Lethbridge
Regina
Saskatoon
Victoria
Woodbridge