MD Buddy Balance Dome Pods (4 Comes W / Bag)
$30.99
$30.99
$30.99
$30.99
$30.99
$30.99
$30.99
$30.99
$30.99
$30.99
$30.99
$30.99
$30.99
$30.99
$30.99
$30.99
$30.99
Price
$39.99
You save 23%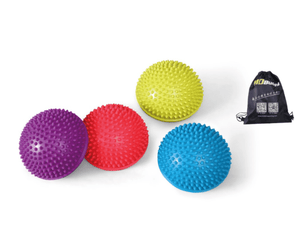 MD Buddy Balance Dome Pods (4 Comes W / Bag)
$30.99
$30.99
$30.99
$30.99
$30.99
$30.99
$30.99
$30.99
$30.99
$30.99
$30.99
$30.99
$30.99
$30.99
$30.99
$30.99
$30.99
Price
$39.99
You save 23%
The balance dome set is great for increasing balance while on the go. Small enough for travel, the balance pod set comes with a carry bag and 4 pieces, so you can have one at multiple locations.
Pebbled textured surface massages and increases blood circulation. Great for Plantar Fasciitis. Smooth side provides a challenging unstable surface for developing coordination and balance.             
Also great to massage fallen arches, sore feet, bunions and hammer toes.           
Specifications
SKU: EXAMDB1431
4 Piece Balance Pod Set (With Bag)          
Calgary NorthEast
Edmonton North
Ontario Distribution Centre
Kelowna
BC Distribution Centre
Langley
Lethbridge
Nisku
Regina
Richmond
Saskatoon
Woodbridge