Progression 24 Spin Bike - Black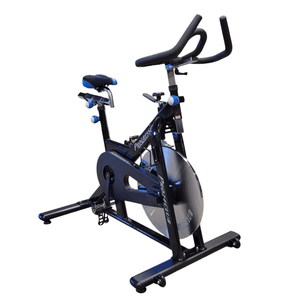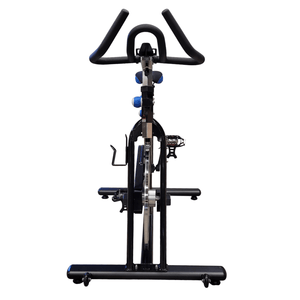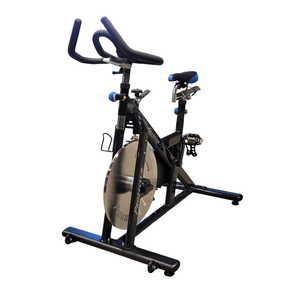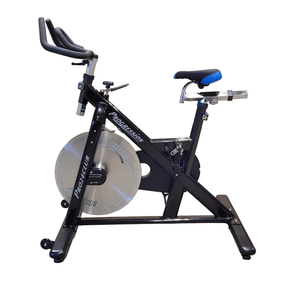 Progression 24 Spin Bike - Black
Progression 24 Spin Bike Takes You Places
Here's one stationary bike you'll go far on. With a commercial-grade frame and 24 KG flywheel, the Progression 24 Spin Bike easily powers through the toughest spin classes and the most intense training. 
Experience the Versatility 
Whether you do it at home or join a class, spinning offers outstanding benefits to anyone willing to jump on and pedal hard. It's a perfect inside-and-out total body workout - activating muscle groups from your legs to your core and use of hand weights can bring your upper body in on the action.  
Authentic Cycling Feel
The Progression 24 can take everything you have to give and demand even more from you. This spin bike features a challenging direct drive system that delivers the same level of resistance whether you pedal forward or backward. Its belt drive runs quiet and smooth, and the extra-large 29" front and rear stabilizers enhance that low-impact feel. 
Tailored Adjustability
The Progression 24 includes comfort features like a cushioned ergonomic saddle with comfort groove. The handlebars offer micro-vertical and horizontal adjustment for YOUR ideal ride. 
Feel the Burn
Achieve the cardiovascular benefits like improved blood flow, increased stamina and optimal blood pressure with every session. While riders' optimism goes up, their weight comes down with an average of 400 to 600 calories burned in a single spin class. That number only goes up from there, the harder you pedal. Best of all, it's a low-impact alternative that still gets you that calorie burn. 
Key Features: 
Levels of Resistance: Infinite

 

Adjustable Features: Seat, Handlebars

 

Pedals: Toe Straps and SPD Clips

 

Flywheel: 24KG

 

Drive - Direct Belt Drive

 

Moving Wheels: Yes

 

Warranty: Parts and Labour - 1 year

 
In conclusion, the Progression 24 Spin Bike is the ultimate fitness companion for those seeking an authentic cycling experience. Its commercial-grade frame and 24 KG flywheel deliver the power you need to conquer the toughest spin classes and intense training sessions. Whether you're at home or in a class, this bike offers versatile workouts that engage your entire body, from legs to core, and even your upper body with the option of hand weights. With its direct drive system, quiet belt drive, and ergonomic design, you'll enjoy a smooth, low-impact ride that can be tailored to your comfort preferences. Burn calories, improve your cardiovascular health, and feel the burn with every pedal. Elevate your fitness journey with the Progression 24 Spin Bike and experience the road to a healthier, stronger you. 
Get yours exclusively at Flaman Fitness online or try before you buy at one of our 19 locations across Canada. 
Progression Fitness
Founded by Canadians to offer everyone the opportunity to reach their fitness goals. We made sure that our entire line-up offers everything you need no matter what your fitness dreams are. Offering affordable price points and a team dedicated to support your investment from beginning to end, Flaman Fitness has your back! 
Specifications
SKU: EXBPRO24CLUB
52.8 LBS (24 KG) Flywheel
Micro Vertical and Horizontal Adjustment of Handlebars and Seat
Large Easy to use Adjustment Knobs
Belt Drive for a Silent Workout
Direct Drive - for Resistance When Pedaling Forward and Backward
Emergency Braking System
Long-Life Brake Pad on Top of the Flywheel for a More Even Consistent Feel
Cushioned Ergonomic Saddle With Comfort Groove
Extra-large 29" Front and Rear Stabilizers for Increased Stability
Levelling Pads on Front and Rear to Protect Floors and Provide a Secure Feel on Uneven Surfaces
Front Transport Wheels
2 Water Bottle Holder Locations
Pedals Include Toe Strap and SPD Clips
Foot Print: 44" L x 29" W (110 cm x 72.5 cm)
Weight: 123.5 LBS (56.06 KG)
Shipping Dimensions: 43.5" L x 9.5" W x 34.5" H (109 CM x 24 CM x 87 CM)
Shipping Weight: 134 LBS (60.86 KG)
Abbotsford

Burlington

Calgary NorthEast

Calgary SouthEast

Edmonton North

West Edmonton

Kamloops

Kelowna

BC Distribution Centre

Langley

Lethbridge

Nisku

Red Deer

Regina

Richmond

Saskatoon

Vancouver

Victoria

Average Rating: 0 Number of Reviews: 1