Axe Black Bumper Plate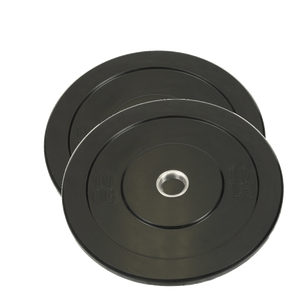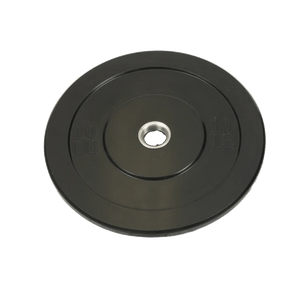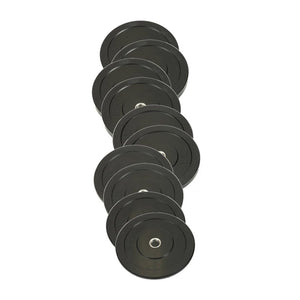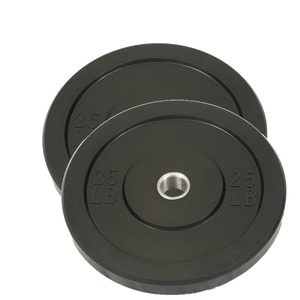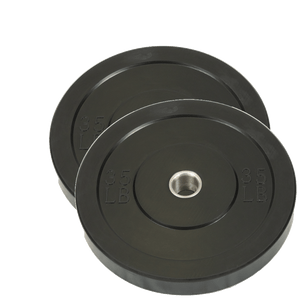 Axe Black Bumper Plate
Axe Black Bumper Plate: Low Bounce, High Durometer
Axe Black Bumper Plates are an excellent choice for those focused on weightlifting, functional fitness, or strength training because of their unique qualities. They provide a consistent dead bounce, reducing the risk of damage to both the plates and the lifting platform when dropped. This feature is particularly valuable for Olympic lifts and high-intensity workouts. Their exceptional durability and shock-absorbing properties contribute to a safer and quieter training environment. 
Crafted with High-Quality Materials:
Axe Black Bumper Plates are manufactured with top-quality, high durometer rubber, ensuring longevity and outstanding performance. A higher durometer rating means that the rubber used in the plates is firmer and less likely to deform upon impact, providing better durability and a more consistent dead bounce when dropped. When you drop these plates, you'll notice a quick, reliable dead bounce every time, thanks to their remarkable rubber composition. This means you can push your limits without worrying about damaging your equipment. 
IWF Standard Compliant:
Each Axe Bumper Plate adheres to the strict standards set by the International Weightlifting Federation (IWF). This makes them the perfect choice for executing technical lifts with precision and confidence. You can trust in the accuracy and reliability of these plates to enhance your weightlifting experience. 
Durable and Attractive Design:
Measuring 450 mm in diameter, our Bumper Plates not only offer robust performance but also boast an attractive molding design that won't fade over time. Their aesthetics are as impressive as their functionality. Whether you're setting up a home gym or equipping a professional facility, these plates will add a touch of elegance to your setup. 
Unmatched Durability and Shock Absorption:
To guarantee exceptional longevity, each Axe Bumper Plate features a sturdy steel insert encased in a rugged rubber coating. This combination provides excellent durability, making our plates capable of withstanding heavy use without showing signs of wear and tear. The rubber coating also excels at shock absorption, ensuring a quieter and safer training environment. 
Perfect for All Skill Levels:
Whether you're a seasoned weightlifter or just starting your fitness journey, these Bumper Plates are versatile and cater to all skill levels. They are available in various weight options, allowing you to gradually progress and challenge yourself as you reach new fitness goals. 
Easy to Handle:
With their ergonomic design, these plates are easy to grip and load onto your barbell. You won't have to struggle when setting up for your next lift, and the consistent dimensions of each plate make weight selection a breeze. 
Low Maintenance:
Axe Bumper Plates require minimal maintenance, allowing you to focus on your training rather than constantly tending to your equipment. Simply wipe them down when needed to keep them looking and performing at their best. 
Axe Black Bumper Plates are your ticket to a better weightlifting experience. With their high-quality materials, IWF compliance, durability, and easy handling, you'll wonder how you ever trained without them. Upgrade your gym or home setup with these exceptional bumper plates and take your weightlifting to the next level. 
Key Features
Available in 10lb, 15lb, 25lb, 35lb, and 45lb

 

Center Diameter: 50.80 mm/2" (Olympic size)

 
Specifications
10lb, 15lb, 25lb, 35lb, 45lb
Weight Type: Bumper Plates
Center Diameter: 50.80 mm/2" (Olympic size)
Plate Thicknesses:
10 LB: 20 MM / .79" 2

5 LB: 40 MM / 1.58"

35 LB: 48 MM / 1.89"

45 LB: 53 MM / 2.09"
Abbotsford
Brantford
Burlington
Calgary NorthEast
Calgary SouthEast
Edmonton North
West Edmonton
Kamloops
Kelowna
BC Distribution Centre
Langley
Lethbridge
Nisku
Red Deer
Regina
Richmond
Saskatoon
Vancouver
Victoria
Woodbridge