Aztron SPACE 40 Surfskate Board
$179.00
$179.00
$179.00
$179.00
$179.00
$179.00
$179.00
$179.00
$179.00
$179.00
$179.00
$179.00
$179.00
$179.00
$179.00
$179.00
$139.99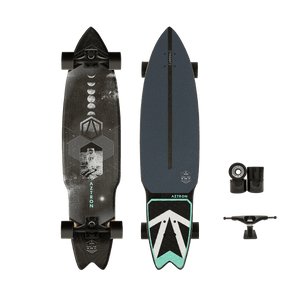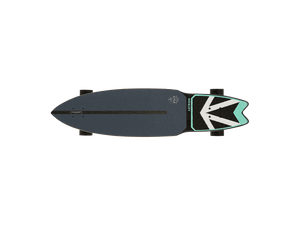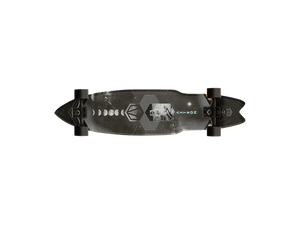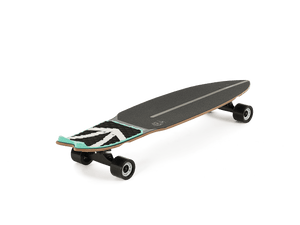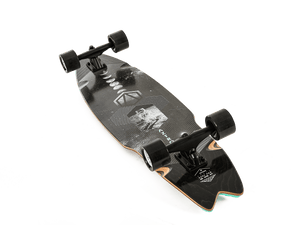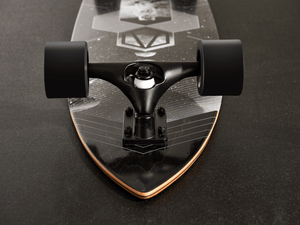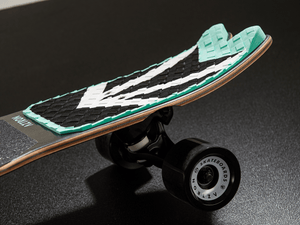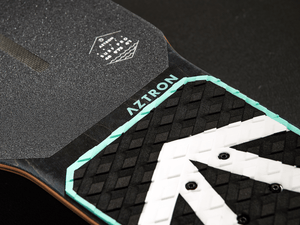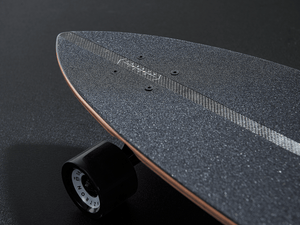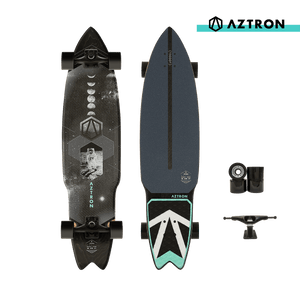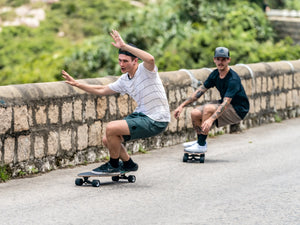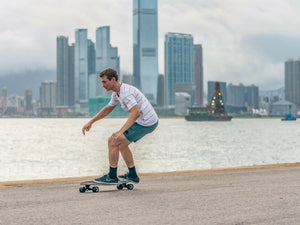 Aztron SPACE 40 Surfskate Board
$179.00
$179.00
$179.00
$179.00
$179.00
$179.00
$179.00
$179.00
$179.00
$179.00
$179.00
$179.00
$179.00
$179.00
$179.00
$179.00
$139.99
The SPACE 40 offers a surf skating experience that is very similar to that of surfing in the water, which makes this longboard perfect for surfing training on those dry days Inspired by the SPACE, you can find all the cool elements in this board.
FEATURES:
Deck: 7-ply of 100 % Canadian maple wood with Carbon Inlay Tech on the deck
2021 signature Astronaut print
Surfboard inspired longboard outline with fish tail for cross training in real surf stance
Rocker with tail kick
Surf style truck with high grade ABEC 9 bearing to maximize the fluidity between surfing skating
70*51 MM 78 A wheels black
TECHNOLOGY:
TAIL KICK DESIGN
Similar to a surfboard, all AZTRON surf skates feature a deep diamond grooved EVA pad on the tail kick to lock your toes and heel in when turning or making stops. The tail kick insert also resulting in added control and drive.
ADVANCED SURF STYLE TRUCK SYSTEM WITH ABEC 9 BEARING
The advanced truck system combined with the ABEC 9 emulate the feeling of riding on a wave. The unique design with ticks and bearing utilize the internal spring tension adjustment to replicate the surfing action. The customized delvers an incomparable pumping and carving experience. Our surf skate range is engineered for performance and precision skating that brings you so much closer to surfing on concrete. The ABEC 9 bearing combined with the trucks give the most receptive skateboard on the planet. Smoothest turning, fastest pumping, this board is definitely at the leading edge of true surf skate performance
70 MM / 78 A WHEELS
The 70 MM AZTRON wheels are a perfect cruiser wheel for any board, long or short. The 70 MM wheels are excellent for fast transportation with minimal pushing. The soft 78 A formula makes the roughest roads seem smooth and they are great for downhill riding. These wheels are softy and grippy.
SURFBOARD INSPIRED LONGBOARD
The SPACE 40 has a surfboard inspired longboard shape. The longer wheelbase now allows a rider to spread their feet to match their actual stance on their surfboard. Having the ability to cross-train in your real surf stance maximize the fluidity between surfing and skating, and will allow you to get your practiced land maneuvers onto waves with greater ease. We recommend the SPACE to the riders 5' 10" - 6' 4" or 180 - 195 CM.
INCLUDES
BOARD, ABEC 9 TRUCKS
70MM WHEELS
Specifications
SKUEXOAZTSPACE
Length: 40"/101.6CM

Width: 9.75"/24.8CM

Tail: 4.1"/10.5CM

Weight: 7.9 lbs/ 3.6 kg

Truck: SX 4.0 P{U

Deck: Carbon Inlay

Concave: Mellow

Wheels: 70*51mm/78A
Abbotsford
Brantford
Calgary NorthEast
Calgary SouthEast
Edmonton North
West Edmonton
Ontario Distribution Centre
Kamloops
BC Distribution Centre
Langley
Lethbridge
Victoria