Bodysolid Pro Club Dual Bicep/Tricep Machine DBTC-SF DEMO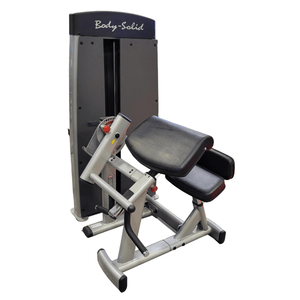 Bodysolid Pro Club Dual Bicep/Tricep Machine DBTC-SF DEMO
The upper arm is made up of two primary muscle groups—the biceps and the triceps, and it is equally important to train both. To achieve optimal results from arm exercises, it is essential to perform movements consistently and correctly every time.
Body-Solid's Pro•Dual Bicep/Tricep Machine provides a seamless change from bicep exercise to triceps exercise with dual grip handles. The adjustable seat and upper arm pad are designed to align the elbow with the rotational axis of the lifting arm. The machine's handle pivots to enhance user comfort.
With gracefully curved frames constructed from sleek, powder-coated tubing that exhibits a modern, design-forward aesthetic, the Body-Solid Pro•Dual Bicep/Tricep Machine builds form into function and value into a superior modular strength training system.
Best of all, you can buy with confidence, because the Pro•Dual Bicep/Tricep Machine is built to last a lifetime and is backed by the strongest warranty in the industry!
The Body-Solid Pro•Dual Bicep/Tricep Machine lets you flex your fitness plan to achieve maximum results.
Body-Solid is recognized worldwide as a leader in home gyms and commercial strength training equipment. Over 5 million customers are enjoying the results of strength training in their everyday lives. Our equipment is designed to fit a wide variety of lifestyles, space requirements and user sizes.
Adjustable arm pad is ergonomically designed to fit multiple users and eliminate unwanted shoulder movements.
5-position gas-assisted adjustable seat with back support gives users a comfortable, stable platform to help isolate movement.
3-position pivoting handles reduce torque and provide continuous resistance around a natural arc.
14 combined adjustments between the bicep and triceps exercises provide users with multiple starting points and greater range of motion.
Includes a 210 lb. weight stack with a 310 lb. weight stack option.
Works as a modular component on the Pro •Dual 3-Stack and 4-Stack Gyms
Dimensions: 53"W x 40"L x 62"H
Specifications
SKU: EXGBSDBTCSF
*Actual unit in photo*
Continuous welded, factory assembled weight frame
Fiberglass reinforced nylon pulleys
11 gauge 2.375" x 4.625" oval tubing
Electrostatically applied powder coated
5.5mm dia., 2500lb rated aircraft cable
Durafirm upholstery over 2" high density foam
3 gauge steel connecting plates
.50 dia. connecting bolts
High density foam rubber hand grips and handles
Industrially rated, sealed bearings at all pivot points
Adjustable seat with rear support
Dimensions: 53"W x 40"L x 62"H (135cm x 102cm x 158cm)