Bowflex 1090 SelectTech Adjustable Dumbbells - Pair (10 LB - 90 LB)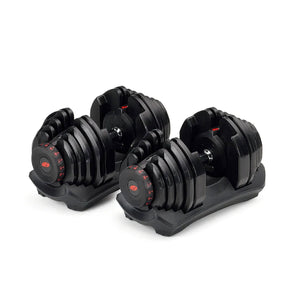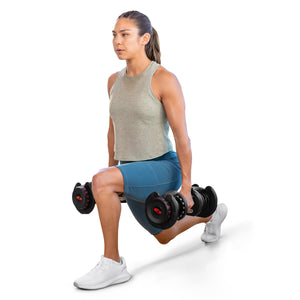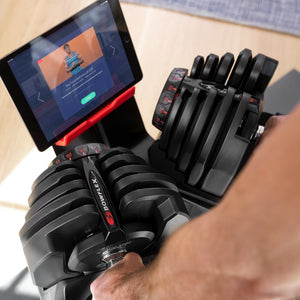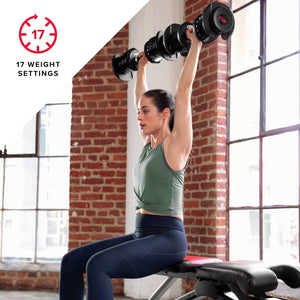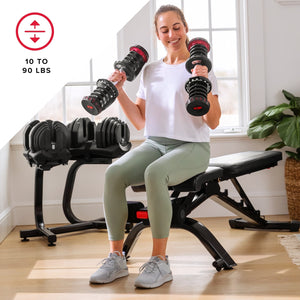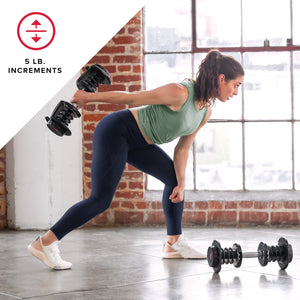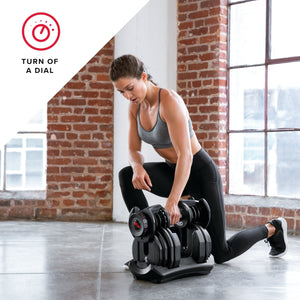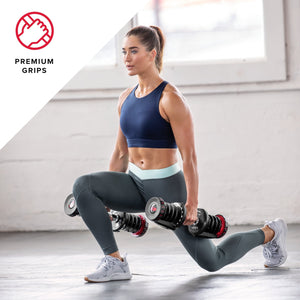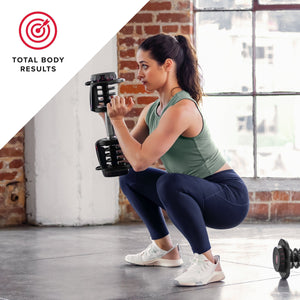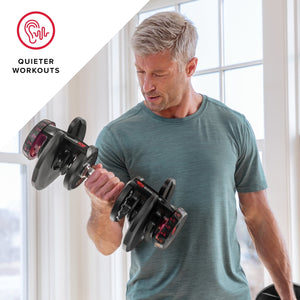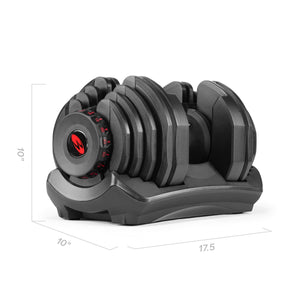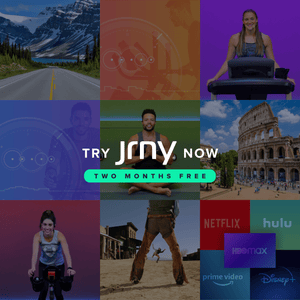 Bowflex 1090 SelectTech Adjustable Dumbbells - Pair (10 LB - 90 LB)
BowFlex 1090 SelectTech Adjustable Dumbbells: Elevate Your Home Workouts
Are you ready to elevate your home workouts and take your fitness journey to the next level? Look no further than the BowFlex 1090 SelectTech Adjustable Dumbbells – the ultimate solution for a more efficient and effective strength training experience in the comfort of your own home. 
Innovative Weight Adjustment Mechanism
The BowFlex 1090 SelectTech Adjustable Dumbbells boast a cutting-edge adjustment mechanism that redefines the way you train. With just a quick turn of a dial, this mechanism automatically changes your resistance, allowing you to seamlessly transition from one exercise to the next. No need to pause your workout, hunt for the right dumbbell, or struggle with weight plates and collars. It's as simple as turning the dial and focusing on what matters most: your fitness goals. 
Unmatched Versatility in a Single Set
Say goodbye to the clutter of multiple dumbbells in your workout space. These adjustable dumbbells provide an impressive weight range, from a manageable 10lbs to a robust 90lbs, offering versatility and adaptability like no other. Whether you're starting your fitness journey or looking to challenge your strength and endurance, the BowFlex 1090 SelectTech Dumbbells have you covered. With a wide range of weight options, you can seamlessly progress through your workouts and target different muscle groups with precision. 
Space-Saving Design
One of the standout features of the BowFlex SelectTech Adjustable Dumbbells is their space-saving design. If you've ever trained with traditional dumbbells, you know the struggle of finding storage space for a growing collection of weights. These adjustable dumbbells, however, eliminate that headache. They're the ideal solution for those who wish to optimize their home gym setup. By replacing 17 sets of traditional dumbbells with a single pair, they not only save space but also help you maintain a clutter-free training environment. 
Affordability and Convenience
Not only do the BowFlex SelectTech Dumbbells save you space, but they also offer significant savings in your wallet. In comparison to the cost of purchasing multiple sets of traditional dumbbells, the BowFlex SelectTech Dumbbells are a much more cost-effective option. This means you can enjoy the benefits of a complete dumbbell set without the heavy price tag. 
Efficiency and Time Savings
Time is of the essence in today's fast-paced world, and the BowFlex SelectTech Dumbbells respect that. Thanks to their quick-adjustment system, you can change your desired weight in a matter of seconds. This efficiency ensures that you can maintain your workout flow, maximize your training time, and stay fully engaged in your fitness routine. 
The BowFlex 1090 SelectTech Adjustable Dumbbells are not just dumbbells; they are a game-changer for home workouts. Their innovative design, space-saving features, affordability, and efficiency make them the go-to choice for fitness enthusiasts of all levels. Whether you're a beginner or a seasoned athlete, these dumbbells offer the flexibility to adapt to your evolving fitness needs. Make the smart choice and elevate your home workouts with the BowFlex 1090 SelectTech Adjustable Dumbbells – the future of strength training is in your hands. 
Controls & Features
10 to 90 lbs per adjustable dumbbell

 

10, 15, 20, 25, 30, 35, 40, 45, 50, 55, 60, 65, 70, 75, 80, 85, and 90 lbs

 

Sold as a pair

 

Replaces 17 sets of weights

 

Weight selection dial

 

JRNY app with Motion Tracking

 
Available at Flaman Fitness online or "Try" before you "Buy" at one of our 19 locations across Canada.
Specifications
SKU: EXWBOWSEL1090
Total Number of Items: 2 x Adjustable Dumbbells - 2 x Adjustable Dumbbell Docks
Weight Stack (LB): 92.3
Adjustments: Adjusts in 5 LB increases
Footprint - Length (Inches): 17.5
Footprint - Width (Inches): 9.5
Footprint - Height (inches): 10
Capacity: 90 LB Per Dumbbell - Set: 180 LB
Warranty: 3 Years Parts

Abbotsford
Brantford
Burlington
Calgary NorthEast
Calgary SouthEast
Edmonton North
West Edmonton
Kamloops
Kelowna
BC Distribution Centre
Langley
Lethbridge
Nisku
Red Deer
Regina
Richmond
Saskatoon
Vancouver
Victoria
Woodbridge