Bowflex 552 SelectTech Adjustable Dumbbells - Pair (5 LB - 52 LB)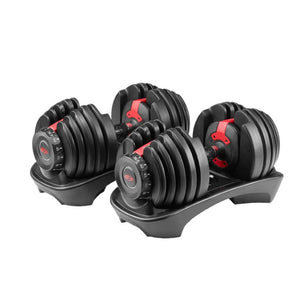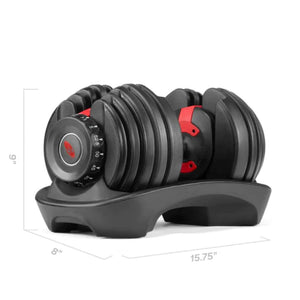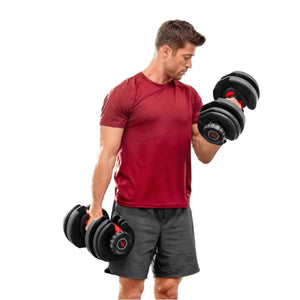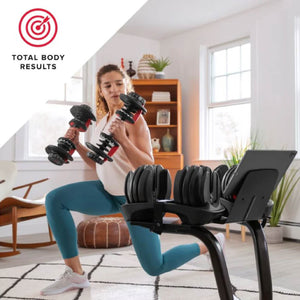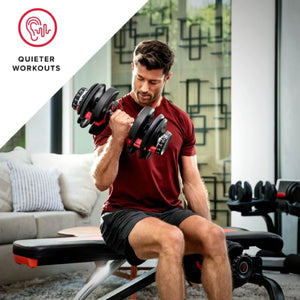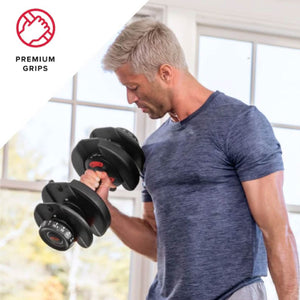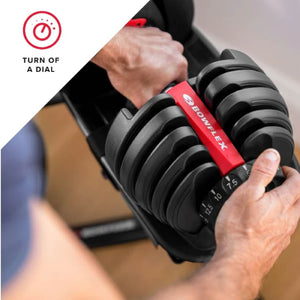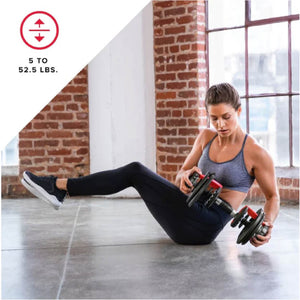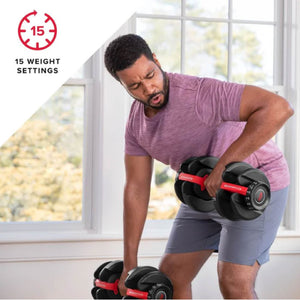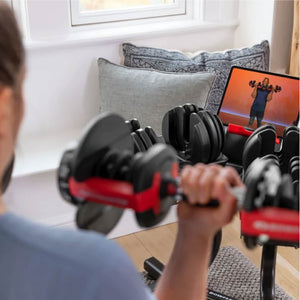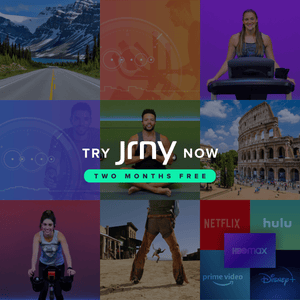 Bowflex 552 SelectTech Adjustable Dumbbells - Pair (5 LB - 52 LB)
Unleash the Power of Versatility: BowFlex SelectTech 552 Adjustable Dumbbells
Are you ready to transform your fitness routine and take your strength training to the next level? With the BowFlex SelectTech 552 Adjustable Dumbbells, you have the key to a more efficient, versatile, and effective workout experience at your fingertips. These adjustable dumbbells redefine the way you train, offering a wide range of weight options in a single, space-saving set. 
Quick and Effortless Weight Adjustment
Say goodbye to the hassle of cluttered workout spaces and the need for multiple sets of traditional dumbbells. With the turn of a dial, you can seamlessly change your resistance, ranging from a manageable 5 lbs. to a formidable 52.5 lbs. These adjustable dumbbells eliminate the need for 15 different sets of weights, providing you with the power to personalize your workouts according to your fitness goals and progress. 
Efficiency Meets Affordability
Not only are the BowFlex SelectTech 552 Dumbbells designed to save space and offer a multitude of weight options, but they also present a cost-effective solution. When you add up the expenses of purchasing and storing multiple sets of traditional dumbbells, the savings become evident. These dumbbells offer a high-quality, long-term investment in your fitness journey without breaking the bank. 
Enhanced Controls & Features
Adjusts from 5 - 52.5 lbs: These dumbbells offer an extensive range of weight selections, allowing you to tailor your workout with precision.

 

Weight Selection Dial: The user-friendly weight selection dial simplifies the process of adjusting your desired weight.

 

Real-time Motion Tracking with JRNY: The SelectTech 552 now features Motion Tracking technology through the JRNY app. It counts your reps and tracks your form in real-time using your tablet's camera (JRNY membership required; available on iOS and Android tablets only). This innovative feature ensures that your workouts are not only effective but also safe and efficient.

 
Revolutionize Your Home Workouts
Investing in the BowFlex SelectTech 552 Adjustable Dumbbells means transforming your home workouts into a dynamic, results-driven experience. Whether you're aiming to build muscle, improve your overall strength, or simply maintain a healthy lifestyle, these dumbbells provide the tools to help you reach your goals. No matter your fitness level, from novice to expert, these dumbbells offer an adaptable, space-efficient, and cost-effective solution to elevate your workouts. 
With the BowFlex SelectTech 552 Dumbbells, you have a dependable and versatile partner on your fitness journey. These adjustable dumbbells ensure you have the power to customize your workouts, optimize your space, and take your strength training to new heights. Unlock the potential of your home gym and redefine your strength training experience with the BowFlex SelectTech 552 Adjustable Dumbbells. The future of fitness is now within your reach. 
Available at Flaman Fitness online or "try" before you "buy" at one of our 19 locations across Canada. 
Specifications
SKU: EXWBOWSEL552
Total Number of Items:
 

2 x Adjustable Dumbbells - 2 x Adjustable Dumbbell Docks
Weight Stack (LBS): 52.5 each - Set: 105 LB
Adjustments: 5 LBS to 52.5 LBS
Footprint - Length (Inches): 16.9
Footprint - Width (Inches): 8
Footprint - Height (Inches): 9
Capacity: 52.5 LBS
Warranty: 2 Years Parts, 5 Years Plates, 1 Year Labor
Abbotsford
Brantford
Burlington
Calgary NorthEast
Calgary SouthEast
Edmonton North
West Edmonton
Kamloops
Kelowna
BC Distribution Centre
Langley
Lethbridge
Nisku
Red Deer
Regina
Richmond
Saskatoon
Vancouver
Victoria
Woodbridge