Concept 2 Skierg - (PM5 Monitor)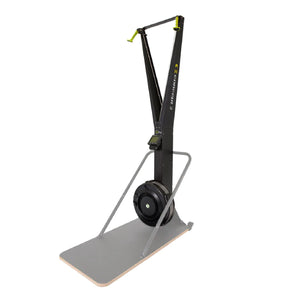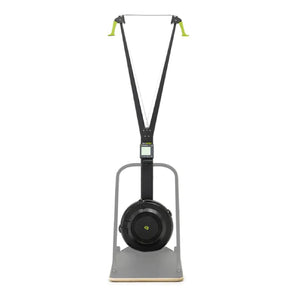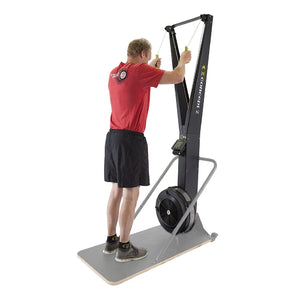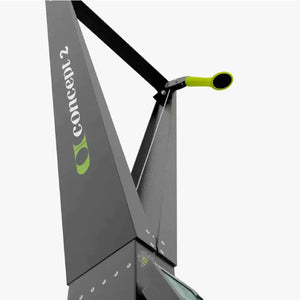 Concept 2 Skierg - (PM5 Monitor)
The Concept2 SkiErg makes the sport of Nordic skiing available to everyone. Long recognized as delivering one of the toughest workouts around, Nordic skiing develops both strength and endurance and exercises the legs as well as the arms and core. The SkiErg can be used for both double pole and classic alternating arm technique.
The SkiErg uses the same flywheel resistance and electronic monitoring systems as the Concept2 Rowers, the proven choice of rowing athletes around the world since 1981, so you can rest assured that the machine is made to last. As well as being durable and well built, the SkiErg is sophisticated too, with an advanced monitor that provides immediate, accurate performance data.
Whether you're an elite cross-country skier looking to improve your poling power, a weekend enthusiast wanting to get into shape for the ski season, or just someone looking for a great workout, the SkiErg will help you achieve your goals.
Performance Monitor
The Performance Monitor is what sets the Concept2 SkiErg apart from other cross-country training devices: sophisticated yet easy to use, it allows you to accurately assess your output, monitor your progress, and compare your scores with others. Each SkiErg comes with our most advanced Performance Monitor, the PM5.
Free Standing or Wall Mounted
The SkiErg can be either mounted on a wall or used with a floor stand. Wall mounting provides the most compact option, while the floor stand, with its anti-skid deck and caster wheels, provides an all-in-one solution that makes the SkiErg mobile. Either way, the SkiErg is easy to assemble, and we provide all the tools you'll need to do the job.
High Strength Drive Cords
The SkiErg relies on high-strength cords in its drive system. Much stronger than steel, the cords are also extremely lightweight, resulting in a system that is responsive and smooth.
Flywheel and Damper
The SkiErg responds to your effort on every pull, so you are in full control of your exertion and resistance at all times. The spiral damper allows you to quickly adjust the airflow to the flywheel, so you can change the feel of the pull to suit your preference. Whether you want your workout to feel like you're on flat terrain or an uphill climb, the SkiErg will respond to your needs.
Ergonomic Strapless Handles
The SkiErg's ergonomic, strapless handles provide for a comfortable, secure grip and won't absorb sweat so they stay dry in high use settings. They are also suitable for all hand sizes as they require no adjustment.
Durable Construction That's Easy to Maintain
Concept2 machines are well-known for their durability and construction. Tough and built to last, Concept2 machines withstand rigorous use in Nordic ski centers, living rooms, health clubs and military bases around the world. They make sure our machines are easy to care for so you can focus on using your investment, not maintaining it.
The SkiErg requires very little assembly. There are a total of twelve screws, all necessary tools are included with clear instructions with lots of pictures. 
Included with your Purchase
We include the following items with your SkiErg PM5 purchase:
Performance Monitor with Quick Start Guide
SkiErg Product Manual
Tools and illustrated assembly instructions
Model: 2715
Specifications
SKU: EXRCONSKIERG
Monitor: PM5
Power Generation: Takes Two D Cell Batteries. SkiERG Provides operating Power When Machine is in Use
Frame: Aluminum
Finish: Powder Coat
Color Scheme: Black
Space Requirements
Wall Mounted: Width at bottom 19" (48.3 CM) Width at Top 20.5" (52 CM) Depth
16" (40.6 CM) Height 83.5" (212 CM)
Mounted on Floor Stand: 24" x 52" x 85" (61 CM x 132 CM x 215.9 CM)
Machine Weight: SkiERG 46 LBS (20.9 KG) Floor Stand 35 LBS (16KG)
Shipping Dimensions: SkiERG 21" x 19" x 49" (54 CM x 49 CM x 125CM) Floor Stand 5" x 26" x 53" (13 CM x 66 CM x 135 CM)
Shipping Weight: SkiERG 61 LBS (28 KG) Floor Stand 38 LBS (18KG)
No specifications for this product.
Calgary NorthEast
Edmonton North
West Edmonton
Kamloops
Kelowna
BC Distribution Centre
Lethbridge
Regina
Richmond
Saskatoon
Vancouver