Flaman Fitness Rower Equipment Mat (102" x 30")
$79.00
$79.00
$79.00
$79.00
$79.00
$79.00
$79.00
$79.00
$79.00
$79.00
$79.00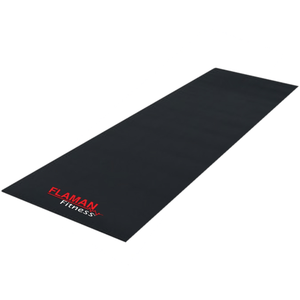 Flaman Fitness Rower Equipment Mat (102" x 30")
$79.00
$79.00
$79.00
$79.00
$79.00
$79.00
$79.00
$79.00
$79.00
$79.00
$79.00
Rowing is great for both cardio and strength training, but it can sometimes be hard on your floors. Fortunately, there's an easy, affordable solution for that.
Specifically designed for rowing machines, the Flaman Fitness Rower Equipment Mat gives you 102" x 35" inches of coverage - protecting your hardwood and laminate flooring from scuffs and moisture. It's made of 3 MM - thick PVC Rubber, making it odor-free, noise-reducing, non-slip and vibration-absorbent.
This mat is also low-maintenance. It rolls up quickly so you can sweep away dirt and debris that could otherwise get trapped and cause damage to your floor. Clean-up is a cinch - done with ordinary soap and water - so you're ready for your next worry-free workout.
Specifications
SKU: EXAFLAROWMAT
Footprint: 102" L x 32" W
Thickness: 3 MM
Material: PVC (Polyvinyl Chloride) Rubber
Abbotsford
Burlington
Calgary NorthEast
Calgary SouthEast
Edmonton North
West Edmonton
Ontario Distribution Centre
Kamloops
Kelowna
BC Distribution Centre
Langley
Lethbridge
Nisku
Red Deer
Richmond
Saskatoon
Vancouver
Victoria