Inspire M5 Multi-Gym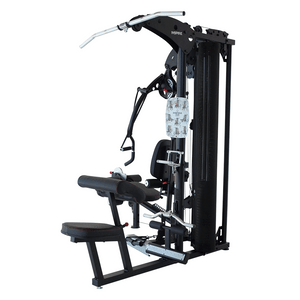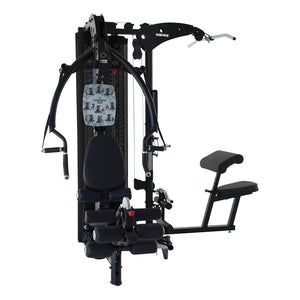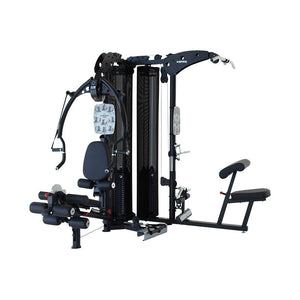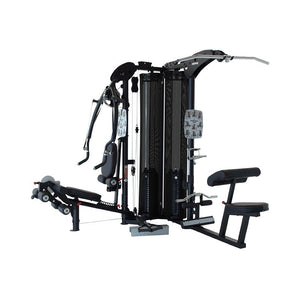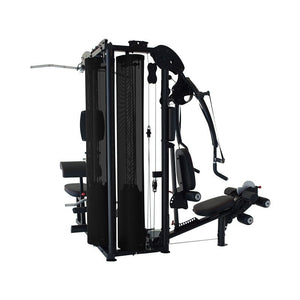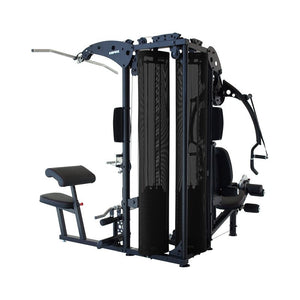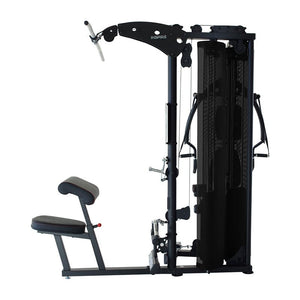 Inspire M5 Multi-Gym
Whether you are looking for the best multi-gym station for your home or a great multi-station gym for your commercial facility, the M5 has everything you need!  It's unique press arm offers both fixed pressing exercises, as well as, free motion movements.  This is important because fixed pressing exercises help develop size and strength, while free motion movements improve mobility and coordination. 
Also featured is the seated leg curl station for shaping glutes and strengthening hamstring muscles.  A patented dual back pad tilt for superior fit and comfort is also standard.  In it's construction, it features 11-gauge steel for it's frame, nylon pulleys (not plastic), 2000 LB tensile strength cables, and precision ball bearings in it's press arm pivot.  Along with the two tone high gloss paint and orthopedic pads, the M5 is not only high functional, but it's an eye-catching addition to any home or commercial gym.
Key Properties:
Orthopedic pads provide exceptional comfort.
"Hybrid" fixed and functional training.
 Space saving "L" shaped design.
 Dual 210 LB weight stacks for multiple users.
 Fixed and cable motion press station.
 Seated leg extension and curl.
 Dual back pad adjustment.
 Calf block standard.
 Adjustable preacher curl station.
 Two exercise placards standard.
Specifications
SKU: EXGINSM5
Gauge of Steel:

 

Heavy Duty 2 x 4: Oval & 3" Round 11-Gauge Tubular Steel
Product Weight:
 

708 LB
User Weight:
 

330 LB
Dimensions: 100" L x 88" W x 83.5" - 85" H.  With Optional Leg Press: 116" L x 88" W x 83.5" - 85" H.
Paint Finish:
 

Two Tone Electronic Powder Coat Offers a Durable Maintenance Free Finish 
Pulleys:
 

Fiberglass Reinforced Nylon
Cables:
 

2000 LB Tensile Strength
Pivot Points:
 

1.5" Precision Steel Bearings at Bench Press & Oil Impregnated Brass Bushings on Other Parts for a Smooth and Fluid Motion With no Maintenance Required
Upholstery:
 

Contoured Orthopedic Pads
Seat:
 

6 Position Multi-angle
Rollers:
 

6 Vinyl Covered Foam
Press Station: 
Easy Adjustable With 4 Standard & 4 Reverse Positions Featuring a Free Motion Cable System to Improve Mobility and Co-ordination
High Pulley: Separate From Press Station to Allow for 2 Users Simultaneously. Pulldown & Pushdown Actions With Height Adjustment for Different Size Users
Mid Pulley: Separate From Press Station to Allow for 2 Users Simultaneously. Adjustable Preacher Curl Station facilitates Rows & Curls
Low Pulley: Side Positioned Incorporating a Unique 'Calf Block' to Facilitate Calf Raises
Leg Station: Fully Adjustable Rotating Leg Station Allows for Seated Leg Extension & Leg Curl Ability
Exercises: Multiple User - 4 Chest, 4 Shoulders, 5 ABS/Back, 5 Arms, 6 Leg (8 With Leg Press Opt.) & Unlimited Functional Training
Accessories Included: 48" Aluminum Revolving Lat Bar, Aluminum Revolving EZ Curl Bar, 2 x Strap Handles with Revolving Grips, Ankle Strap, Seated Row Bar & 2 Full Color Exercise Placards
Optional Extras: Leg Press, Abdominal Bar & 5 LB Add-on Weight