Inspire SF5 Smith Functional Trainer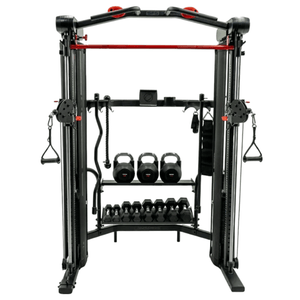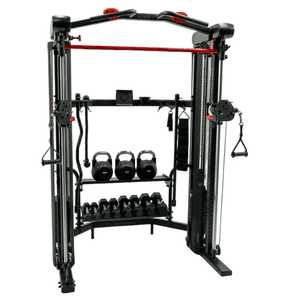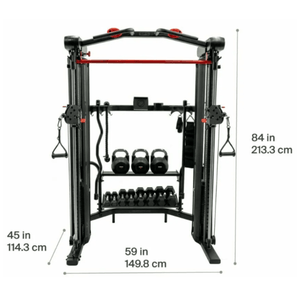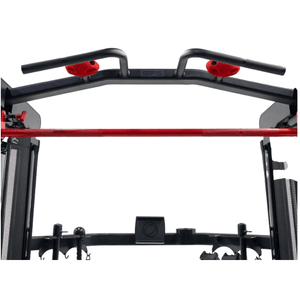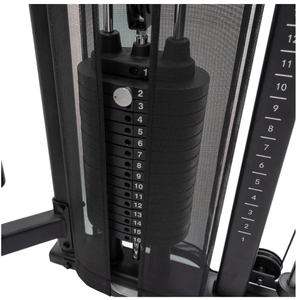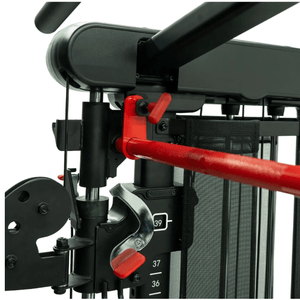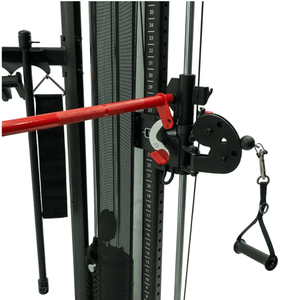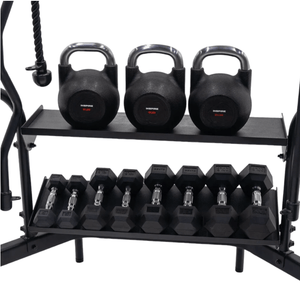 Inspire SF5 Smith Functional Trainer
The Inspire SF5 Smith Functional Trainer: The Ultimate Home Gym Experience
Unleash the power of a commercial-quality gym in the comfort of your own home with the Inspire SF5 Smith Functional Trainer. This two-in-one powerhouse combines a Selectorized Smith Machine and a functional cable machine, offering a versatile and comprehensive workout solution. Engineered with durability, functionality, and convenience in mind, the SF5 is designed to elevate your fitness journey to new heights. 
Limitless Versatility for Dynamic Movement and Resistance Training
The SF5 is a versatile exercise machine that can handle lots of different workouts. It comes with a pull-up bar, rock climbing grips, and other features to help you reach your fitness goals. The Smith Bar makes your movements smooth and controlled, and the adjustable pulleys add variety to your workouts. It also has storage for things like tablets and bands, making it a complete fitness solution. 
Compact Design without Compromising Functionality
The SF5 is a great machine for various exercises. It comes with features like a pull-up bar, rock climbing grips, and adjustable pulleys to help you meet your fitness goals. The Smith Bar ensures smooth movements, and there's storage for things like tablets and bands, making it a complete fitness solution. 
Seamless and Smooth Gliding Pulley System
The SF5 is engineered with a high-quality frictionless pulley system, ensuring smooth and seamless movements throughout your workout. With 39 adjustable positions, you have an extensive range of exercise options to choose from. This versatility allows you to customize your training routine and target specific muscle groups, helping you achieve your fitness goals efficiently and effectively. 
Convenient Storage Rack for Your Free Weights
Say goodbye to cluttered workout spaces. The SF5 comes with a two-tiered horizontal rack featuring a rubberized surface. This storage solution provides a safe and secure place for your favorite free weights, such as dumbbells, kettlebells, and wall balls. Keep your workout area organized and maximize your training efficiency. 
Unleash Your Strength with Upgradable Weights
The SF5 has two weight stacks, each weighing 165 lbs, which is good for most fitness levels. If you want more challenge, you can buy the Weight Stack Upgrade (x2) to add 50 lbs to each stack. This lets you lift up to 360 lbs, so as you get stronger, the SF5 can still keep up with your progress. 
Experience the Inspire SF5 Smith Functional Trainer Today
Transform your home gym into a professional-grade workout space with the Inspire SF5 Smith Functional Trainer. Whether you're a beginner or a seasoned fitness enthusiast, this machine offers limitless possibilities for your training routine. Enjoy the convenience of a versatile all-in-one design, smooth gliding pulleys, ample storage options, and the flexibility to upgrade your weights. Elevate your fitness journey and unlock your full potential with the Inspire SF5 Smith Functional Trainer. 
Key Features
Two-in-One Home Gym:

 Cable resistance machine meets a smith machine in one durable and compact home gym.

 

Upper and Lower Body Functional Training:

 (2) upgradeable 165 lb weight stacks and a cable system with two adjustable swivel pulleys deliver efficient resistance training.

 

Smooth-Glide Pulley System:

 Frictionless pulley movement with 39 adjustable positions to maximize exercise variety.

 

Built-in Selectorized Smith Bar:

 The Smith Bar seamlessly integrates into the weight stacks and it's counter-balanced for an extra-smooth feel when adjusting. There's no need for Olympic Weight Plates or a spotter.

 

Smith Bar Weight Multiplier System:

 Patented design allows the smith bar to seamlessly integrate into the weight stacks allowing you to lift up to 360 lb.

 

Storage Rack:

 Safe and secure storage for your favorite free weights like dumbbells, kettlebells, wall balls and more.

 

Includes 10 Accessories

: (2) D Handles, Triceps Rope, Dual Hook Curl Bar, Ankle Strap, Multi-Purpose Belt, Tablet Holder, Cup Holder, and (2) 5 lb Add on Weights.

 

Durable Construction:

 Heavy duty steel frame, commercial grade cables and a matte black powder coat finish to outlast your toughest workout.

 
The SF5 is the ultimate fitness companion that brings the full body workout and entire gym experience to your doorstep. Don't miss out on this exceptional opportunity to take your training to the next level. Invest in the Inspire SF5 Smith Functional Trainer and embark on a fitness journey like no other. 
Want to learn more about the SF5? Check out our blog post here.
Available at Flaman Fitness online or "try before you buy" at one of our 19 locations across Canada. 
Specifications
SKU: EXGINSSF5
| | |
| --- | --- |
| TECHNICAL SPECIFICATIONS | |
| Frame | Heavy-duty round & rectangular steel |
| Color | Matte Black, Chrome |
| Finish | Electrostatic Powder Coat |
| Bearings | Precision Steel Ball System |
| Weight Stacks | 2 x 165 lbs (2:1 ratio for 82.5 lbs per pulley) {87.5 lbs max with 5 lbs Add-On Weights} |
| Weight Multiplier | Doubles weight for heavy lifters, while using the smith bar |
| Carriages | Counterbalance for ease of adjustment |
| Built-In Storage | (2) Accessory Storage Racks, Tablet Mount for mobile devices, Cup Holder, FLB2 Bench Mount |
| Included Accessories | (2) D Handles, Triceps Rope, Dual Hook Curl Bar, Ankle Strap, Multi - Purpose Belt, and (2) 5lb Add On Weights |
| Resistance Ratio | 2:01 |
| Muscle Groups | All |
| Warranty | Residential: Limited Lifetime on frame & all parts |
| DIMS (W X L X H) | 59 in x 45 in x 84 in (150 cm x 114 cm x 213 cm) |
| Weight | 631 lbs (286 kgs) |
Edmonton North
West Edmonton
BC Distribution Centre
Lethbridge
Saskatoon