MD Buddy Double Massage Ball
$9.99
$9.99
$9.99
$9.99
$9.99
$9.99
$9.99
$9.99
$9.99
$9.99
$9.99
$9.99
$9.99
$9.99
$9.99
$9.99
$9.99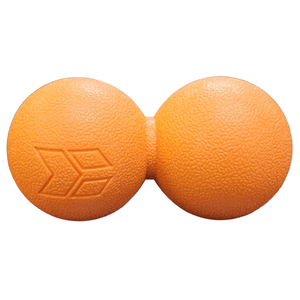 MD Buddy Double Massage Ball
$9.99
$9.99
$9.99
$9.99
$9.99
$9.99
$9.99
$9.99
$9.99
$9.99
$9.99
$9.99
$9.99
$9.99
$9.99
$9.99
$9.99
Double-team your tight, sore muscles and roll in the relief.
 The MD Buddy Double Massage Ball is the perfect recovery partner for your foam roller. It's ideally designed to massage parallel lines of muscles, spanning skeletal ridges like your thoracic and neck vertebrae. The curved gap between the two balls is tailor-made for pressing down on your post-workout pain trigger points.
 It can provide full-body relief – encouraging myofascial release in areas like your thighs and feet along with your neck and back.
Offering the tennis ball's curved pressure plus a slightly stiff surface, the MD Buddy Double Massage Ball relaxes your muscles, promotes proper posture, boosts your circulation, and lowers your stress levels. That yields a multitude of benefits, including relaxed muscles, headache relief, improved blood circulation, a better night's sleep, greater heart health, and more control over your insulin and cortisol levels.
 All of these qualities make the MD Buddy Double Massage Ball an excellent tool for post-workout recovery, enhancing your yoga sessions, self-soothing massage, prenatal massage, and improving your daily functionality.
Massage Ball Colors May Vary
Specifications
SKU: EXAMDB1260
Dimensions:
Diameter: 65 MM
Weight: 280 G / .6 LB
Characteristics
Conjoined Design Corresponding to Human Mechanics, 

Slightly Stiff to Effectively Massage the Back or Other Muscle Parts

Non-Slip Surface Treatment, Non-Absorbent
Abbotsford
Brantford
Burlington
Calgary NorthEast
Calgary SouthEast
Edmonton North
West Edmonton
Ontario Distribution Centre
Kamloops
Kelowna
BC Distribution Centre
Langley
Lethbridge
Nisku
Red Deer
Regina
Richmond
Saskatoon
Vancouver
Victoria
Woodbridge