MD Buddy Fillable Bag (100 LB Limit)
$49.99
$49.99
$49.99
$49.99
$49.99
$49.99
$49.99
$49.99
$49.99
$49.99
$49.99
$49.99
$49.99
$49.99
$49.99
$49.99
$49.99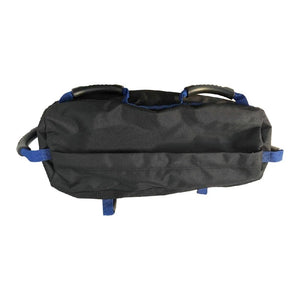 MD Buddy Fillable Bag (100 LB Limit)
$49.99
$49.99
$49.99
$49.99
$49.99
$49.99
$49.99
$49.99
$49.99
$49.99
$49.99
$49.99
$49.99
$49.99
$49.99
$49.99
$49.99
When it comes to burning fat, building muscle, and improving your balance, there's no cheating. But you can try something shifty.  
The MD Buddy fillable sandbag has an advantage over other free weights. The sand inside it is always shifting, so you're not just lifting with your muscles, you're also making constant, minute posture adjustments to stay balanced. That's what makes sandbags great for a variety of full-body workouts. Multiple muscles are always engaged in your workouts.  
Six handles (two on the ends and four on the sides) allow you to vary your grip, making your workouts even more of a challenge for your muscles.  Made of a durable, water repellent 600D PVC fabric, this adjustable weighted bag is made to last longer than you can. 
It contains multiple inner bags you can fill or partially fill with sand. This allows you to move up in the increments you prefer throughout your strength-building progress. Lift any weight you want up to 100 lbs. 
If you have the sand and the stamina, this is the full-body workout option for you. 
Specifications
Dimensions: 21 x 14 x 16.5"/54 x 36 x 42CM 
Exterior Material: 600D PVC 
Sand included: No 
Brantford
Calgary NorthEast
Edmonton North
West Edmonton
Ontario Distribution Centre
Kamloops
BC Distribution Centre
Langley
Lethbridge
Regina
Saskatoon