MD Buddy Grid Shaped Massage Stick (20")
$19.98
$19.98
$19.98
$19.98
$19.98
$19.98
$19.98
$19.98
$19.98
$19.98
$29.99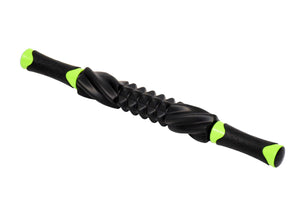 MD Buddy Grid Shaped Massage Stick (20")
$19.98
$19.98
$19.98
$19.98
$19.98
$19.98
$19.98
$19.98
$19.98
$19.98
$29.99
The 20" Massage Stick adds mobility and function to the ever-expanding MD Buddy maintenance line. At 20" the stick is long enough to work on wide quad and thigh muscles but small enough to be the perfect portable massage tool. The unique design helps with deep tissue massage or legs, foot, back and calves, while improving blood circulation and releasing muscle tension. 
Convenient size makes massager ideal for travel
Three directional surface textures are more effective at the muscle versus a one dimensional surface
Bearings in the handle for smooth operation
Ergonomic handles have a grippy surface for added control
Easy to clean
Have a complete massage toolkit by adding our Massage Roller (sold separately).
Specifications
SKU: EXAMDBGRIDSTK
Abbotsford
Calgary NorthEast
Calgary SouthEast
Edmonton North
West Edmonton
Ontario Distribution Centre
Kelowna
BC Distribution Centre
Langley
Lethbridge
Nisku
Red Deer
Richmond
Saskatoon
Vancouver
Victoria