MD Buddy Horizontal Wall Med Ball Rack (W/ Wheels)
$199.00
$199.00
$199.00
$199.00
$199.00
$199.00
$199.00
$199.00
$199.00
$199.00
$199.00
Price
$299.00
You save 33%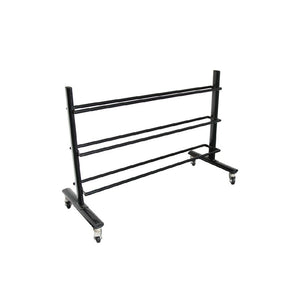 MD Buddy Horizontal Wall Med Ball Rack (W/ Wheels)
$199.00
$199.00
$199.00
$199.00
$199.00
$199.00
$199.00
$199.00
$199.00
$199.00
$199.00
Price
$299.00
You save 33%
Keep your slam balls and medicine balls rolling - but not all over the floor
This MD Buddy Horizontal Wall Med Ball Rack enhances its storage and durability qualities with the roll-away convenience of wheels. This allows you to roll your equipment anywhere within rolling distance - while keeping it orderly and preventing tripping hazards. 
This rack features a durable, load-ready, three-tier frame made from heavy-duty commercial-grade steel. It's finished with a strong powder-coat finish to resist scratches, scuffs, and dings through many intense workouts. 
It's slim 1.6' / 50 CM profile make it easy to store in almost any corner. Tipping won't be a problem, as its wheels provide stability as well as mobility. 
Specifications
SKU: EXAMDB6403
Assembled Dimensions:
Length: 59" / 150 CM

Width: 15.75" / 40 CM

Height: 31.5" / 80 CM

Weight: 46 LB / 21 KG
Package Dimensions: 
Length: 59" / 149 CM

Width: 14" / 36 CM

Height: 5" / 12 CM

Weight:

 

46 LB / 21 KG
 

Capacity: 12 balls
Burlington
Calgary NorthEast
Calgary SouthEast
Edmonton North
West Edmonton
Ontario Distribution Centre
Kelowna
BC Distribution Centre
Lethbridge
Saskatoon
Victoria