MD Buddy Rubber Lifting Platform (6.5 FT X 3.3 FT)
$299.00
$299.00
$299.00
$299.00
$299.00
$299.00
$299.00
$299.00
$299.00
$299.00
$299.00
$299.00
$299.00
$299.00
$299.00
$299.00
$299.00
Price
$499.00
You save 40%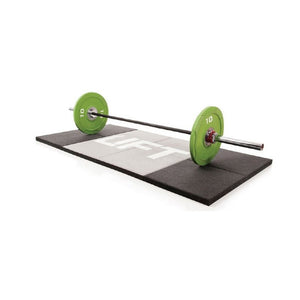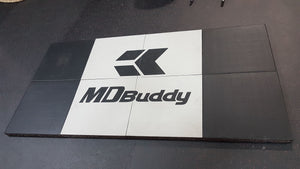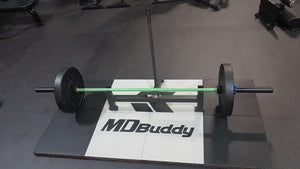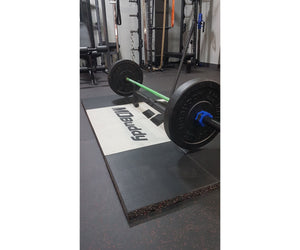 MD Buddy Rubber Lifting Platform (6.5 FT X 3.3 FT)
$299.00
$299.00
$299.00
$299.00
$299.00
$299.00
$299.00
$299.00
$299.00
$299.00
$299.00
$299.00
$299.00
$299.00
$299.00
$299.00
$299.00
Price
$499.00
You save 40%
Gravity is a law. Noise and damage from dropped barbells don't have to be.
 The MD Buddy Rubber Lifting Platform provides a 6.6' x 3.3' zone of protection for your weight plates, your bar and your floor. Made of 1.75" tile, it delivers superior sound and impact absorption, and it won't wear like stall mats do when caught between a falling barbell and unforgiving concrete.
This platform is easy to assemble – made of eight separate 20" x 20" tiles, which are locked together by undermounted clips. You can count on them to stay in place when you're lifting, not ride up at the least convenient time. And when you need that floor space or change your dedicated lifting area, the tiles are as easy to disassemble as they were to put together. And they're much easier to move than one big, cumbersome rubber roll.
Features:
- Reduces noise from dropping a loaded barbell.
- Easy assembly, get lifting in seconds!
- This deadlift platform is perfect for athletes looking for a dedicated full rubber-tile deadlifting area!
- Includes clips to join the platform together
- Includes (8) 20" x 20" x 1.75" rubber tiles.
Warranty: 1 year against manufacturer defect
Specifications
Material: Rubber
Rubber Tile Quantity: 8
Dimensions:
6.675ft L x 3.35ft W (2m x 1m) x 1.75"H
8 Tiles (20" x 20"x 1.75" each)
Abbotsford
Burlington
Calgary NorthEast
Edmonton North
West Edmonton
Ontario Distribution Centre
Kamloops
BC Distribution Centre
Langley
Lethbridge
Red Deer
Regina
Saskatoon
Vancouver
Victoria