MD Buddy Vibrating Peanut Ball
$49.99
$49.99
$49.99
$49.99
$49.99
$49.99
$49.99
$49.99
$49.99
$49.99
$49.99
$49.99
$49.99
$49.99
$49.99
$49.99
$49.99
Price
$99.99
You save 50%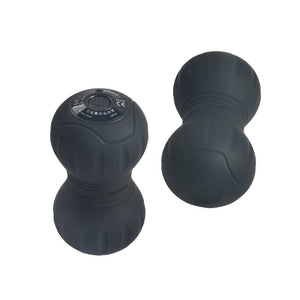 MD Buddy Vibrating Peanut Ball
$49.99
$49.99
$49.99
$49.99
$49.99
$49.99
$49.99
$49.99
$49.99
$49.99
$49.99
$49.99
$49.99
$49.99
$49.99
$49.99
$49.99
Price
$99.99
You save 50%
Find workout pain wherever it hides and work it out.
 The MD Buddy Vibrating Peanut Ball is designed to put foam-roller-like pressure and vibration to work, providing pain relief and improving your body's overall performance.  Use its two vibrating spheres before or after your workout to stimulate myofascial tissue release.
 Use the natural cradle in the middle to roll the painful trigger points out of your hamstrings. This peanut ball's contoured texture reaches in deep – whether you have the vibration switched on or not.
 When you do switch it on, you'll have four settings to attack and eliminate the sources of your soreness and fatigue. So you can choose to vibrate away the mild tension of a light workout or break up the fascia stubbornly stiffened by a heavier workout. You can facilitate quick recovery using your peanut ball against a wall, floor, or couch or recliner.
 Just find your ideal setting and melt the tension and tightness away in minutes. 
 Model: MD12007
Specifications
SKU: EXAMDBVIBEPEANUT
Colour: Black

Material: Silicone

Dimensions: 7" Length x 4" Diameter

Weight: 2 LB

Intensity Settings: 4

Power Source: Rechargeable Battery
Features
Work out Muscle Pain and Tension With High-Intensity Vibrating Technology.

The Ergonomic, Contoured Shape Allows you to Specifically Target your Pressure and Point of Contact.

High Quality 4-Speed Motor Effectively Targets Your Trigger Points, Bringing Relief to Muscles, Tendons and Ligaments.

4 Intensity Levels – Find the one That Meets your Massage Needs

Rechargeable Battery Provides Hours of Pain Relief.

Water and Sweat Resistant

Portable, Lightweight, and Compact

Made With High-Quality Components

10-Minute Auto Shut off

TSA Friendly
Abbotsford
Brantford
Calgary NorthEast
Calgary SouthEast
Edmonton North
West Edmonton
Ontario Distribution Centre
Kamloops
Kelowna
BC Distribution Centre
Langley
Lethbridge
Nisku
Regina
Richmond
Saskatoon
Vancouver
Victoria