MD Buddy Wooden Hang Board
$119.99
$119.99
$119.99
$119.99
$119.99
$119.99
$119.99
$119.99
$119.99
$119.99
$119.99
$119.99
$119.99
$119.99
$119.99
$119.99
$119.99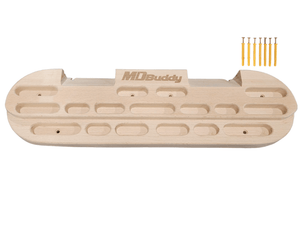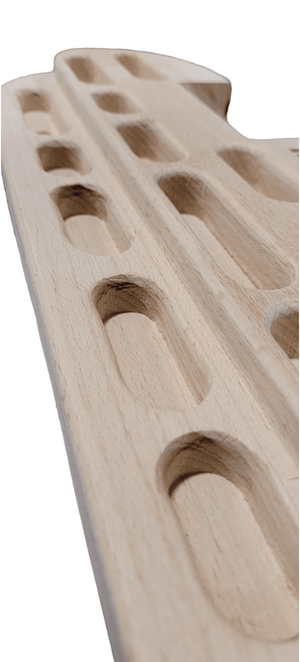 MD Buddy Wooden Hang Board
$119.99
$119.99
$119.99
$119.99
$119.99
$119.99
$119.99
$119.99
$119.99
$119.99
$119.99
$119.99
$119.99
$119.99
$119.99
$119.99
$119.99
Looking to improve your grip strength and finger endurance?
The MD Buddy Wooden Hang Board gives rock climbers and general strength training enthusiasts a superb grip and upper-body workout.
Made from high-quality durable wood, this hangboard withstands heavy use and is less prone to the cracking or breaking you'll see with plastic boards. A variety of router-cut handholds provides several specific grip types, so you can develop your weaker muscles. It's a realistic grip that better simulates the feel of real rock than plastic or metal can.
This wooden hangboard gives your muscles with a rigorous workout, but it's gentle on your skin. Sanded and with slightly rounded edges, this board is less abrasive than plastic or metal hangboards, preventing skin injuries like blisters.
Finally, it's environmentally friendly – made from sustainably sources, biodegradable materials.
Specifications
SKU: EXAMDB5137
Dimensions
Length: 21.6"/55cm
Width: 6"/15 cm
Depth: 2"/5 cm
Finger Pocket Heights
0.75"/19.05mm
0.5"/12.7mm
Sloper Dimensions
4.125"/10.47cm wide
2.25"/5.71cm angle length
Material: Wood
Mounting Hardware Included


Edmonton North
Ontario Distribution Centre
Langley
Richmond
Saskatoon