MD Buddy Wood Jerk Block Set - (2" - 6" - 12" - 15")
$849.00
$849.00
$849.00
$849.00
$849.00
$849.00
$849.00
$849.00
$849.00
$849.00
$849.00
$849.00
$849.00
$849.00
$849.00
$849.00
$849.00
Price
$999.00
You save 15%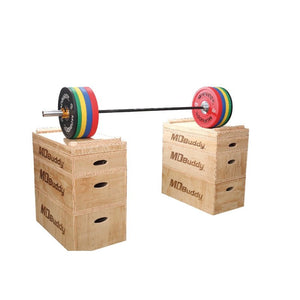 MD Buddy Wood Jerk Block Set - (2" - 6" - 12" - 15")
$849.00
$849.00
$849.00
$849.00
$849.00
$849.00
$849.00
$849.00
$849.00
$849.00
$849.00
$849.00
$849.00
$849.00
$849.00
$849.00
$849.00
Price
$999.00
You save 15%
You can't ask for a better spotter than this
The MD Buddy Wooden Jerk Block Set combines durability, strength and craftmanship to safely lessen the distance between a raised bar and a dropped one.  That allows you to concentrate on the jerk portion of your clean and jerk or to perfect your block pulls, partial deadlifts, and floor presses. You no longer need worry about properly racking your weight plate load on your body before dropping the bar on the floor. Nor will you have to concentrate on carefully backing up to find your J-cups.  You can focus fully on your technique.
This set of trusty twin towers are built to absorb a heavily laden bar drop without jumping, cracking or letting the load roll off. The source of their strength is a rugged structure based on ingenious design. Two sets of three sturdy boxes – 15", 12" and 6" in height – feature double-wall construction with stabilizing brace pieces. This makes for a remarkably strong platform built of reasonably light components, which you'll appreciate when you're moving, carrying or stacking them. Cut-out hand holds on the three larger blocks also make these tasks easier.
You can use single blocks or combinations of two or three to fine-tune the desired height for your lift and drop. Just remember to crown your stack with the 2" top piece, with its super-stout triple-wall construction and wooden stopper bars to keep your plates secured. These layers are designed to lock in place for extra stability as you literally raise the bar from 8" to 35" off the floor. As a bonus, they're also more than steady and stable enough for box jumps.
If you're looking for a secure, safe and worry-free way to conduct your heavy-duty strength training, the MD Buddy Wooden Jerk Block is solidly on your side – actually, on both sides.
Specifications
SKU: EXAMDB6509
Dimensions:
Block 1: 35" x 20" x 2.25"

Block 2: 35" x 20" x 6"

Block 3: 35" x 20" x 12"

Block 4: 35" x 20" x 15"

Combined: 35" x 20" x 35"
Total Weight: 350 LB
Maximum Weight Capacity: 1000 LB
Calgary NorthEast
Edmonton North
Ontario Distribution Centre
Kamloops
BC Distribution Centre
Regina
Saskatoon