PlayNation Infant Swing
$59.00
$59.00
$59.00
$59.00
$0.00
$59.00
$59.00
$59.00
$59.00
$59.00
$59.00
$59.00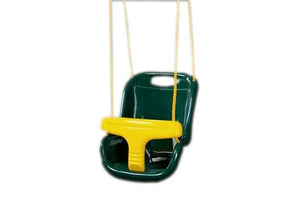 PlayNation Infant Swing
$59.00
$59.00
$59.00
$59.00
$0.00
$59.00
$59.00
$59.00
$59.00
$59.00
$59.00
$59.00
This safe and sturdy infant swing offers two safety features for your child: two straps help secure your child's torso and an additional wide seat belt front slides up and down on the rope to help you place the child securely into the swing. A high back is also featured for added support of your child's head and neck.
Specifications
SKU: EXOPNINFANTSWING
Hard High Back
Rope and Seat Belt Included
Weight Limit: 35 LB
Dimensions: 15" W x 11" D x 21" H (Swing Only)
No specifications for this product.