PowerBlock Pro 50 Urethane Stage I - Pair (5 - 50 LB)
$649.99
$649.99
$649.99
$649.99
$649.99
$649.99
$649.99
$649.99
$649.99
$649.99
$649.99
$649.99
$649.99
$649.99
$649.99
$649.99
$649.99
Price
$699.99
You save 7%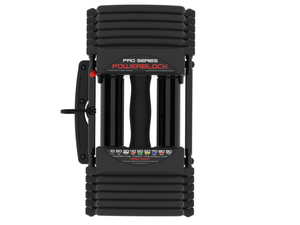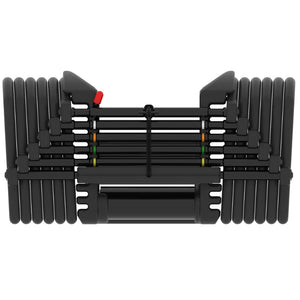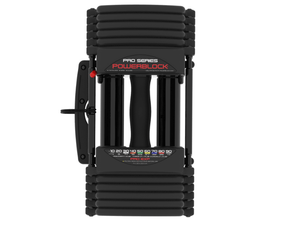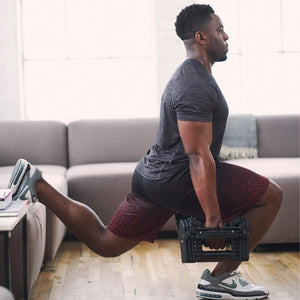 PowerBlock Pro 50 Urethane Stage I - Pair (5 - 50 LB)
$649.99
$649.99
$649.99
$649.99
$649.99
$649.99
$649.99
$649.99
$649.99
$649.99
$649.99
$649.99
$649.99
$649.99
$649.99
$649.99
$649.99
Price
$699.99
You save 7%
Looking for an adjustable dumbbell that minimizes the time you spend adjusting and optimizes the time you actually work out? The Uniquely designed PowerBlock PRO EXP system is worth its weight in quick weight changes and long-term durability.
When you're ready for a challenge, this base unit nests in the Stage 2 add-on, taking you from 50 to 70 LB Want even more of a challenge? Your Stage 1 and  2 combo nests in the Stage 3 add-on (70 to 90 LB) Altogether, the entire EXP Pro Series replaces 28 pairs of dumbbells, or 2565 LB of weights. 
Sold in pairs, the base unit starts at 5 LB allows you to micro-adjust your lift in increments as small as 2.5 LB A super-strong yet flexible selector pin allows you to make adjustments quickly and easily. Just pull it out and fully reinsert it at fully your selected weight level. You'll instantly know what you're lifting, with vibrant color coding and weight charts on both sides of each dumbbell. That makes for fast, fluid sets of drop sets, supersets, and other strength workout exercises.
Those exercises are made more efficient by a design based on ergonomics and long-term use. More spacious and comfortable handholds increase comfort and range of motion. Urethane-coated steel plates and flexible construction provide smooth and quiet performance while contributing durability for many workouts to come. 
For home use only. 
Specifications
SKU: EXWPBPRO50
PRO EXP 5-50 Stage 1 Set
Sold in pairs

For home use only

Starts at a weight range of 5-50 LB Expands to 50-70 then 70-90 LB per hand with addition of Stage 2 ad Stage 3 add-on kits

Replaces 20 pairs of dumbbells or 1049 LB of free weights (28 pairs and 2565 LB with 2 add-on kits)

Increments achieved: 2.5 (adder weight), 5, 7.5, 10, 15, 17.5, 20, 25, 27.5, 30, 35, 37.5, 40, 45, 47.5, 50, 55, 57.5, 60, 65, 67.5, 70, 75, 77.5, 80, 85, 87.5 and 90 LB per hand

Dimensions: 13″ L x 7″ W x 7.25″ H
Abbotsford
Brantford
Calgary NorthEast
Calgary SouthEast
Edmonton North
West Edmonton
Ontario Distribution Centre
Kamloops
Kelowna
BC Distribution Centre
Langley
Lethbridge
Nisku
Red Deer
Regina
Richmond
Saskatoon
Vancouver
Victoria
Woodbridge