Progression 35 Commercial Pullup Bar
$149.00
$149.00
$149.00
$149.00
$149.00
$149.00
$149.00
$149.00
$149.00
$149.00
$149.00
$149.00
$149.00
$149.00
$149.00
$149.00
$149.00
Price
$249.99
You save 40%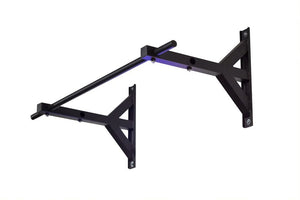 Progression 35 Commercial Pullup Bar
$149.00
$149.00
$149.00
$149.00
$149.00
$149.00
$149.00
$149.00
$149.00
$149.00
$149.00
$149.00
$149.00
$149.00
$149.00
$149.00
$149.00
Price
$249.99
You save 40%
Get a grip on affordable, any-time chin-ups, kipping, L-hanging and more with the Progression 35 commercial chin-up Bar. This ceiling-mounted or wall-mounted "stud" bar fits perfectly into your home gym, garage or basement, leaving plenty of space for other fitness equipment or for workout space. The wide grip is perfect for leg lifts, knee lifts, and L-hangs to fortify those abs and Lats.
You won't wobble, shake or sway thanks to sturdy anchoring hardware for concrete surfaces. With the proper lag bolts (not included), you can also solidly secure your 35 to wood studs or floor/ceiling joists. It mounts at a standard 48" on center, with the option of hanging the 52" long bar 14" or 22" inches from your ceiling or wall.
The 35 also provides solid support your gym rings, super bands and suspension trainers, making for a wide variety of home workout options you can perform whenever you want in a very compact space.
Specifications
SKU: EXGPROPFX35
Distance From the Wall is 24"

Overall Length x Width: 4'4" x 2'

Length and Diameter of Handles: 4'4" x 1 1/4" D

Can Support up to 500 LB on Proper Surface.
Abbotsford
Brantford
Edmonton North
Ontario Distribution Centre
Kamloops
Kelowna
BC Distribution Centre
Langley
Lethbridge
Regina
Victoria