Progression 430 3-Tier Dumbbell Rack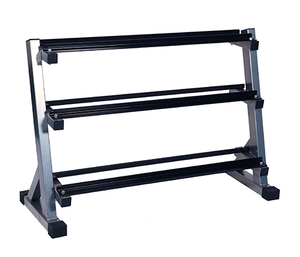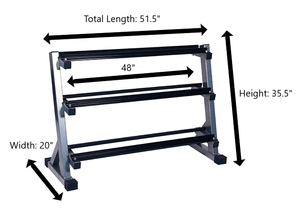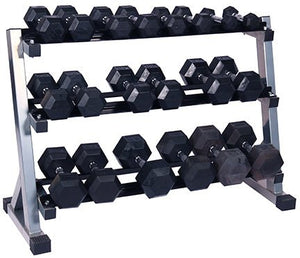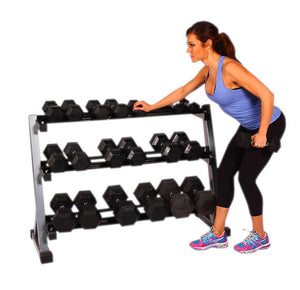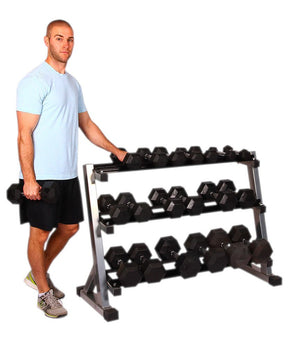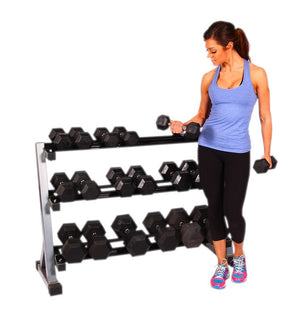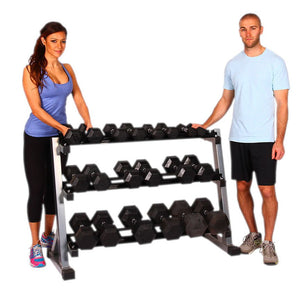 Progression 430 3-Tier Dumbbell Rack
Put those dumbbells in their place. You only have to stub your toe or trip over them once to know that place isn't your floor.
If you have about 52" of horizontal wall space, the 3-Tier Dumbbell Rack allows you to store and organize up to 15 pairs of dumbbells (depending on size). This solid steel, heavy-duty holder gives you instant access to the weights you want to use and eliminates the risk of straining your back reaching down to pick them up from your floor. At 36" in height, all three tiers of this sturdy stand are within convenient reach and the rack encroaches only 20" on your room space. That's perfect for setting up a bench nearby and getting after those dumbbell bench presses, triceps kickbacks, kneeling one-arm rows and lying fly exercises. You'll still have room for stand-up workouts like alternated biceps curls, shoulder presses, lateral raises, upright rows, stationary lunges and toe raises.
It's an affordable storage solution that keeps your home gym area safe, neat and tidy – and while you're preventing injuries, you'll also be protecting your floor.
Specifications
SKU: EXWPROPFX430
Dimensions
Length: 52"

Width: 20"

Height: 36"

Weight: 92 LB
Abbotsford
Brantford
Burlington
Calgary NorthEast
Calgary SouthEast
Edmonton North
West Edmonton
Kamloops
Kelowna
BC Distribution Centre
Langley
Lethbridge
Nisku
Red Deer
Regina
Richmond
Saskatoon
Vancouver
Victoria
Woodbridge