Progression Fitness Commercial Rubber Dumbbells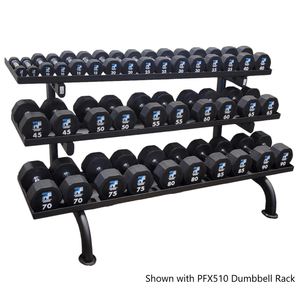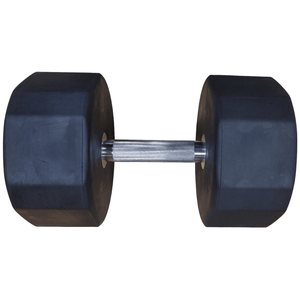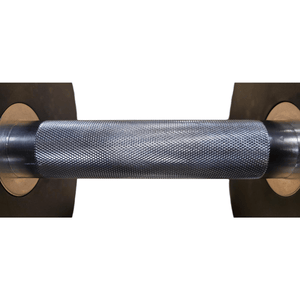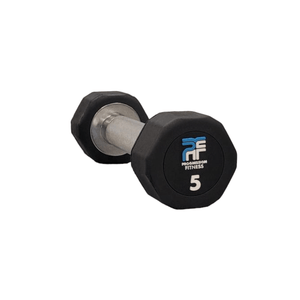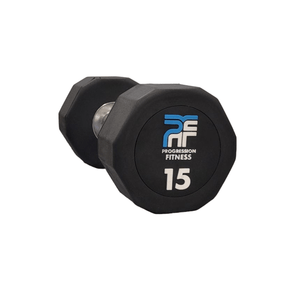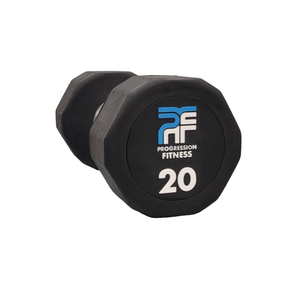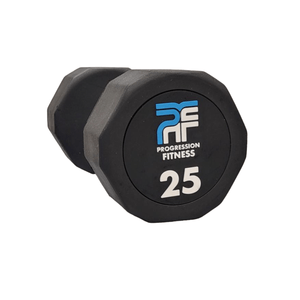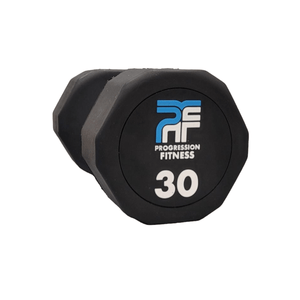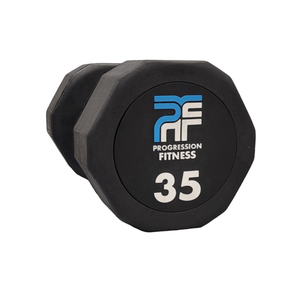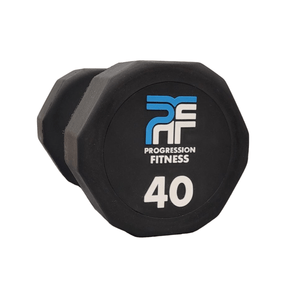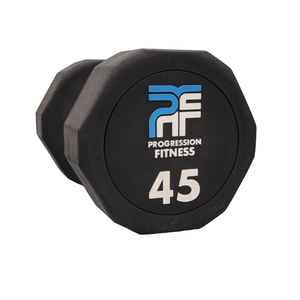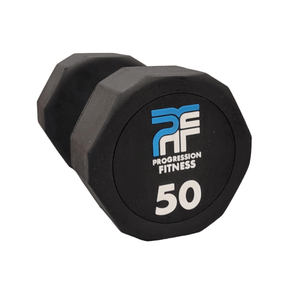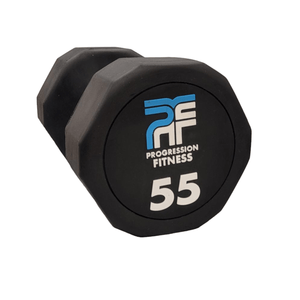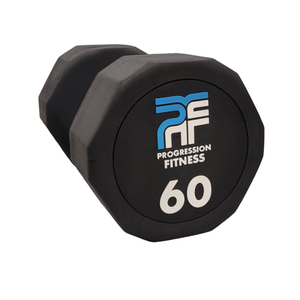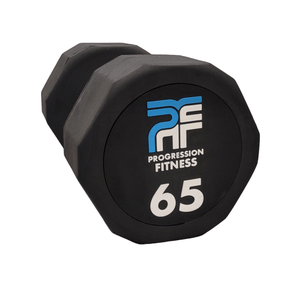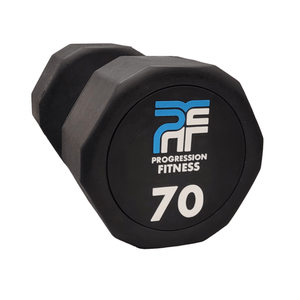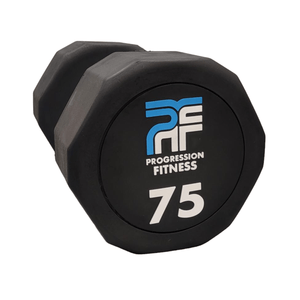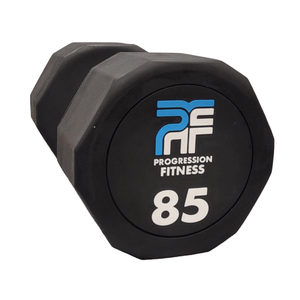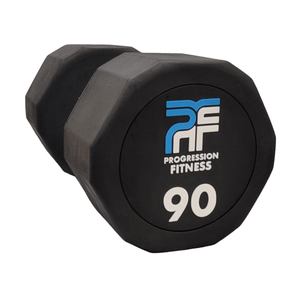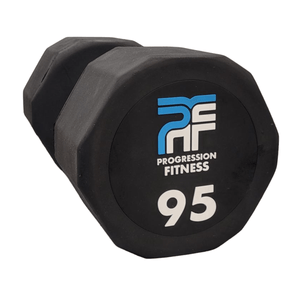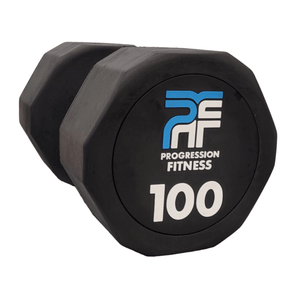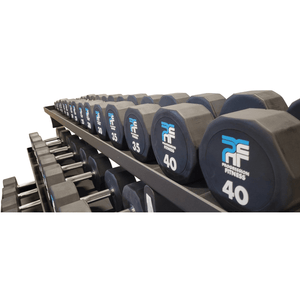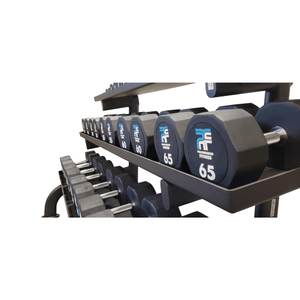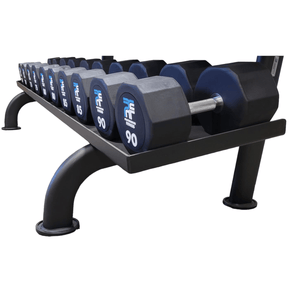 Progression Fitness Commercial Rubber Dumbbells
12-Sided Perfection With Progression Fitness Commercial Rubber Dumbbells
Progression Fitness Commercial Rubber Dumbbells exemplify an intricate manufacturing process, crafted to meet the demands of fitness enthusiasts and professionals alike. This journey towards perfection begins with the creation of a one-piece precision machined handle. Every handle is encased in premium commercial-grade rubber to provide max durability. 
What sets Progression Fitness Rubber Dumbbells apart is the unwavering dedication to quality. Each dumbbell is subjected to a rigorous quality control checklist, which ensures that every dumbbell not only meets but exceeds the highest industry standards. This attention to detail guarantees unparalleled quality, built to endure the toughest workouts and endure the test of time. 
Unique 12-Sided Design
In a departure from the conventional rubber hex dumbbells, Progression Fitness introduces a groundbreaking design with 12 sides. This approach not only enhances the sleek look but also adds an extra layer of safety to your workout routine. Designed specifically to preventing dumbbells from accidentally rolling. This stability ensures that your workout area remains organized and reduces the risk of accidents caused by wayward dumbbells. 
The dual-length flat edges of these dumbbells offer a world of storage options. They can be effortlessly placed on tray-style dumbbell racks, which is a classic storage solution. These dumbbells are also compatible with saddle racks. Progression Fitness Commercial Rubber Dumbbells offer you the most flexibility when it comes to organizing your fitness space. 
Commercial Grade Quality
The sleek, jet-black rubber finish, combined with its high-visibility numbering ensures quick and easy identification. The black rubber finish is not only stylish, it is also is resistant to wear and tear and the dumbbells will maintain their striking appearance even after prolonged use. 
Progression Fitness dumbbells come in a wide range of weights, allowing you to build the perfect set for your fitness needs. Whether you're a beginner or an experienced athlete pushing your limits, these dumbbells start at 5lbs and increase at 5lb increments all the way up to an impressive 120lbs.  
Experience the fusion of form and function with Progression Fitness dumbbells. Elevate your workout space and reach your fitness goals in style with the best-in-class dumbbells designed to enhance both your performance and the overall ambiance of your fitness area.  
Key Features
Commercial Grade Rubber for Durability and Longevity: Progression Fitness dumbbells are crafted using high-quality, commercial-grade rubber. This robust material provides exceptional durability, making these dumbbells suitable for the most demanding workout environments, including commercial gyms and home setups.

 

Mild Knurling for a Secure Grip: Our dumbbells feature carefully designed mild knurling on the handles. This knurling provides users with a secure and comfortable grip, preventing slippage during workouts. Whether you're lifting heavy or working on endurance, you can trust that these dumbbells will remain firmly in your grasp.

 

Numbering on Both Ends for Quick Identification: To enhance user convenience, Progression Fitness has included numbering on both ends of the dumbbells. This thoughtful addition allows users to quickly and easily identify the weight they are looking for, saving valuable time during your workout and promoting an organized training environment.

 

Weight Range from 5lbs to 120lbs: This full set increases in 5lb increments all the way up to 120lbs. This comprehensive range caters to users of all fitness levels, from beginners to advanced athletes, providing the versatility required for diverse training routines and progressive strength gains.

 

Dual-Length Flat Edge for Rack Versatility: These dumbbells are not just versatile in terms of weight but also in terms of storage options. The dual-length flat edge design ensures that they can be securely placed on both traditional tray-style dumbbell racks and saddle racks. This adaptability maximizes your storage options and ensures that your fitness space remains tidy and well-organized.

 
Choose Progression Fitness dumbbells for a comprehensive and professional fitness experience. With a focus on durability, convenience, and versatility, these dumbbells are an excellent addition to any fitness routine, whether in a commercial gym or the comfort of your own home.  
Get your dumbbell set today at Flaman Fitness online or try before you buy at one of our  19 locations  across Canada.  
Pair this dumbbell set this with a Progression 425 2-Tier Dumbbell Rack  
Progression Fitness
Founded by Canadians to offer everyone the opportunity to reach their fitness goals. We made sure that our entire line-up offers everything you need no matter what your fitness dreams are. Offering affordable price points and a team dedicated to support your investment from beginning to end, Flaman Fitness has your back!  
Specifications
SKU: EXWPFDBR***
Sold as Singles
Commercial grade rubber
Mild knurling
Logos on both ends
Burlington
Calgary SouthEast
Edmonton North
Kamloops
Lethbridge
Regina
Saskatoon