Progression Free-Standing Boxing Trainer Punch Bag - (Black Upright Punch Bag)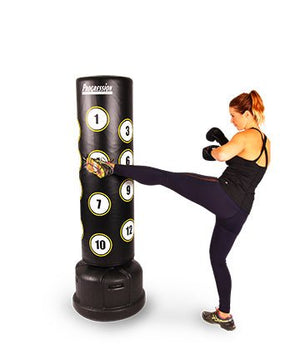 Progression Free-Standing Boxing Trainer Punch Bag - (Black Upright Punch Bag)
Develop your core muscles, sharpen your hand-eye co-ordination, build your endurance and loosen up your flexibility by going a few rounds with this unbeatable sparring/kickboxing/martial arts training partner
The Progression Free Standing Punching Bag looms 6" tall – just defying you to "throw what you got" at its clearly numbered targets. It's perfect for working on those punches and kicks and stringing together combinations that would scare any opponent who isn't this very durable bag.
With built-in shock absorption and a stable base anchored by 88 LB of water, it isn't backing up or going down any time soon. It's high-density inner layer,  soft 5cm-thick EPE foam layer, loads of padding, and a tough grain-leather exterior means it will come out of every fracas unscathed – as will your hands and feet.
Arriving in just two separate pieces and with no nuts, bolts or hanging apparatus to put together, this bag assembles in minutes. The base is wide enough for supreme stability but not wide enough to trip you up as you dazzle with your bobbing, weaving and fancy footwork.  This bag might be immovable while you're hitting it, but when the round's over, it obligingly retires to its corner – where it takes up little space.
So float like a butterfly. Sting like a bee. And win muscle, endurance and mobile-tee! 
Specifications
Dimensions:
Total Height: 6'/180 cm

Body Height:  55"/140 cm

Base Height: 16"/40 cm

Body Diameter: 16"/ 40 cm

Net Weight: 37.5 lbs./17 kg

Gross Weight: 46 lbs./21 kg
Type: Free-standing bag
Material: Finished with grain leather featuring striking black-and-white targets.
Features:
Shock Absorption

High-Density Inner Layer with Upper Soft Foam

Layered Padding

Stable and Robust Sand

Comes in two Boxes – Each Weighing Approximately 25-30 LB

The Base Holds 88 LB of Weight (About 40 L of Water)
Abbotsford
Brantford
Burlington
Calgary NorthEast
Calgary SouthEast
Edmonton North
West Edmonton
Kamloops
Kelowna
BC Distribution Centre
Langley
Lethbridge
Nisku
Red Deer
Regina
Richmond
Saskatoon
Vancouver
Victoria