Progression FT MAX - (2 x 100 KG Stack)
$3,599.00
$3,599.00
$3,599.00
$3,599.00
$3,599.00
$3,599.00
$3,599.00
$3,599.00
$3,599.00
$3,599.00
$3,599.00
$3,599.00
$3,599.00
$3,599.00
$3,599.00
$3,599.00
Price
$4,299.00
You save 16%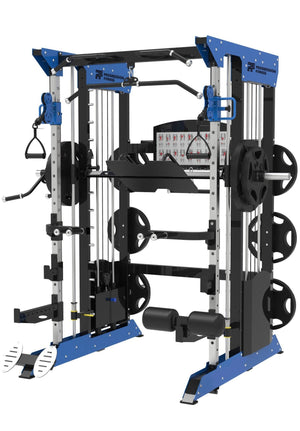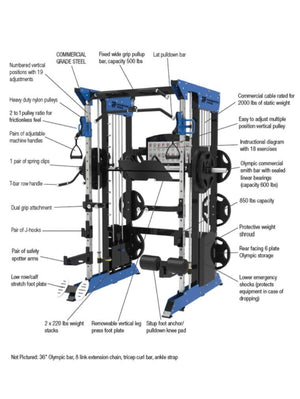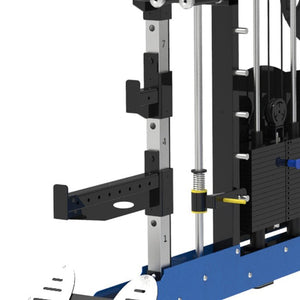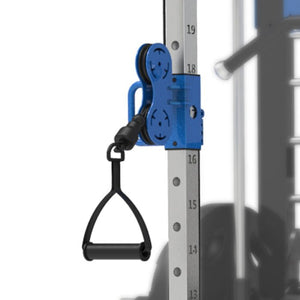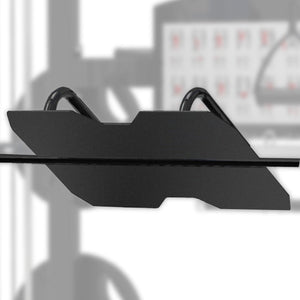 Progression FT MAX - (2 x 100 KG Stack)
$3,599.00
$3,599.00
$3,599.00
$3,599.00
$3,599.00
$3,599.00
$3,599.00
$3,599.00
$3,599.00
$3,599.00
$3,599.00
$3,599.00
$3,599.00
$3,599.00
$3,599.00
$3,599.00
Price
$4,299.00
You save 16%
Do a comprehensive workout in one spot
The Progression FT Max Functional Trainer is the all-in-one solution for home gym enthusiasts and personal trainers with a lot to do but limited floor space – bringing the features of several strength-training machines together in one remarkable, heavy-duty machine. 
Into training for strength, power or bodybuilding? Looking for more muscular endurance, glycolytic efficiency, plyometric benefits, and fast-twitch/slow-twitch muscle development?  Whether you prefer compound or isolation exercises, concentric or eccentric (Negative) muscle actions, or whether you'd just like to get some versatile training in and learn all the fitness benefits later, this could be the machine for you.
The FT Max Functional Trainer offers the number of exercise options you'd usually only get by walking from machine to machine to machine. Now you can walk up to one machine and reap the benefits of several:
Smith Machine:

Can't get a gym buddy or a spotter to watch out for your safety while you do your squats, front squats, lunges, standing calf raises, shrugs, upright rows and more? The FT Max offers the convenience of a Smith Machine, with commercial-grade guide rails that provide a smooth, straight, frictionless lift plus a safe lock and release mechanism to provide a safety catch whenever you need one.
Power Rack:

 

If you want to add some free weight barbell exercises into your workout, this trainer comes with a 7' Olympic bar and sturdy J-hooks to rest it on. These j-hooks are easy to detach and re-attach, providing stable and secure support as you raise or lower them through several height options, enabling a variety of exercises.  If you'd like to vary your barbell selection, Flaman Fitness offers a wide selection of

 

durable bars

 

for weightlifting and CrossFit training.
Functional Trainer:

 

Perform dozens of exercises thanks to swiveling pulleys, and adjustable height positions for your shoulder, arms, chest, back, core and leg cable workouts. With fluid cable movement and plentiful attachments, you'll always have plenty to do – in comfort and safety.
Ergonomic Multi-grip Chin up / Pull Up Station:

 

Prefer building strength by using your own body weight as resistance? The FT Max Trainer offers multiple handholds for a wide variety of exercises, including pull-ups, chin-ups, wide grip pull-ups, and reverse grip pull-ups.
Dip Station:

 

Why just pull your weight up when you can push it, too? Dips are an excellent way to develop your chest, front deltoids, and triceps. This trainer's multi-grip dip station handles allow you to switch muscle targeting by widening or narrowing your grip. Multiple adjustment positions can raise or lower your starting point and allow you to up your intensity by adding power bands or more weights.
Vertical Leg Press Plate (Optional Addition):

How about those thighs, calves, hamstrings and glutes? This premium addition allows you to do a supine leg press with multiple stance variations – allowing you to target specific muscle groups. And since the press works on a smith, you can lock out the bar by simply rotating your ankles after that final rep. So get busy and give your lower body equal time.
          Vertical Leg Press SKU: 
EXGPROPFXFTMAXLP
Specifications
SKU: EXGPROPFXFTMAX
Frame Material: Q235 Stainless Steel
Weight Stack (LB): 221 x 2
Lat Exercise: Yes
Chin-up Bar: Yes
High/Low Pulley: Yes
Low Pulley: Yes
Cable Cross Over: Yes
Smith Machine: Yes - (42 LB  Bar Weight)
Adjustable Front Squat Rack: Yes
Bench Included: No
Bench Features: N/A
Attachments Included: Olympic Bar (35 LB / 7 FT), Lat Pulldown bar, Safety Support Bars, Bicep Bar, 3 FT Rotational Bar, Dip Bar Attachment, J-hooks, Tricep Rope, Chain, Low Row Bar, Footrest
Footprint - Length (Inches): 67
Footprint - Width (Inches): 87
Footprint - Height (Inches): 92
Machine Weight (LB): 981
Warranty: 1 Year
Abbotsford
Brantford
Burlington
Calgary NorthEast
Calgary SouthEast
Edmonton North
West Edmonton
Ontario Distribution Centre
Kamloops
Kelowna
BC Distribution Centre
Langley
Lethbridge
Nisku
Regina
Richmond
Saskatoon
Victoria
Woodbridge
Customer Reviews
Write a Review
Ask a Question
08/19/2023
Leonard

Canada
I recommend this product
Tank
This machine is awesome. I do all of my workouts on it and never feel like I'm missing anything. It's sweet to have both the Smith bar and the regular bar too. I do a lot of pressing movements with the smith and all pulling and leg movements with the smith. The cable system works great and having both sides adjustable top to bottom adds so much to the machine. I can do so many different exercises. Having the cables is nice for my kids as well so they can be safe with less supervision. I would buy this machine again!
09/06/2022
Eric

Canada
Everything You Need
Man this thing comes with a lot of options. It is slightly on the larger side both on height and width but I can see why as it offers so much out of one package. We have been using it for about 6 months now and decided I will write review as I am so pleased with this cage. Our entire family uses this guy and we all have happy opinions on the product as it supplies workouts for every type of style people head towards when it comes to weight training. We all feel super safe with the construction and feel of the unit and the cable system is very smooth. I would recommend purchasing different D handles though as the ones provided do squeak a little bit, but besides that it still gets 5 stars in my view.
09/06/2022
Will

Canada
It can do everything!
If your going to sink a sizeable amount of money into a gym setup buy this as it will save you money buying other machines. For the price this thing is insane, It has a smith, cables, pullup bar and spotters for free weights. It has a Olympic bar holder and plate weight holders at the back. Has big 200lb stacks on each side for the cables, I don' think I will ever need another machine for a very long time. Thanks for a great unit!!

Average Rating: 5 Number of Reviews: 3