Progression Hercules Olympic Bar 86" - (750 LB - 28 MM)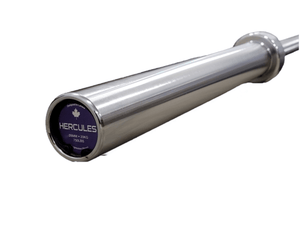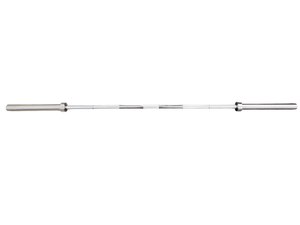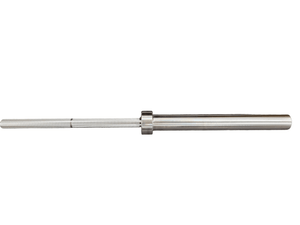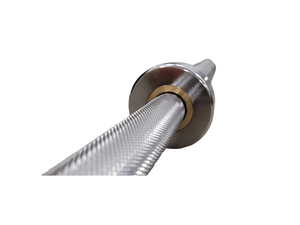 Progression Hercules Olympic Bar 86" - (750 LB - 28 MM)
Elevate Your Olympic Weightlifting with the Progression Fitness Hercules 86" Olympic Barbell:
If you're ready to take your Olympic weightlifting to the next level, the Progression Hercules 86" Olympic Barbell is your ultimate companion. Designed with precision and durability in mind, this seven-foot barbell is your key to unlocking new heights in your lifting journey. 
Impressive Load Capacity:
The Progression Hercules Olympic Barbell boasts two robust 16" outer sleeves, capable of accommodating a staggering 750 pounds of weight. This means you can confidently load up those plates, knowing that this high tensile strength barbell can handle the challenge. Whether you're a seasoned lifter pushing your limits or just beginning your weightlifting journey, this barbell is ready to support you. 
Smooth Lifting Motion:
What sets this Olympic weightlifting barbell apart is its advanced engineering. Equipped with a combination of bushings and needle bearings, this barbell minimizes friction between the sleeves and the solid 30mm steel bar. As a result, your weight plates and sleeves experience an effortless roll, making your lifting motion feel smoother and more manageable. This means less resistance, so you can focus on your form and strength gains without hindrance. 
Enhanced Grip and Comfort:
A secure and comfortable grip is essential for effective weightlifting. That's why we've equipped the Hercules Barbell with 16 inches of slip-proof knurling on both ends. The diamond pattern knurling strikes the perfect balance, allowing your hands to dig in without causing discomfort. Additionally, clear knurling marks indicate the ideal hand placement for the best possible lift. In the center of the bar, you'll find an extra 4 ¾" of more passive knurling. This specialized design ensures a reliable grip on your shirt without causing any damage, even when the barbell rests on your shoulders. 
Versatile and Ready for Action:
The Progression Hercules Olympic Barbell isn't limited to just one style of lifting it's multi-purpose. It's suitable for various Olympic weightlifting exercises, including snatches, clean and jerks, as well as powerlifting bar deadlifts, bench and squats. This versatility means you can streamline your workout routine, utilizing one reliable barbell for all your lifting needs. 
Built to Last:
Investing in your fitness equipment is an investment in your long-term health and performance. The Progression Hercules Barbell is engineered to endure the most rigorous training sessions, ensuring it remains a reliable companion throughout your fitness journey. The solid steel construction and top-notch craftsmanship guarantee longevity and consistent performance. 
Upgrade Your Weightlifting Game:
Are you ready to experience the difference that a premium Olympic barbell can make in your training regimen? The Progression Hercules 86" Olympic Barbell is your path to enhanced strength and technique. With its exceptional load capacity, smooth lifting motion, and superior grip, you'll notice the difference from your first lift. Whether you're a dedicated weightlifter or a fitness enthusiast, this barbell is your ticket to a more successful weightlifting journey. 
Elevate your Olympic weightlifting experience with the Progression Fitness Hercules 86" Olympic Barbell. Embrace the power and precision that comes with this exceptional piece of equipment and set new personal bests on your fitness journey. 
Key Features:
Load Capacity: Up to 750 pounds

 

Smooth Rolling with Bushings and Needle Bearings

 

Secure Grip with Diamond Knurling

 

Durable Solid Steel Construction

 

44lb bar weight

 
Experience the Progression Hercules Olympic Barbell:
Upgrade your lifting game and conquer new challenges with the Progression Hercules Barbell. Whether you're an experienced weightlifter or just starting, this barbell is your path to a more successful and rewarding weightlifting experience. Trust in the Progression Fitness Hercules Olympic Barbell and aim higher with every lift. 
Secure your plates with MD Buddy Aluminum 2" Olympic Locking Jaw Collars available here. 
Progression Fitness
Founded by Canadians to offer everyone the opportunity to reach their fitness goals. We made sure that our entire line-up offers everything you need no matter what your fitness dreams are. Offering affordable price points and a team dedicated to support your investment from beginning to end, Flaman Fitness has your back!  
Specifications
SKU: EXWBAROB86HERCULES 
Material: Chrome
Sleeve Rotation: Bearing + Bushing
Outer Sleeve: Chrome
DIMENSIONS:
Total Bar Length: 2200 MM / 86 5/8"
Bar Diameter: 28 MM / 1 1/8"
Bar Weight: 20 KG / 44 LBS
Total Sleeve Length: 441 MM / 17 3/8"
Outer Sleeve Length: 406 MM / 16"
Maximum Weight Capacity: 340.2 KG / 750 LB
Warranty: 6 Months From Manufacturer Defects
Abbotsford
Brantford
Burlington
Calgary NorthEast
Calgary SouthEast
Edmonton North
West Edmonton
Kamloops
Kelowna
BC Distribution Centre
Langley
Lethbridge
Nisku
Red Deer
Regina
Richmond
Saskatoon
Vancouver
Victoria
Customer Reviews
Write a Review
Ask a Question
11/01/2023
Joseph

Canada
I recommend this product
Damn good for the price.
Bearings are smooth and next to no rattle heard in the linkage when handling the bar. Sharpness of the knurling is a bit higher compared to some other bars but overall this bar is absolutely worth the price when compared to the prices of some other entry level barbells. I was able to pickup in store for $210 with tax so go check out your local location before ordering online.
09/06/2022
Paul

Canada
Amazing bar
I've had this for a while now and use it a lot and I have hardly noticed any issues with the grips or bearings. Grips seems to hold up with time but I would recommend having gloves unless you already have your callus formed as it does have a deep grip which I like but I know others don't. Bearing s are smooth and seem like they will last a long time, great for the price point!

Average Rating: 4 Number of Reviews: 2