Progression Rubber Hex Dumbbell - Single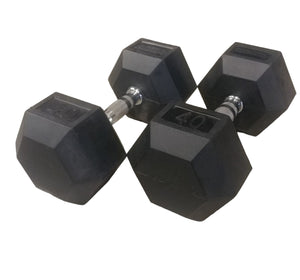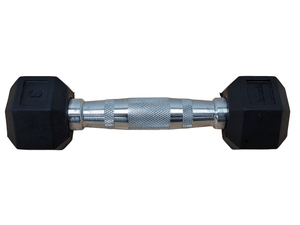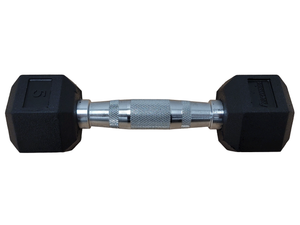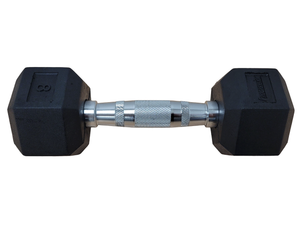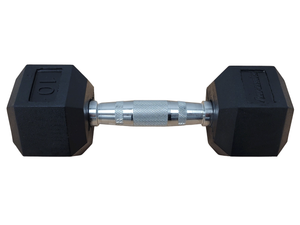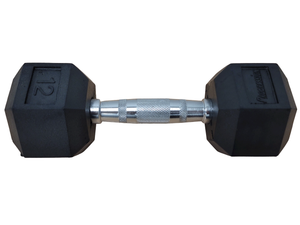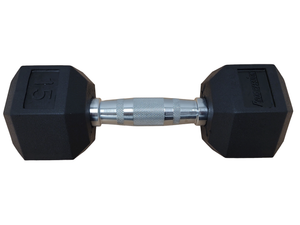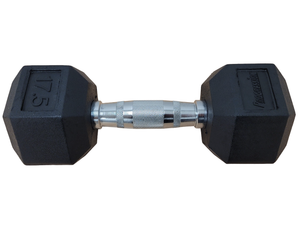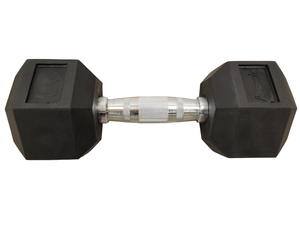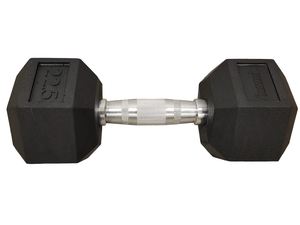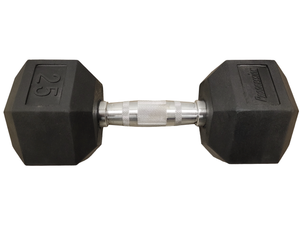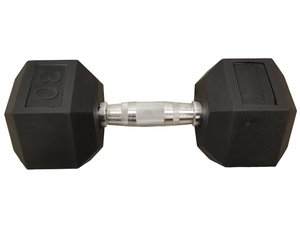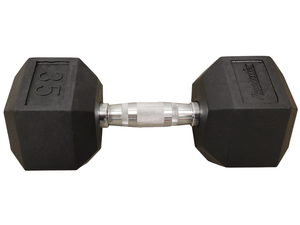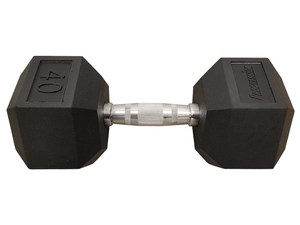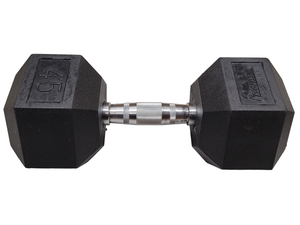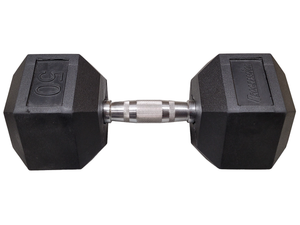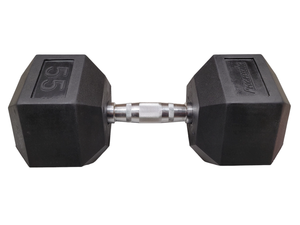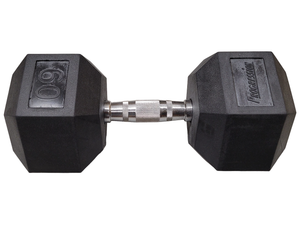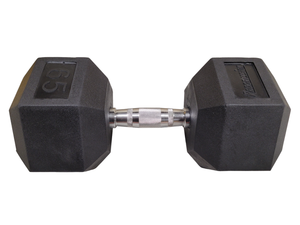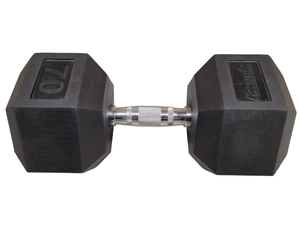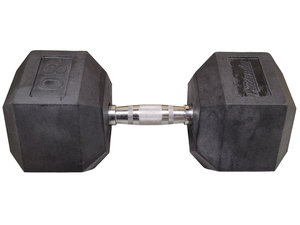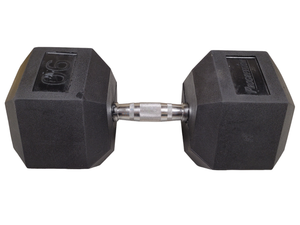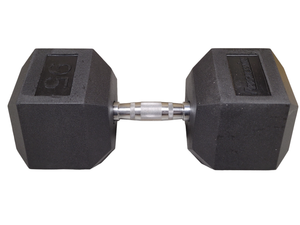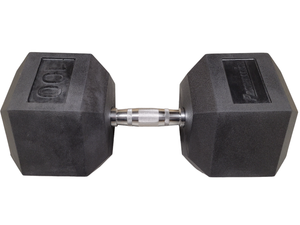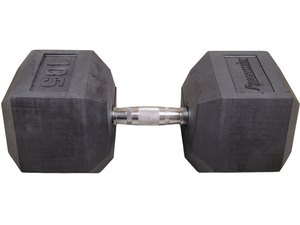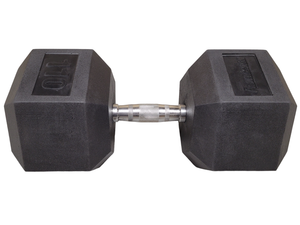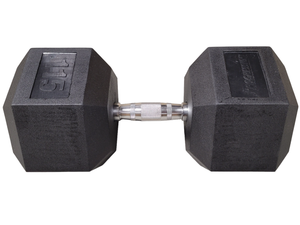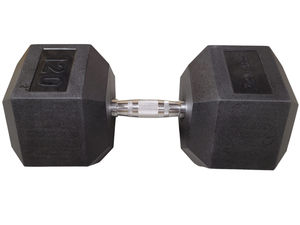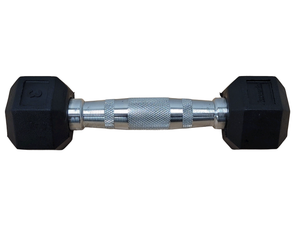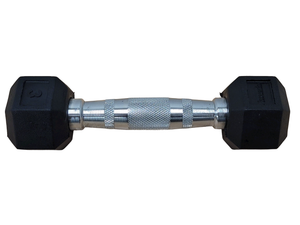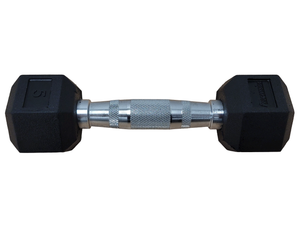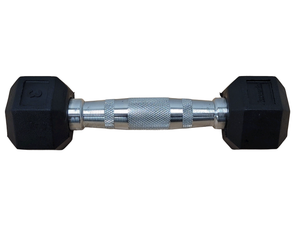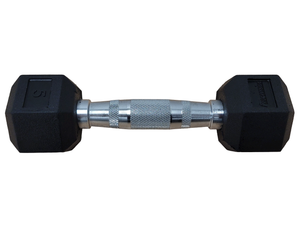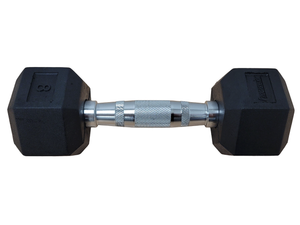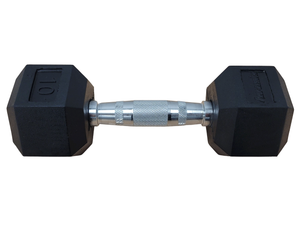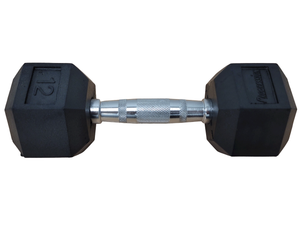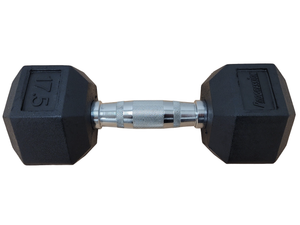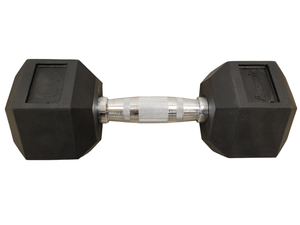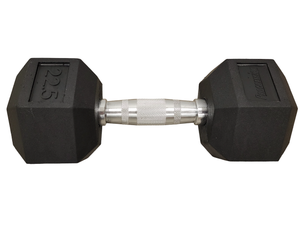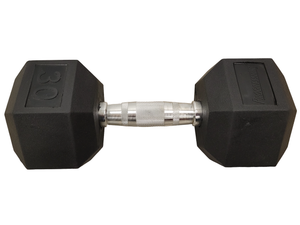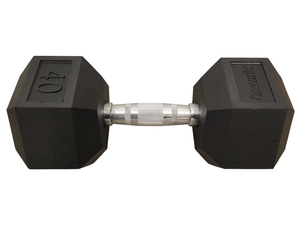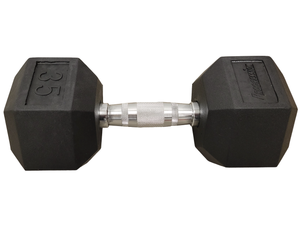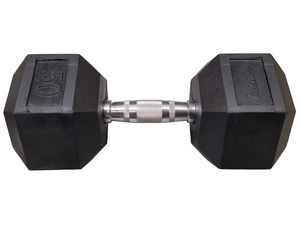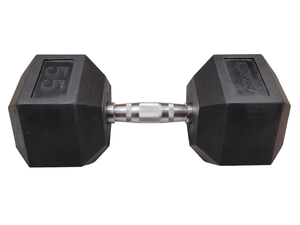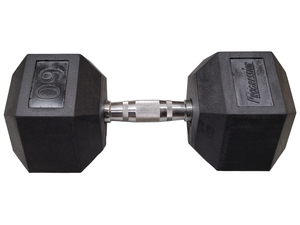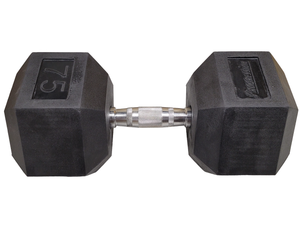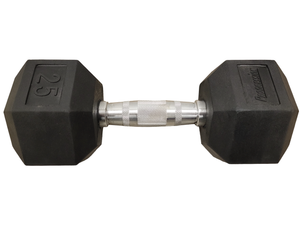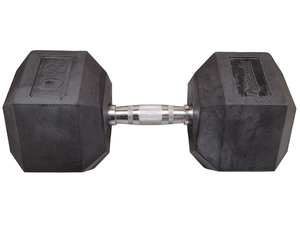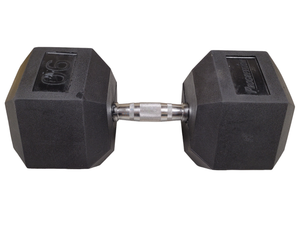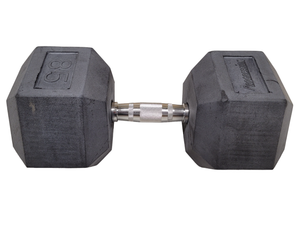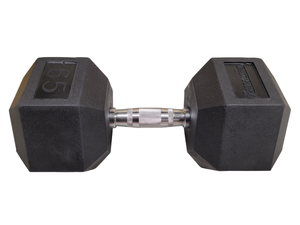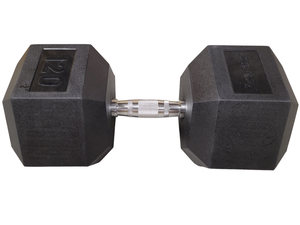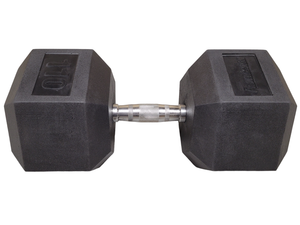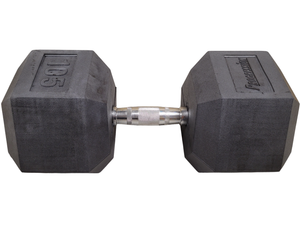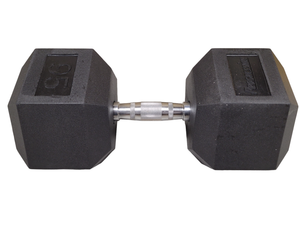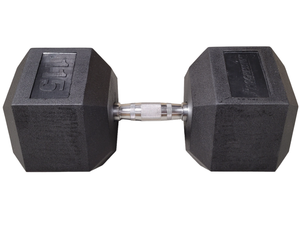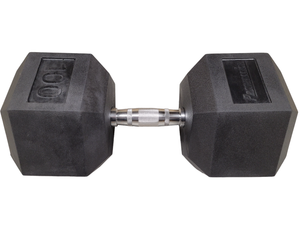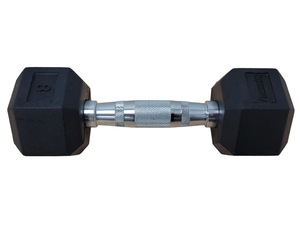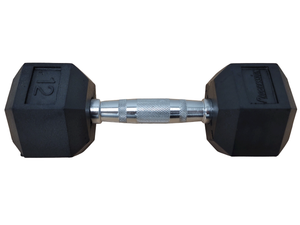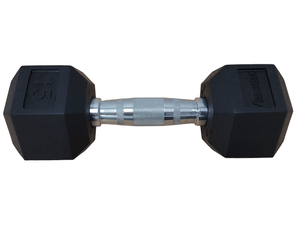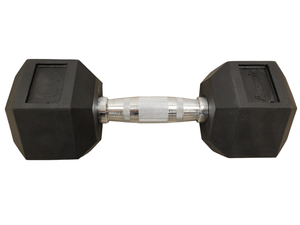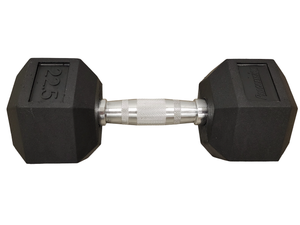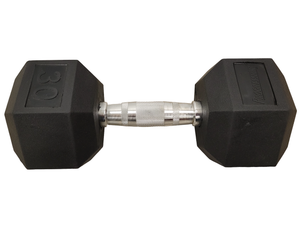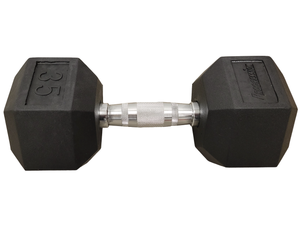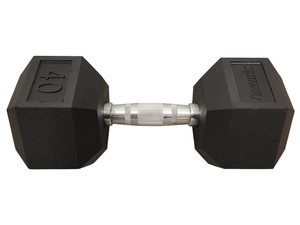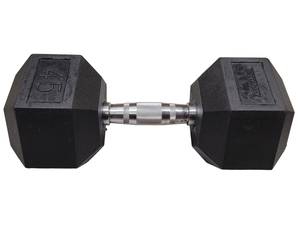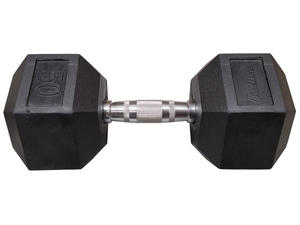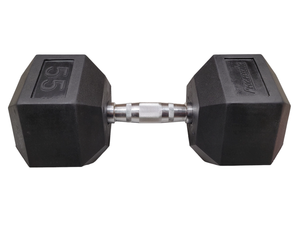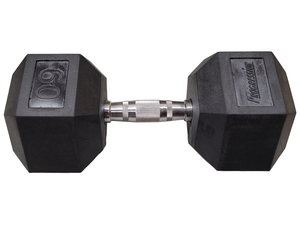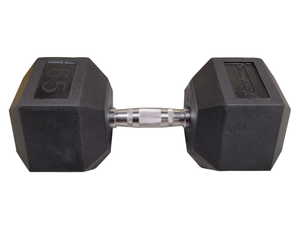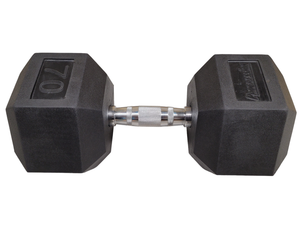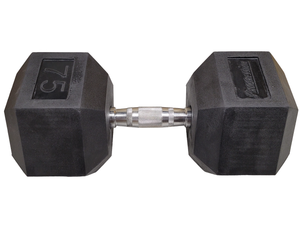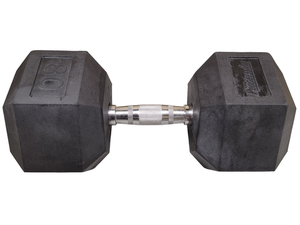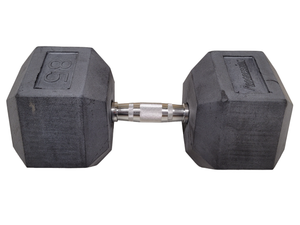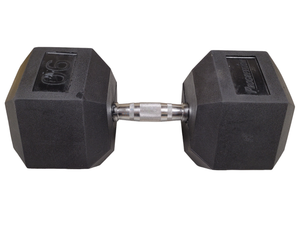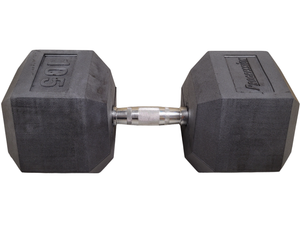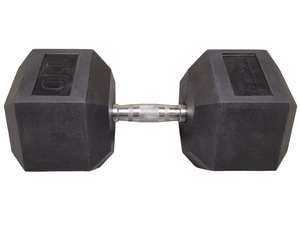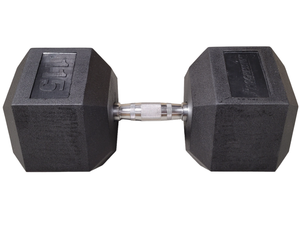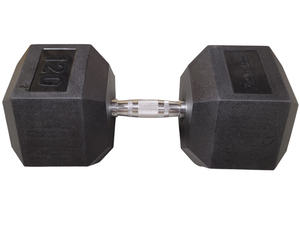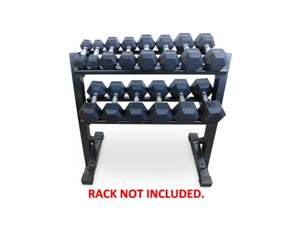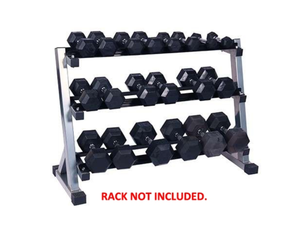 Progression Rubber Hex Dumbbell - Single
Progression Rubber Hex Dumbbell: Lifting with Confidence
Build your body and your strength without having to rebuild your floor or weight rack. A set of Progression Rubber Hex Dumbbell are a practical addition to any home gym. Unlike cast iron weights these rubber dumbbells won't damage your metal racks or hardwood, linoleum or carpeted floor when dropped, dragged or even set down without care.    
Rubber Hex Dumbbells give you the tough and save you the scuff – thanks to a protective rubber coating that makes them "your floor's best friend." This coating also protects the weights themselves from the wear and tear of regular use and the collision chipping that can occur during close-grip to wide-grip burnouts or similar exercises. Nobody likes dumbbell particles in the eyes!   
Several important features combine to make Progression Rubber Hex Dumbbells among the industry's best. First, each dumbbell is coated with a proprietary mixture that resists color oxidation and won't crack or fade. Secondly, Progression went to the extra expense of reinforcing the standard friction weld between the head and handle with an additional mechanical pin design – giving customers optimum durability at this price.    
Thirdly, the hexagonal shape prevents these dumbbells from rolling away and creating hazards, while at the same time providing a flat, stable surface for floor exercises like dumbbell pushups or renegade rows. Each weight also features knurling on the shaft for a better grip, improving your form and endurance while making your workout safer.  
Finally, in response to customer feedback, 17.5 and 22.5 increments have been added to an already impressive array of dumbbell weights (3 LB, 5 LB, 8 LB, 10 LB, 12 LB and 5 LB variations between 15 and 120 LB). This gives you more flexibility to progress at your own speed and weight.  
Do you need a place to store your set of Progression Rubber Hex Dumbbells? Try the Progression 425 2-Tier Dumbbell Rack available here. 
Specifications
SKU: EXWRUBHEX
Comes in 3 LB, 5 LB, 8 LB, 10 LB, 12 LB, 15 LB, 17.5 LB, 20lb, 22.5 LB and 25-120 LB increasing in 5 LB increments

Steel weight with a rubber coating on the ends

Rubber coating protects floor and racks when dumbbells are set down

Prevents weights from chipping

Sold individually (usually purchased in quantities of 2)
Abbotsford
Burlington
Calgary NorthEast
Calgary SouthEast
Edmonton North
West Edmonton
Kelowna
BC Distribution Centre
Langley
Lethbridge
Nisku
Red Deer
Regina
Richmond
Saskatoon
Vancouver
Victoria
Woodbridge
Customer Reviews
Write a Review
Ask a Question
08/28/2023
Dan G.

Canada
I recommend this product
No ******
I had a set of "******" rubber from another fitness store but they're sold out of 50s for like half a year. I was able to get some Progressive 50lbs dumbbells at a discounted price (I just showed them another store's price and they pretty much matched it). Funny thing is these dumbbells smell the same as the ****** rubber ones. But the ****** rubber ones I paid a lot more for. I'm guessing all this stuff comes from the same factory with a different sticker on it.
08/01/2023
Anonymous

Canada
I recommend this product
Good quality
Added these progressive rubber hex dumbbells to my set and like the others they are good quality. I recommend this brand.
05/08/2023
Anonymous

Canada
I recommend this product
Just what I needed !
Wonderful products, great service and the sale price was so helpful to keep me progressing on my fitness journey
Love my dumbbells
Great experience purchasing my sets of dumbbells. Good price and the sales guy was pleasant and even gave me an extra discount. I have been using them and they are awesome. Planning to go back and buy heavier sets.
04/11/2023
Anonymous

Canada
I recommend this product
Good set of dumbbells
Arrived on time, package was all ripped and shredded but I suppose the delivery folks weren't all that careful delivering weights. Well built, perfect for my particular use. Rubber is smelly but diminishing as time moves on. These are good value and the service was good.
12/07/2022
Anonymous

Canada
12/07/2022
Anonymous

Canada
I recommend this product
The weights are Christmas gift to my daughter.
12/13/2022
Flaman Fitness
Hi Crystal! Thank you so much for writing a review about our Progression Fitness Hex Dumbbells weights! They make a great Christmas gift, :) Thanks again for your support, and we hope to see you at Flaman Fitness again soon! Feel free to send us pictures or post on social, and don't forget to tag @flamanfitness
09/06/2022
Caleb

Canada
Great Set of Dumbbells!
I bought a 5-55lb set, the guys at the store gave me a decent discount as a bought a whole set and I must say I am very happy with my purchase. Went back into the store to buy up to 70lb and I thought I would write review after owning these for a couple of years. Jamie on the chat system was very helpful and let me know price and availability which was convenient. The dumbbells seem to hold up really well, the metal grips are great and the rubber coating shows no signs of wear after heavy use. If you need a set of dumbbells pick these up as you cannot go wrong!

Average Rating: 4.88 Number of Reviews: 8