Schwinn 130 Upright Bike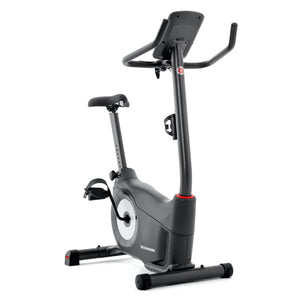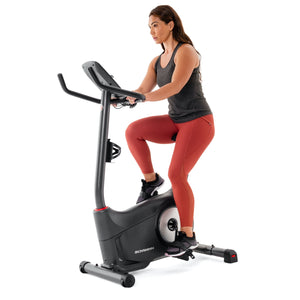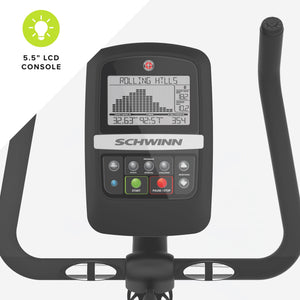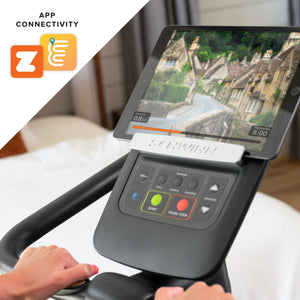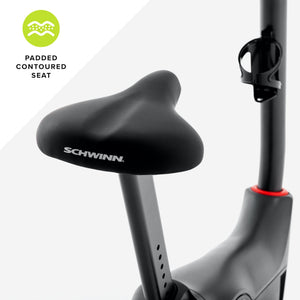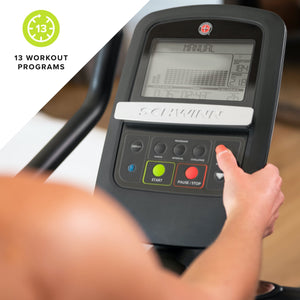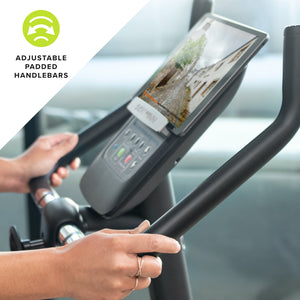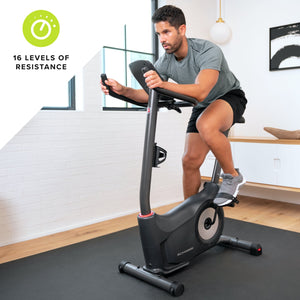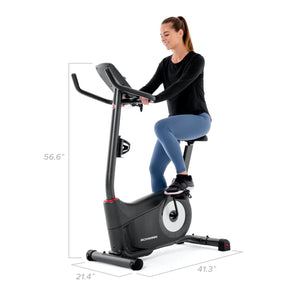 Schwinn 130 Upright Bike
The Schwinn 130 Upright Bike: Adventure Meets Comfort
From the pioneers of bicycling, Schwinn brings the spirit of adventure indoors with the Schwinn 130 Upright Bike. This bike is your go-to fitness solution when the outdoors isn't an option, offering an affordable yet highly effective way to stay fit. 
The Schwinn 130 comes complete with a gamut of features designed to make your indoor cycling a comfortable ride. It offers 16 levels of resistance, allowing you to tailor your workout to your fitness level and goals. Whether you're a beginner or a seasoned cyclist, the Schwinn 130 can provide the challenge you need. 
In addition to adjustable resistance, the Schwinn 130 provides 13 distinct workout programs. These programs help to keep your workouts varied and engaging, whether you're aiming for fat-burning, cardio fitness, or interval training. 
Central to the Schwinn 130 is its sleek LCD console. This 5.5" display provides easy access to your workout data, allowing you to track your progress and stay motivated. The console is also your portal to a world of virtual cycling adventures. 
With Bluetooth® connectivity, the Schwinn 130 syncs with leading fitness apps like Explore the World™ and Zwift™. These apps transform your workout into a global cycling adventure, with virtual journeys through scenic landscapes and challenging terrains. 
The Schwinn 130 is also Bluetooth® heart rate enabled, letting you monitor your heart rate throughout your workout (strap not included). The bike's contact heart rate grips provide an additional, convenient way to track your heart rate as you cycle. 
Comfort is a key feature of the Schwinn 130. The bike's padded, contoured seat ensures a comfortable ride, even during longer workouts. The handlebars are also padded and adjustable, allowing you to find the perfect position for a secure and comfortable grip. 
Cycling on the Schwinn 130 is smooth and stable, thanks to its weighted pedals. These ensure a solid footing, allowing you to focus on your workout without worrying about slipping or losing balance. 
Finally, the Schwinn 130 includes a handy media shelf for your devices, so you can enjoy your favorite entertainment or fitness apps while you work out. 
Key Features
Connect with popular cycling like Explore the World® and Zwift® (separate subscriptions required).

 

Bluetooth® heart rate enabled to help you stay in the zone (strap not included).

 

Track metrics like speed, RPM, heart rate, calories, distance, and time.

 

Padded, contoured seat with post for easy seat exchange with any clamp & rail bicycle seat.

 

High speed, high inertia perimeter-weighted flywheel system for smooth, quiet workouts.

 

Ergonomically positioned padded handlebars for easy reach.

 
5.5" segmented LCD offers increased visibility to programs and goal tracking.

 

Media shelf for easy viewing of your device or reading material.

 

16 magnetic resistance levels for a wide range of workout intensity options.

 

1-piece pedal crank/oversized pedals with toe straps.

 

13 workout programs provide variety and thrill for users of all fitness levels.

 

Water bottle holder to help you stay hydrated.

 
The Schwinn 130 Upright Bike, is more than just an exercise bike. It's a comprehensive fitness solution that brings the thrill of cycling and the convenience of a comfortable ride into your home. With its wide range of features and user-friendly design, it's the ideal choice for anyone seeking an effective indoor workout. 
Available at Flaman Fitness online or "try before your buy" at one of our 19 locations across Canada. 
Specifications
SKU: EXBSCH130U
Bike Type: Upright
Levels of Resistance: 16 levels of computer-controlled resistance
Resistance Type: Magnetic
# of Programs: 13
Mobile App Available: iOS & Android
Connection Type: Bluetooth & USB
AUX Input: Yes
Fan: Yes
Display Type: 5.5" LCD
Heart Rate Monitor: Yes
Adjustable Features: Handlebars, Pedals, Seat
Pedals: adjustable, weighted
Other: water bottle holder, USB Charging port, media tray, data exchange to schwinn connect & myfitnesspal.com
Moving Wheels: Yes
Flywheel Weight (LBS): 13
Max User Weight (LBS): 300
Footprint - Length: 41
Footprint - Width (inches): 22
Footprint - Height (inches): 58
Machine Weight (LBS): 58.4
Plug-in Requirements: standard outlet
Warranty: 10-Years Frame, 2-Years Parts, 1-Year Electronics, 90-Days Labor

Abbotsford
Brantford
Burlington
Calgary NorthEast
Calgary SouthEast
Edmonton North
West Edmonton
Kamloops
Kelowna
BC Distribution Centre
Langley
Lethbridge
Nisku
Red Deer
Regina
Richmond
Saskatoon
Vancouver
Victoria
Woodbridge