TuffStuff Multi-Functional Trainer - CXT 200 (2 x 150LB Weight Stack)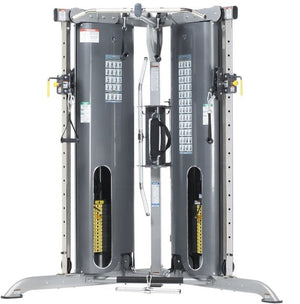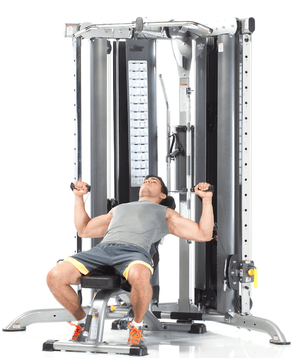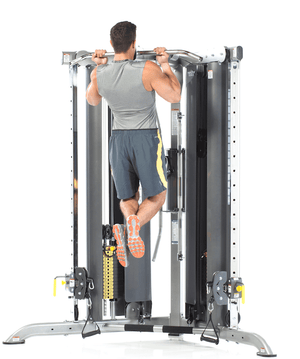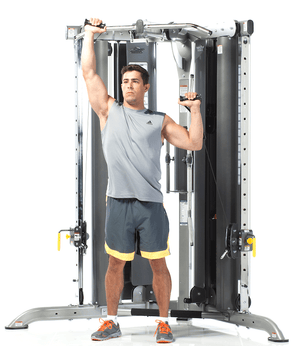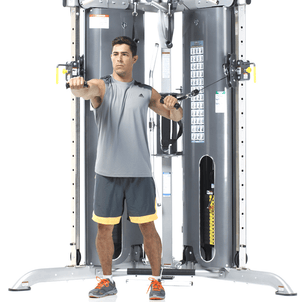 TuffStuff Multi-Functional Trainer - CXT 200 (2 x 150LB Weight Stack)
The TuffStuff Corner Multi-Functional Trainer (CXT-200) features three separate cable stations and a fully adjustable high/low pulley system with swivel rotating handles. Quick adjustments plus included and available attachments allow you to expand your workout from 30 effective basic exercises to a virtually unlimited selection of multi-functional, cross-training options – all in one space-saving, patented and compact corner machine.
Features:
Space-efficient corner design for an easier fit into limited spaces
Three (3) separate cable stations
Fully adjustable high/low pulley system with swivel rotating handles
Fixed Lat and Low Row stations for single or dual arm movements
Quick change trigger-style adjustments
Wide base of the frame accessible for workout benches and stability balls
Two (150 LB) weight stacks (optional upgrade to 200 LB)
Adjustable cable ratio of 1:2 or 1:4 for extended cable travel
Solid steel rotating accessory storage rack
Includes lat bar, low row bar, squat bar, nylon handles, & ankle strap
Optional TuffStuff CXT-225 Smith Attachment
Home Lifetime Warranty and Light Commercial Warranty. Ask your local retailer about conditions and details.
Basic Exercises for Adjustable Cable Station, Lat/Pull Up Bar Station, and Low Row Station:
crossover, wood chop, rear delt, Lat pulldown (using adjustable cable station), one arm pressdown, chest fly, chest press, alternating chest, core rotation, tricep kickback, shoulder press, alternating shoulder, squats, offer up, front lateral, standing curls, one-arm curl, one-arm row, Inner thigh, outer thigh, glute kick, calf raise, lunges, lateral lunges, chin up, pull up, knee raise, leg raise, abdominal crunch, tricep pressdown, tricep extension, lat pulldown (using pullup bar station) low row, sit up
Many more possible exercise options possible using adjustments and  attachments
 Learn more about the adjustments and possible chest, core,  back, and shoulder exercises the CXT-200 offers. 
Specifications
SKU: EXGTUFCXT200
Weight: 740 LB
Dimensions: L 44" x W 79" x H 84" 
Frame: 2 x 3" 11-Gauge Oval Tubular Steel Frames With a Combination of 2 x 2" Round Tubing. All Welded Construction Conforming to Structural Welding Code-Steel Standards and Specifications. All Frame Bolts and Nuts are 3/8" and 1/2" Zinc Oxide. Meets ANSI Specifications
Finish: Powder Coat Finish – Platinum Sparkle Main Frame and Cathedral Gray Weight Stack Protective Shields
Cables: 3/16" and 1/8" USA-Made/Certified EXERFLEX PRO® High Performance Fitness Cable
Cable Ratio: The CXT-200 Contains an Adjustable Cable Ratio of 1:4 or 1:2. The 1:4 Cable Ratio Provides Extended Cable Travel While Enabling Micro 2.5 LB Weight Increment Adjustments. With Extended Cable Travel, Users may Perform a Variety of Functional Exercises (Including Fast Repetition Sports-Related Training) Further Away From the Machine. as a Result, the Resistance Felt at Each Handle is Approximately 1/4 With Single Cable Hook-up, or 1/2 of the Weight Selected with Dual Cables Hooked up
Weight Stacks: Two (2) 150 LB Steel Weight Stacks (Optional 200 LB)
Other Specs:
3/4" Solid Steel 1045 (TGP) Hard Chrome Finish Guide Rods.
1/2" Push-Pull Spring Loaded Solid Steel Adjustment Pins With Ultimate Load of 9,040 LB and 46,042 PSI Sheer Strength.
All Primary and Secondary Pivot Assemblies are Non-Friction 2" Sealed Bearings and 1" Solid Steel Pivot Axles.
TuffStuff's Proprietary "Flat-Groove" 4-1/2" and 3-1/2" Fiberglass-Impregnated Nylon Pulleys with Sealed roller Bearings.
***Home Warranty***
Lifetime on Everything to the Original Purchaser When Used Only in a HOME Environment, Applies to Defects From Manufacturer Only - (See Owner's Manual for Details)
***Commercial Warranty***
LIGHT COMMERCIAL WARRANTY
10 Years:

 

Structural Main Frames, Welds, Cams and Weight Plates
5 Years:

 

Pivot Bearings, Pulleys, Bushings, Guide Rods and gas Shocks
1 Year:

 

Cables, Linear Bearings and Pull-Pin Components 
6 Months:

 

Upholstery, Finish and Rubber Grips
ALL OTHER PARTS:

 

If not Previously Mentioned, One Year From the Date of Purchase to the Original Purchaser.
LIGHT COMMERCIAL USE:

 

Light Commercial Warranty Applies Only to Facilities Like Hotels, Apartment Complexes, Personal Training Studios, Fire & Police Stations, etc. Where Equipment Would be Used by no More Than 30 People per Day.
Burlington
Calgary NorthEast
Calgary SouthEast
Edmonton North
West Edmonton
Kamloops
BC Distribution Centre
Red Deer
Regina
Richmond
Saskatoon
Victoria
Woodbridge