TuffStuff Six Pak Trainer - SPT6X (200LB Weight Stack)
$3,499.99
$3,499.99
$3,499.99
$3,499.99
$3,499.99
$3,499.99
$3,499.99
$3,499.99
$3,499.99
$3,499.99
$3,499.99
$3,499.99
$3,499.99
$3,499.99
$3,499.99
$3,499.99
$3,499.00
Price
$3,999.00
You save 13%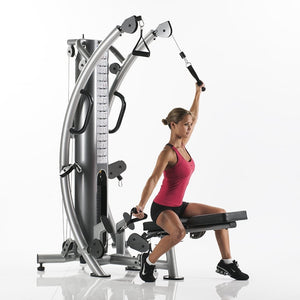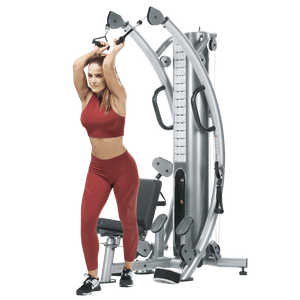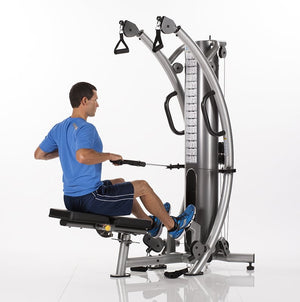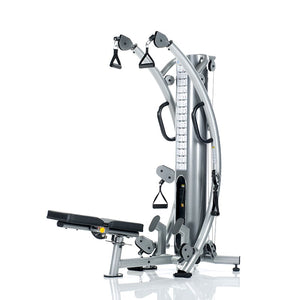 TuffStuff Six Pak Trainer - SPT6X (200LB Weight Stack)
$3,499.99
$3,499.99
$3,499.99
$3,499.99
$3,499.99
$3,499.99
$3,499.99
$3,499.99
$3,499.99
$3,499.99
$3,499.99
$3,499.99
$3,499.99
$3,499.99
$3,499.99
$3,499.99
$3,499.00
Price
$3,999.00
You save 13%
Want to pack a wide variety of strength-building options into a limited space?
The TuffStuff Six-Pak Functional Trainer (SPT-6X) is an ingeniously designed all-frontal work station with a footprint small enough to fit on a 3' x 4' mat.
It's as ergonomic as it is compact. Six cable pulleys at three separate training heights (low, mid, and high) employ European-style cable motion for smooth functional movements. Their positioning allows you to transition seamlessly between numerous full-body exercises targeting your legs, shoulders, chest, core, back, triceps, biceps and lower body. (Check them out here.) These exercises help you develop balance as well as strength - supported by sturdy handles and a well-upholstered seat that's locked in place when you need it to be but can swivel 360 degrees with the pull of a pin. The seat back is also easily adjustable, shifting fluidly from flat to fully upright or any of several incline angles in between.
The functional trainer itself is designed and built for stability and balance (although users are advised to pull only from the front and never from the side to prevent the risk of injury). It's also remarkably strong, constructed from 3" round 11-gauge tubular steel with a combination of 2 x 3" oval tubing and 2" round tubing protected by a powder coat finish. It's 200 LB steel weight stack is housed safely in a full-length protective steel weight shield and pulled by reliable high-performance fitness cable – certified for 1000 LB
It's ideal for anyone interested in bringing their full-body functional training workout home without giving up a large amount of space.
Specifications
SKU: EXGTUFSPT6X
Weight: 480 LB
Dimensions: L 67" x W 32" x H 80"
Frame Materials: Solid and Stable 3" Round 11-Gauge Tubular Steel With a Combination of 2 × 3" Oval Tubing and 2" Round Tubing
Finish: Two-Tone Powder Coat Finish – Platinum Sparkle and Ebony Chrome
Padding: Durable High Density Pads Upholstered in Premium Grade Material
Bench: Unique 360º Rotating Bench Easily Adjusts to Flat Position to Accommodate Various Bench Cable Exercises
Cables: 094 USA-Made / Certified EXERFLEX PRO 1000 LB High Performance Fitness Cable
Cable Ratio: The Six-Pak Functional Trainer Contains a Unique 1:4 Cable Ratio Designed to Provide Extended Cable Travel While Enabling Micro 2.5 LB Weight Increment Adjustments. With Extended Cable Travel, Users may Perform a Variety of Functional Exercises (Including Fast Repetition Sports-Related Training) Further Away From the Machine. As a Result, the Resistance Felt at Each Handle is Approximately 1/4 of the Weight Selected.
Weight Stack: 200 LB Steel Weight Stack with Full Length Protective Steel Weight Shields.
Accessories: Baseball Bat Handle (SPT-6BB), Golf Handle (SPT-6GH), Baseball Accessory (SPT-BA), Rope Accessory (SPT-6RA), Multi-Use Handle (SPT-6MH), Straight Bar with Double Hook (SPT-6SB), Accessory Stand (SPT-6AR)
Brantford
Burlington
Edmonton North
West Edmonton
Ontario Distribution Centre
Kamloops
BC Distribution Centre
Red Deer
Regina
Richmond
Saskatoon
Victoria
Woodbridge