Xebex Air Bike - (AB1)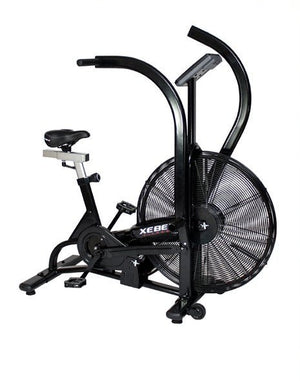 Xebex Air Bike - (AB1)
It's a stronger, smoother, better-designed ride.
The Xebex Air Bike takes user-focused engineering to the next level. It's challenging yet accommodating, rock-solid yet easily transportable, feature-rich yet ergonomic, sophisticated yet easy to use.
Start with a resistance system that's controlled by you, not the machine. The harder you push, pull or pedal, the more air resistance you crank out of that chain-driven 24" flywheel. No power or motor required! Ease up to cool down and lower your heart rate. Then take a look at that 109 lb steel frame. It's unshakably stable – even on uneven surfaces, thanks to convenient stand adjustments. Fixed parts like the diamond-plate footrest are built directly onto it, making them remarkably rigid and keeping them out of the way of your exercise. Working parts are connected at every joint by sealed bearings that guarantee long life and friction-free action – whether you want to pedal or just work your arms on the handles. 
Comfort and efficiency are two more considerations impressively addressed by features like well-padded, adjustable seats and a large, easy-to-read console. It's a bike that can provide any rider of any skill level an effective full-body workout. So hop on and make it your own! 
FEATURES: 
Base/Frame – built to last: 
109-lb steel frame 
Heavy-duty 24" fan, 27" with fan housing 
Sealed cartridge bottom bracket 
Heavier base and handles produce a more intense workout 
Increased arm range of motion 
Pedal arm uses sealed bearings - stays tighter over time 
Large, Easy-to-Read Console/Programs  - comprehensive performance and progress at a glance: 
Competition-level monitor 
Tracks distance (meter or mile),  
Time, speed (km or mi), 
Calories, watts, and heart rate (compatible with 5khz chest belts) 
Programmable custom interval functions (work, rest programs) 
Set distance or calorie-burn targets with countdown functionality 
- Distance tracked in meters or thousandths of a mile (1000.0 = 1 mile) 
Comfort/Adjustments - fits various heights: 
Rubber-Dipped handles 
4-way adjustable seat 
Peg attachment foot rests 
Extra padding on seat 
Optional Pair of SPD Cleat Pedals: Toe cup and SPD clip-in design to take your workout to a whole new level! 
Versatility – get a full-body workout: 
Push, pull and pedal 
Activate muscles in your arms, chest, back, legs, and even your core (for washboard abs) 
Use foot rests and handles to concentrate on arms and upper body. 
Add pedals for full-body and enhanced cardio and calor.ie burn 
Any user can set their own pace and control their own resistance. 
Ergonomics – assembly, workouts and storage made simple: 
Easy assembly, with 7 total component parts to put together. 
All necessary tools, hardware, and clear, illustrated instructions included. 
Footrests and other non-moving parts mounted on frame, not handles 
Everything is out of the way of your workout. 
Two over-sized wheels on footing for easy, roll-away storage
Specifications
SKU: EXBXEBAIRBIKE
Bike Type: Upright
Levels of Resistance: Unlimited
Resistance Type: Air
# of Programs: Custom Interval Work, Rest, and Number of Rounds
Mobile App Available: No
Connection Type: No
AUX Input: No
Fan: Yes
Display Type: Tracks Distance (Meter or Mile), Time, Speed (KM or MI), Calories, Watts, and HR
Heart Rate Monitor: No
Adjustable Features: Handlebars, Seat
Pedals: Optional Pair of SPD Cleat Pedals: Toe cup and SPD clip-in design
Other: Water bottle holder, extra seat padding
Moving Wheels: Yes
Flywheel Weight (LBS): NA
Max User Weight (LBS): 350
Footprint - Length: 48
Footprint - Width (inches: 26
Footprint - Height (inches): 52
Machine Weight (LBS): 109
Plug-in Requirements: NA
Warranty: 5 year frame; 2 year non-wear parts

Abbotsford

Brantford

Burlington

Calgary NorthEast

Calgary SouthEast

Edmonton North

West Edmonton

Kamloops

Kelowna

BC Distribution Centre

Langley

Lethbridge

Nisku

Red Deer

Regina

Richmond

Saskatoon

Vancouver

Victoria

Woodbridge

Customer Reviews

Write a Review

Ask a Question

It's easy to assemble and surprisingly sturdy. I was looking for something that would give me a good cardio workout when I'm short on time and can't go run 5 miles. This is the answer. Also a great addition to any other type of workout- I think of it as throwing in some sprints.

Average Rating: 5 Number of Reviews: 1