MD Buddy Front Squat Shoulder Harness - (Steel)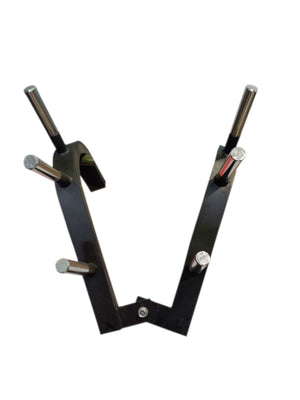 MD Buddy Front Squat Shoulder Harness - (Steel)
Need a little support so you can lift heavier and control your form? The MD Buddy shoulder harness has you covered!
This harness lets you do front squats safely without the strain on your wrists and elbows. Features multiple bar hooks for varied workouts positions with a pivoting point at the bottom of the frame to adjust to your shoulder size and shape.
Quarter inch thick steel frame with a dense inch of durable foam padding to allow your squats to be done in comfort. 
Specifications
SKU: EXAMDB6319
Material:
 

Steel, Dense Foam
Finish:
 

Black Mat
Dimensions: 
Length / Height: 16"
Width (closed): 4"
Width (Open): 12" +
Depth: 10"
Frame Dimensions:
Steel Frame: 0.25"
Foam Padding: 1"
Peg Length: 4"


Brantford
Burlington
Calgary NorthEast
Calgary SouthEast
Edmonton North
West Edmonton
Kelowna
BC Distribution Centre
Langley
Lethbridge
Nisku
Red Deer
Regina
Saskatoon