Progression 9020 Smith Machine Package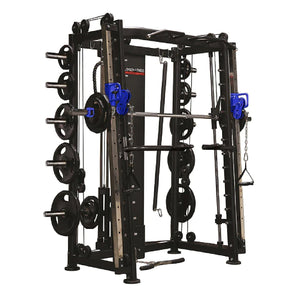 Progression 9020 Smith Machine Package
The Progression 9020 Smith Machine Package is an excellent value all-around strength machine that delivers impressive results
Why choose the Progressive 9020 Smith Machine Package?
A Smith Machine is a versatile piece of strength training equipment. It consists of a barbell fixed within vertical steel tracks, allowing for controlled, guided, and stable lifting movements. The key benefit of using a Smith Machine is the enhanced safety it offers during exercises. Making the 9020 an ideal choice for those looking to build strength and muscle without the risk of injury. 
The Progression 9020 Smith Machine Package includes 11 racking positions for a wide range of exercises. This includes squats, bench presses, and shoulder presses, offering a versatile and comprehensive strength training experience. 
Built-in cable pulley system
The Progression 9020 features a plate-loaded functional trainer with dual vertical pulleys. These pulleys offer an impressive 16 height adjustments, making this unit highly adaptable. This adjustability enables users to customize the machine to suit their height, exercise preferences, and target muscles. This feature transforms the 9020 into a multifunctional piece of gym equipment that provides a wide range of exercise options. 
The cable system within the 9020 offers a smooth and controlled range of motion. This not only promotes better form but also significantly reduces the risk of injury during your workouts. It allows for continuous tension throughout an exercise, enhancing the precision with which you can target specific muscle groups. The Progression 9020 is designed with versatility, user customization, and safety in mind, making it an exceptional addition to your fitness regimen. 
A better chin-up bar
The integrated pull-up bar within the machine offers a multitude of gripping options, providing a wide spectrum of choices to engage your muscles precisely as you desire. Whether you prefer the intensity of a close grip or the versatility of a hammer grip, this feature ensures that your workout experience is fully customizable. It allows you to target and stimulate specific muscle groups with precision and effectiveness. 
Additionally, for those who seek an expansive reach, wide grip pullups and chin-ups are at your disposal. This versatile pull-up bar caters to your diverse fitness needs, allowing you to tailor your workouts to your goals. With this level of customization, your fitness journey becomes not only more effective but also more enjoyable, as you fine-tune your exercises to achieve the results you desire. 
Storage to spare
With five pairs of weight storage pegs and four conveniently located frame-mounted accessory hooks, your workout space remains organized and clutter-free. These thoughtful design elements not only enhance your gym's tidiness but also provide seamless access to your exercise accessories. 
Additionally, the adjustable front-facing feature ensures that you can personalize the arrangement to suit your specific needs and preferences. This feature further elevates the practicality and aesthetics of your fitness area, allowing you to create a workout space that's not only efficient but also perfectly tailored to your fitness goals and preferences. 
Package includes:
Built-in multi-grip pullup bar

 

Smith machine

 

Low row w/foot plate

 

Dual adjustable front pulleys

 

10 weight plate storage pegs

 

1 pair of Olympic locking collars

 

Tricep rope, handles, low row bar

 
*Weight Plates Shown in Image are not Included* 
Progression Fitness
Founded by Canadians to offer everyone the opportunity to reach their fitness goals. We made sure that our entire line-up offers everything you need no matter what your fitness dreams are. Offering affordable price points and a team dedicated to support your investment from beginning to end, Flaman Fitness has your back!  
Available at Flaman Fitness online or "try" before you "buy" at one of our 19 locations across Canada.  
Specifications
SKU: EXGPROPFX9020
Dimensions: 58" D x 87" W x 86" H

Machine Weight: 470 LB

Smith Machine Weight Capacity: 700 LB

Cable Plate Load Weight Capacity: 400 LB
Abbotsford
Calgary NorthEast
Edmonton North
West Edmonton
Kelowna
BC Distribution Centre
Langley
Lethbridge
Nisku
Regina
Saskatoon
Woodbridge