Spirit XIC600 Indoor Cycle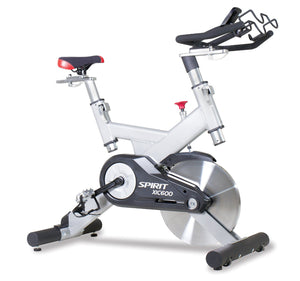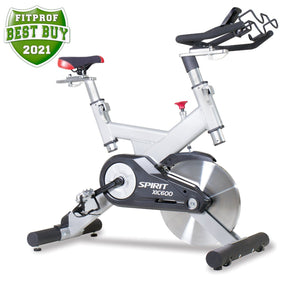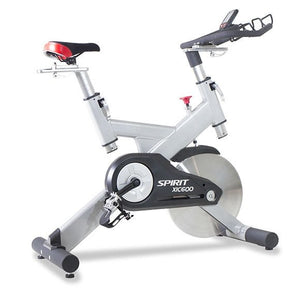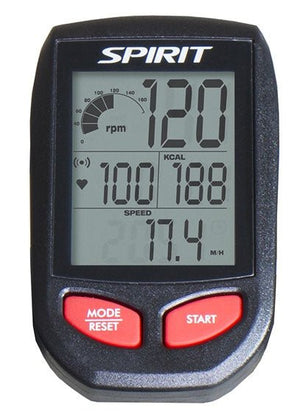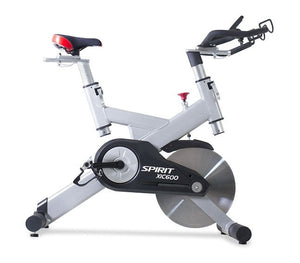 Spirit XIC600 Indoor Cycle
Spirit XIC600 Indoor Cycle the winner of the Fit Prof 2023 Best Buy Award
The Spirit XIC Indoor Cycle, proudly awarded the Fit Prof 2023 Best Buy Award, stands as a testament to its exceptional quality. Equipped with components of similar excellence to premium outdoor bicycles, this indoor cycle empowers you to embark on your fitness journey from the comfort of your own home 
Comprehensive Wireless Display
Stay fully engaged with your workouts using the wireless LCD console, which meticulously tracks key metrics like RPM, heart rate, calories burned, speed, time, and distance. With this invaluable feedback at your fingertips, you can remain informed and focused throughout your ride. 
Efficient Heart Rate Monitoring
Your safety and effectiveness during workouts are a top priority, thanks to the built-in wireless heart rate receiver (chest strap sold separately). This feature ensures that your heart rate is closely monitored, giving you precise insights into your fitness progress. 
Micro-Adjustment for a Personalized Ride
The Spirit XIC is engineered for precision and comfort, featuring a molded rotary knob that allows for comfortable micro-resistance adjustments. With the quick-stop operation, you have complete control over your ride's intensity, making it easy to challenge yourself at your own pace. 
Smooth, Durable Performance
This indoor cycle boasts a heavy-duty 48.5 lb precision-balanced chrome-plated flywheel, along with a belt drive system and superior cranks. This combination ensures that your ride is smooth, quiet, and highly durable, delivering a consistent performance every time you hop on. 
Customizable Comfort
Experience the ultimate in customizable comfort with our innovative fast adjustment levers, designed to offer an array of personalized options. These levers grant you infinite control over seat and handlebar positions, enabling precise adjustments in terms of fore and aft, as well as up and down movements. This means you can effortlessly tailor your bike to meet your exact comfort and performance requirements, ensuring every ride is perfectly attuned to your unique needs. 
Key Features
Durable chrome-plated 48.5 lb precision-balanced flywheel

 

Molded rotary knob for comfortable resistance adjustments

 

Fully adjustable seat and handlebar positions (fore/aft/up/down)

 

Direct belt drive system for smooth, quiet operation

 

Adjustable toe cage pedals for a secure ride

 
Incorporating a wealth of standard features, including a wireless LCD console, dual water bottle holders, a comfort groove racing saddle, and PVC-coated multi-grip handlebars, the XIC600 Indoor Cycle empowers you to unlock your full training potential in the comfort of your own home. Get ready to embark on your fitness journey with the Spirit XIC, a premium indoor cycle that exemplifies quality and innovation. 
Available at Flaman Fitness online or try before you buy at one of our 19 locations across Canada. 
Spirit Fitness
Since crafting our first treadmill in 1983, our mission remains unchanged – to provide top-quality fitness equipment to help you achieve your goals. For over four decades, we've upheld these standards in every Spirit Fitness product, ensuring that our name stands for quality and performance. 
Specifications
SKU: EXBSPIXIC600
Flywheel
Precision Balanced Steel, Chrome Plated, 48.5 lbs. flywheel.
Frame Durability
A 141 lb. frame consisting of 2.5mm thick oval tubing and round bars that enhance stability and promote longevity.
Foot Pedals
A standard flat surface with a toe cage that appeals to the average exerciser.
Comfort
Micro fore/aft adjustments on seat and handlebars.
Clarity
Aluminum seat and handlebar post with stamped height settings for quick reference
Mechanical
Product Weight:                   141 lbs.
Product Dimensions:            41 x 21 x 40.5 in
Weight Capacity:                  300 lbs.
Calgary NorthEast
Edmonton North
West Edmonton
Kelowna
BC Distribution Centre
Langley
Lethbridge
Nisku