Aquatone GLACIER 14'0 Inflatable Kayak
$1,399.00
$1,399.00
$1,399.00
$1,399.00
$1,399.00
$1,399.00
$1,399.00
$1,399.00
$1,399.00
$1,399.00
$1,399.00
$1,399.00
$1,399.00
$1,399.00
$1,399.00
$1,399.00
$1,399.00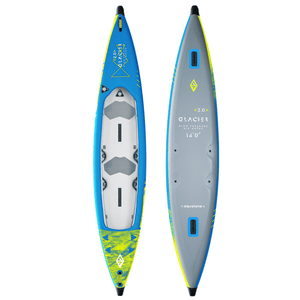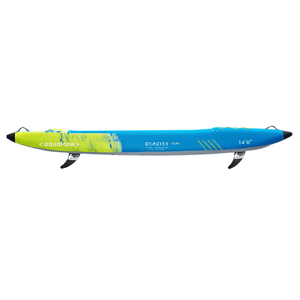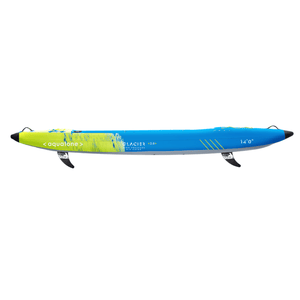 Aquatone GLACIER 14'0 Inflatable Kayak
$1,399.00
$1,399.00
$1,399.00
$1,399.00
$1,399.00
$1,399.00
$1,399.00
$1,399.00
$1,399.00
$1,399.00
$1,399.00
$1,399.00
$1,399.00
$1,399.00
$1,399.00
$1,399.00
$1,399.00
Say goodbye to compromise! The newly introduced GLACIER is built with bodies made entirely of drop- stitch air chambers. With this advanced and durable technology, complex boat shape can be achieved now. This full drop-stitch kayak offers ultimate stiffness and powerful glide. Take your paddling to the next level!
ALL DROP-STITCH CONSTRUCTION
Made with all drop-stitch fabric construction, glacier features a smooth and hydrodynamic outer skin. The premium material and double rail structure make it an ultra-stiff and highly portable board that you can simply bring to any spots.
TOP GLIDE PERFORMANCE
Born to deliver peak performance for more seasoned kayakers, glacier is the fastest model in our kayak range. its sleek outline and v-shaped nose limits frictions on the water. The raised nose rocker also boosts the speed to be always ready for an adrenaline-charged rush.
PORTABLE FOR EVERY DESTINATION
Made entirely of high pressure drop-stitch core, this kayak is easy to fold while saving loads of space when it comes to storage and transport. It offers a portable choice for those intermediate to advanced kayakers who are seeking to explore nature.
ULTIMATE EXPEDITION OUTLINE
With its unique all drop-stitch streamlined outline, the glacier is engineered to maximize fun and revolutionize the way you kayak. Thanks to its narrow and advanced shape, this kayak delivers a paddling experience that similar as a hard-shell kayak.
OPEN DECK WITH BUNGEE STORAGE
Featuring an open deck design for easy entry. bungee system located in the nose of the kayak as well as on the rear allow for extra storage.
INFLATE/DEFLATE VALVES
Glacier is constructed with three independent chambers making it extremely stable and durable. The valves are customized for aquatone air products to ensure the board maximum stiffness and riders' safety. compatible with high pressure pumps capable of connecting electronic valve adapters.
REMOVABLE KAYAK SEAT
The high back removable kayak seat gives great support and allows you to get a comfortable riding experience for long duration of paddling.
DROP-STITCH DECK WITH SOFT TRACTION PADS
built with 7cm high-pressure drop-stitch deck for excellent stiffness and stability. The removable floor chamber is extremely easy to set up and pack. The diamond textured foot pad provides plenty of cushion to reduce fatigue and anti-slip traction.
 ANTI-COLLISION NOSE
The v-cone rubber made anti-collision nose efficiently prevents the impact of kayak and adds more protection to your boat. They are applied on both sterns.
4 SELF-DRAINING VALVES AT COCKPIT
Equipped with 4 self-bailing valves, glacier utilizes gravity so the kayak can get rid of unwanted water by funneling it out of the stern.
DOUBLE TRACKING FINS
Two 9" center fins that are removable with attachment pin that allows for easy transport and storage. these fins deliver great tracking performance in open water conditions.
Specifications
SKU: EXOAZTONEUS
ITEM NO: TK-601
| | |
| --- | --- |
| Length | 14'0" / 427 cm |
| Width | 31" / 80 cm |
| Thickness | 14" / 35 cm |
| Volume |   |
| Max Rider | 2 |
| Weight | 18 kg / 39.7 lbs |
| Rec. Payload | 226 kg / 500 lbs |
| Max. Payload | 249 kg / 550lbs |
| Boxed Dimensions | |
Edmonton North
West Edmonton
BC Distribution Centre