Bowflex® VeloCore 22 Bike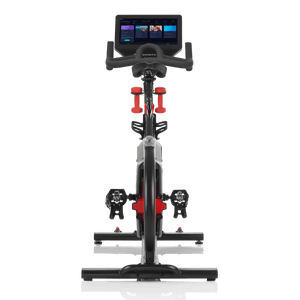 Bowflex® VeloCore 22 Bike
Explore The World With The 

BowFlex Velocore 22 Bike 
Prepare to take your indoor cycling journey to new heights with the 2021 CES Innovation Award-Winning BowFlex Velocore 22 bike. This amazing stationary bike is suitable for individuals of all fitness levels and boasts a wide range of features to make your workout not just effective but enjoyable.


Explore the World from the Comfort of Your Home
The Velocore 22 bike offers you the opportunity to embark on a virtual global expedition without leaving your home. Enjoy a new destination every day with more than 200 "Explore the World" routes. Its 22" adjustable HD touchscreen opens the door to daily custom workouts and trainer-led videos that will inspire and challenge you.


Trainer-Led Workouts and Adaptive Training
Whether you're a fitness novice or an experienced athlete, the Velocore 22 bike caters to your needs with trainer-led workouts. The magic lies in its adaptive training, which ensures you're continually pushed to reach your full potential.


Immersive JRNY Experience
Immerse yourself in the world of JRNY, where real-time guidance and motivation accompany you through each pedal stroke. Think of it as your personal virtual coach, helping you reach your fitness goals. Need extra motivation? You can even sync your music with your workout.


Lean Mode for Full-Body Fitness
The Velocore bike offers not one but two exciting modes. In addition to the stationary mode, you can engage the innovative 'lean mode.' This unique feature enables you to shift your weight and lean left and right during your workout, turning it into a dynamic, full-body fitness experience.


Entertainment and Streaming
Banish the monotony of your workout routine by streaming your favorite shows from platforms like Prime Video and Disney while you exercise. The adjustable touchscreen ensures you can effortlessly enjoy your favorite entertainment during your workout.


Membership Benefits
Unlock a world of features with the JRNY All-Access Membership. Benefit from personalized adaptive workouts and access virtual environments that will keep you engaged and motivated. Mix things up with off-cycle workouts, including yoga, pilates, and strength training. Plus, you can enjoy the JRNY membership on your smartphone, tablet, or smart TV, giving you control over your workout schedule.


Stay in Control
Personalize your workouts by connecting your smartphone or tablet to the bike. Tailor your fitness journey according to your preferences and fitness goals.


Key Features of the Velocore 22 Bike
• 22" Console featuring an adjustable HD touchscreen
• 4-way adjustable seat for maximum comfort
• Bluetooth® speakers for an immersive audio experience
• Dual-sided pedals, compatible with SPD® clips and toe cages
• Adjustable handlebars to accommodate various riding styles
• Bluetooth® HR armband included for heart rate monitoring
• Choose from 100 resistance levels to match your fitness level
• Built-in media rack for entertainment during workouts
• Includes 3 lb. dumbbells for additional exercise options


Experience a Real Workout with the Velocore 22 Bike
The Velocore 22 bike is not just another spin bike; it offers a lifelike, engaging, and enjoyable riding experience. You can conveniently order it online or, for a more hands-on approach, visit one of our 19 locations across Canada to try it before you buy it. Elevate your fitness journey with the Velocore 22 bike, where addictive workouts and guided coaching are just a touchscreen away, all from the comfort of your home.
Achieving your fitness goals has never been this thrilling. With the Velocore 22 bike, you're not just working out; you're embarking on a fitness adventure, one ride at a time. The world is your oyster, and the journey starts right at home. Get ready to transform your fitness routine, explore new horizons, and enjoy an incredible workout experience.

Specifications
SKU: EXBBOWVEL22
Levels of Resistance: 100
Emergency Brake: Yes
Drive System: Flywheel
Pedals: Dual Link Pedals with Toe Cages or Shimano SPD Clips
Adjustment: Seat, Handlebars
Other: 3 LB Dumbbells with Easy Access Cradles, Unlimited User Profiles, USB Charging Port
Moving Wheels: Yes
Flywheel Weight (LBS): 33
Max User Weight (LBS): 330
Footprint - Length (Inches): 59.75
Footprint - Width (Inches): 24.1
Footprint - Height (Inches): 55.25
Machine Weight (LBS): 152
Warranty: Frame – 2 Years Frame, 2 Years Mechanical Parts, 2 Years Electronics, 1 Year Labor
Abbotsford
Brantford
Burlington
Calgary NorthEast
Calgary SouthEast
Edmonton North
West Edmonton
Kamloops
Kelowna
BC Distribution Centre
Langley
Lethbridge
Nisku
Red Deer
Regina
Saskatoon
Vancouver
Victoria
Woodbridge