Progression 3220 Functional Trainer - (2 x 200 LB)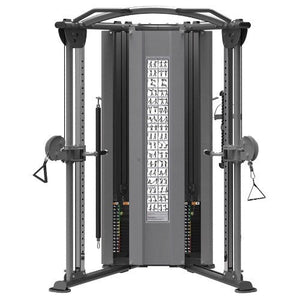 Progression 3220 Functional Trainer - (2 x 200 LB)
Give Your Weight Training Regime Some Variety With the Exceptional Progression 3220 Dual Adjustable Pulley Machine
It's an essential addition to any serious home gym or commercial fitness studio - offering a wide range of exercises that will strengthen and tone your upper and lower body muscles, including your quads, hamstrings, calves, glutes, trapezius, pecs, deltoids, triceps, biceps and core abdominals.
Pulley systems are one of the most effective means of working your entire body, enabling you to safely and easily target muscles from varying angles and directions. The movement used while pulling cables is more natural and fluid than you'll experience using a fixed weight-machine. You'll also be able to work both sides of your body evenly. The 3220 helps exercise novices and seasoned athletes alike sculpt well-defined muscles, improve their general fitness levels and increase their athletic endurance and power.
It sets a new standard for comfort and ease of use, and it's designed to stand up to whatever a commercial gym environment can throw at it. It does that in fine style - with a high-quality finish on a sleek but robust frame. That high-end construction standard also applies to every component, so you can rely on smooth, fluid movements that make your workout a pleasure.
Comfort doesn't compromise the strength-building, muscle-toning value of your routine. The 3220's 2 x 200 LB (2 x 90 KG) weight stack challenges your muscles and keeps you focused on your form as your training progress. Safety and efficiency aren't compromised either. You're protected by stack guards and guided to your most effective workout by a user instruction placard that shows you how to best target specific muscles. Bright yellow weight selector and seat adjustments, designed to assist the visually impaired, are easy to find for quick changes. 
Model: IT9330
Specifications
SKU: EXGPROPFX3220
Commercial Grade Tubing

Translucent Shrouds in Durable PVC

Full Length Weight Shrouds for Added Safety

Nylon Coated Commercial Cable (Good for 220,000 Uses Before Servicing) Water Bottle Holder

Easy to Adjust Pulley System
Includes the Following Attachments:
Tricep Rope

Squat Bar

Leg Extension / Leg Curl Strap

Machine Handles (Small and Long)

Soft Grip Handles With Aluminum Grip Ring

Multi-grip pullup bar
Weight Stack: 2 X 200 LB 
Exercise Diagram Placard on the Machine
Brightly Colored Weight Selector pin to Assist Visually Impaired
Color Coded Weight Stacks for Easy Selection
Edmonton North
BC Distribution Centre