Progression 9025 Smith Machine Package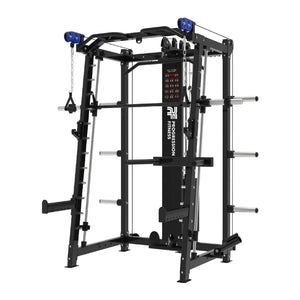 Progression 9025 Smith Machine Package
Shape your body and enhance your coordination!
The Progression 9025 Smith Machine Package offers a ton of full-body strength-training exercises to comprehensively train your abdomen, arms, back, chest, legs, buttocks and other muscles.
Like its brother the 9020, this multi-use machine brings an impressive array of strength-training tools.  In addition to the Smith bar, you can test your strength against upper cables and a low cable pulley. The complete package includes a landmine post, pullup bar, cable-cross handles with adjustable chain, and a suspension training hook upfront.
But the 9025 goes its own way with safety spotters on the front so you can bring your own barbell and add free weight squats to your workout. You'll also find ample pegs for weight plate storage. It's all mounted on a sturdy, stable, steel frame featuring an eight-degree tilt for more ergonomic lifting.
SPECIFICATIONS
SKU: EXGPROPFX9025
Dimensions
Length:

 

59"/1500 MM

Width:

 

76"/1920 MM

Height:

 

86"/2200 MM

Net Weight:

 

463 LB /210 KG

Gross Weight:

 

507  LB/230 KG

Weight Capacity: 600 LB

Weight Capacity (Cable System): 300 LB

Olympic Plate Compatible: Yes

7 FT Bar Included: Yes

Dip Handles Included: Yes
Exercises (some require optional bench – sold separately):
Smith Deep Squat

Smith Dead Lift

Free Weight Exercise

Incline Chest Press

Flat Chest Press

Weight incline

Press Squat

Triceps Extension

Arm Curl

Squat with cable

Wood Chopper

Hip Abduction

Pulley Triceps Extension

Seated Row

Alternating Chest Press and Chest Fly
Calgary NorthEast
Calgary SouthEast
Edmonton North
West Edmonton
Kelowna
BC Distribution Centre
Langley
Lethbridge
Saskatoon