Progression Xtape Kinesiology Tape - Black (5 CM x 5 M)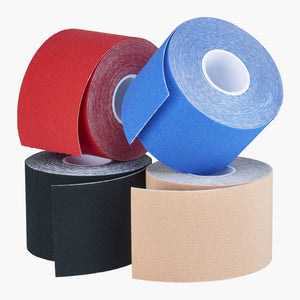 Progression Xtape Kinesiology Tape - Black (5 CM x 5 M)
Keep pain under wraps with the comfort and convenience of Progression Kin Tape. Always a popular therapeutic tool for the prevention and treatment of sports injuries, Kinesiology taping (KT) has also become a popular solution for medical rehab, muscle physio and prenatal injury. 
Constructed of polymer elastic wrapped in 100% cotton fibers, Progression Kinesiology tape can stretch to 140% of its original length, providing a waterproof breathable wrap. Available in four colors, this KT features superior moisture absorption, while its weight, thickness and elasticity feel amazingly similar to your own skin. 
Progression Kin Tape is waterproof and breathable. Skin irritation is rare and easily treated by removing the tape and washing away remaining residue with warm soapy water.
Specifications
SKU: EXAPROKIN
Dimensions: 5 CM x 5 M