PRX Profile Pro Folding Rack - (With Kipping Bar)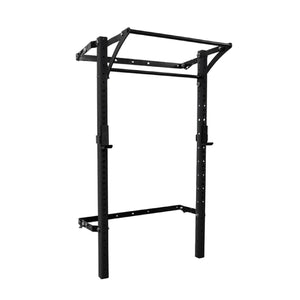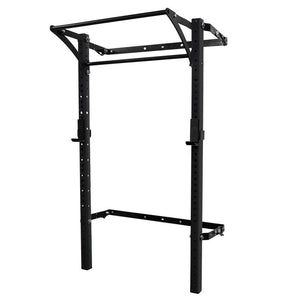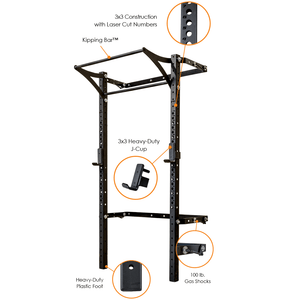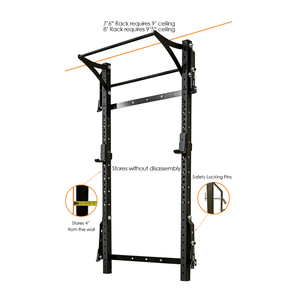 PRX Profile Pro Folding Rack - (With Kipping Bar)
How could something only 4" in depth give you all the room you need for unrestricted kipping pullups? Performance PRX has revolutionized home and gym fitness racks with a compact, ergonomic design that instantly folds out to provide three feet of exercise space. In one fluid motion, you'll have the Performance PRX Profile PRO Squat Rack with Kipping Bar open and ready for business.  When you're done, it all folds back just as easily into a remarkably compact form that barely intrudes on your garage, home or small commercial space.   

Everyone from teenagers to full-grown cross-training, weightlifting and MMA athletes can perform strict, kipping and butterfly pull-ups witch confidence. There's solid strength in every part of this extraordinary patented unit – from its 42" steel bar to its floor-protecting foot plates. Two 3 x 3" 11-gauge uprights stand 7'6" in height - and ready to support up to 1000 pounds. A complete installation kit is included, allowing you to securely brace the PRX to your wall studs. That's the last time you'll require tools. From then on, you'll need only your hands to swing it all open or closed, thanks to four 120 LB gas shocks.  

It's as good looking as it is functional. The uprights feature laser-cut numbers for easy adjustment reference and a resilient powder-coated surface. You'll also get two heavy duty j-cups to support a loaded weight bar.  
Specifications
SKU: EXGPRXPROFILEPRO
Dimensions:
Wall Bracket Width (Outside Dimension of Racks): 52"
Depth of Rack Folded for Storage: 4"
Depth of Rack Unfolded for use: 24"
Mounting - Wall Brackets Mount to 16" or 24" on Center Studs. If Studs are Unevenly Spaced, a Ledger Board is Required
Pull Up Bar Height (under 6ft2" user): 7'5" (or to a Lower Position if Ceiling Height Permits)
Pull Up bar Height (over 6 FT 2" User): 7'11"
42" Steel Kipping Bar Extends Beyond Rack to Provide 3 Full Feet of Clearance From Wall
Weight Capacity: 1000+ LB

Color: Black

Included Features:
Plastic Foot Plates to Protect Your Floor
Recommended Ceiling Height (to accommodate athletes up to 6'2" Tall):
Recommended Pull Up Bar Height:
90" Racks: 7'5" (Bar May be Lowered if Needed)