Spirit Medical Stepper MS350
$3,590.00
$3,590.00
$3,590.00
$3,590.00
$3,590.00
$3,590.00
$3,590.00
$3,590.00
$3,590.00
$3,590.00
$3,590.00
$3,590.00
$3,590.00
$3,590.00
$3,590.00
$3,590.00
$0.00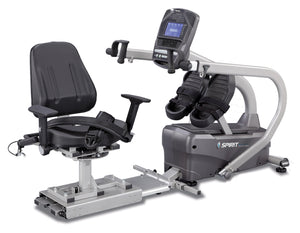 Spirit Medical Stepper MS350
$3,590.00
$3,590.00
$3,590.00
$3,590.00
$3,590.00
$3,590.00
$3,590.00
$3,590.00
$3,590.00
$3,590.00
$3,590.00
$3,590.00
$3,590.00
$3,590.00
$3,590.00
$3,590.00
$0.00
Located at Flaman Fitness Regina
 The MS350 adjustable seat not only provides a customized fit, but is also removable for wheelchair access. Patients can experience full body exercise through coordinated, linear, and natural 1:1 leg and arm motion. Self-adjustable stroke length accommodates patients' specific range of motion capabilities, providing low impact movement for knees, ankles, and hips in a safe semi-recumbent position.

Features and Benefits
Multiple seat adjustments: 8 position swivel seat for ease of patient ingress and egress, 6 position recline seat back for hip angle adjustments, and fore/aft patient positioning.
Symmetry monitoring to measure bilateral power (example: Left 41 watts - Right 34 watts)
Direct wheelchair access along with the step-through frame design allows for easy on and off
Resistance mode Isokinetic for step speeds from 10 to 210 steps/minute.
Linked upper and lower body linear pattern
Adjustable position handles with articulating hand grips
Cushioned footplates with stabilization straps
Adjustable step range from 1 inch to 12.5 inches
Heart rate monitoring via handheld and telemetry
No specifications for this product.
Edmonton North
Ontario Distribution Centre
BC Distribution Centre
Regina