TuffStuff Deluxe Home Gym - AXT 225R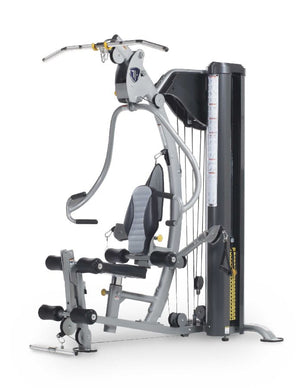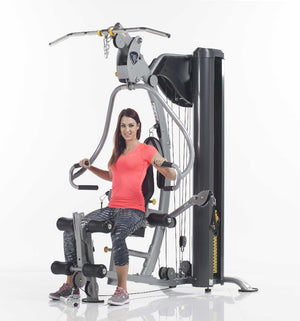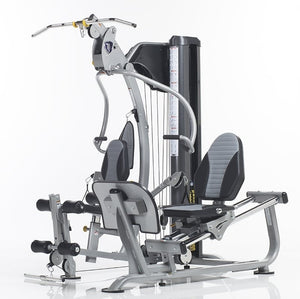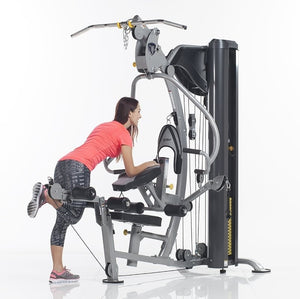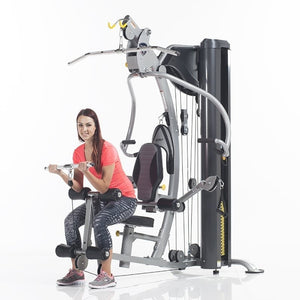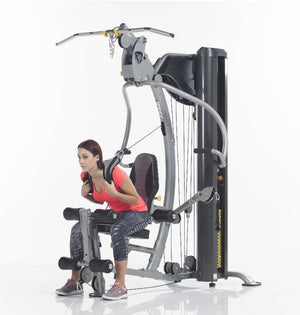 TuffStuff Deluxe Home Gym - AXT 225R
One of the most versatile traditional home gyms makes one of its most popular options a standard part of your functional training workout – expanding an already-impressive selection of full-body exercises.
Now every TuffStuff Classic Home Gym (AXT-225) comes with two AXT-RIG cable outrigger arms, formerly sold separately. You'll have full access to over 20 muscle-shaping exercises with many more options – a challenging array of pull-ups, pull-downs, crunches, extensions, presses, flys, rows, curls, and more.
Combined with existing attributes like three levels of pulley stations (high, mid, and low), and full-body, machine-based movements, the outrigger-enhanced AXT-225 is a formidable home fitness force. You can add more variety and range of motion to the sports performance and everyday mobility-boosting benefits of functional training and the targeted strength building of a traditional press arm and leg station. Your lats, triceps, back, abs, chest, shoulders, glutes, hamstrings and other major muscle groups will thank you.
Specifications
SKU: EXGTUFAXT225
Weight: 550 LB
Dimensions: L 85 x W 49 x H 84 in
Home Lifetime Warranty
LIFETIME of the Equipment While Owned by the Original Purchaser (Applies Only to Defects from Manufacturer Only)
This warranty does not cover:
1. TuffStuff Products Sold for and Used in a Commercial or Institutional Environment.
2. Any Damage, Failure or Loss Caused by Accident, Misuse, Neglect, Abuse, Improper Assembly, Improper Maintenance, or Failure to Follow Instructions or Warnings in the Owner's Manual and Warning Labels Posted on the Machines.
3. Use of the Product in a Manner for Which it was not Designed.
4. Original Product That is Altered, or the use of Replacement Parts and Components of Another Manufacturer Other Than TuffStuff.
Frame Materials: Main Frame – 2" × 3" 11-Gauge Oval Tubular Steel with a Combination of 2" × 2" Round Tubing
Welds: All Welded Construction by Inert-gas MIG Welding Conforming With all Structural Welding Code – Steel Standards and Specifications
Finish: Eight-step electrostatically applied powder coat finish
Frame Colors: Main Frame - Platinum Sparkle Accent: Cathedral Gray
Upholstery: Premium Grade Naugahyde Formulated to Resist Bacteria, Stains, Mildew and oil. Meets Most Flammability Test Requirements. Standard Two-tone (Black/Cadet), Double-stitched With "Hidden" Borders
Padding: High Density 2" Thick Rebond Urethane Foam Glued to 1" Industrial Plywood Backing, Trimmed and Formed to Exact fit
Adjustment Pins: 1/2" Push-pull Spring Loaded Solid Steel Adjustment Pins With Ultimate Load of 9040 LB and 46,042 PSI Sheer Strength

Cables: 3/16" and 1/8" USA-Made/Certified EXERFLEX PRO® High Performance Fitness Cable
Other: 200 LB Center-drilled Steel Weight Stack. 1" Solid Steel Pivot Axles With Non-friction 2" Sealed Bearings (Load Rating of 2400 LB) Internally Encased on Primary Pivots, and Oil-impregnated Bronze Bushings on all Secondary Pivots. 3/4" Solid Steel 1045 (TGP) Polished Chrome-plated Finish.
Burlington
Calgary NorthEast
Calgary SouthEast
Edmonton North
BC Distribution Centre
Lethbridge
Saskatoon